Kraft Heinz results underline investors will need patience – takeaways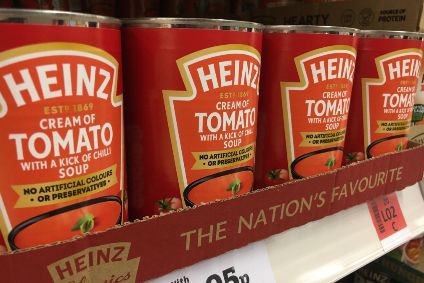 Kraft Heinz planning to focus media spend on fewer brands
Kraft Heinz is preaching patience after a set of "disappointing" 2019 financial results and long-term investors in the US giant will need a healthy dose of stoicism, Dean Best reports.
Kraft Heinz's share price, which took something of a hammering in 2019, slid again yesterday (13 February) after the publication of the ketchup maker's latest financial results and its outlook for 2020.
Fourth-quarter net sales fell more than 5% and, even after stripping out the impacts of exchange rates and asset disposals, sales dropped by more than 2% on an organic basis, a worse performance than Wall Street analysts had expected.
Crucially, Kraft Heinz's metric of 'volume/mix' was down by more than 4% in the fourth quarter. The company can point to the impact on demand of price increases but that is not a result it will want to become a trend.
Looking ahead, Kraft Heinz is set to change its marketing mix to support its better-performing brands, while the company has indicated it will sell off more assets or exit certain businesses to further refocus its efforts.
These are, on paper, positive signs CEO Miguel Patricio is trying to make moves to stabilise and then improve Kraft Heinz's performance.
Patricio admits a "turnaround will take time" but expects to make "significant progress" this year in "laying a strong foundation for future growth".
Getting sales moving in the right direction will be crucial and that won't be an overnight fix. All eyes will be on Kraft Heinz's investor conference, planned for May, during which Patricio said the company would expand on its plans.
"2020 will be the first full year of what we expect will be a three-stage turnaround, a turnaround characterized by laying the foundation for the future growth, fuelling our flagship brands and accelerating growth platforms and then hitting our stride on both the top and bottom lines," Patricio told analysts on a call to discuss Kraft Heinz's financial results.
Concerns remain about Kraft Heinz's US sales performance
The fourth quarter was another three-month period of lacklustre sales. In the final three months of 2019, on an organic basis, Kraft Heinz's sales fell in three of its four geographic reporting divisions – the US, Canada and Rest of World.
In the US, by far the largest division by sales (accounting for more than 70% in the quarter), Kraft Heinz's organic sales dropped 2.7%.
Kraft Heinz said it had upped prices in the face of higher dairy and meat commodity costs – and offered the price hikes as a reason for a 5.8% in its volume/mix in the US, although the company conceded it did see "lower distribution in cold cuts and frozen categories" at certain retailers.
"The decline in volumes reflect share losses. However, these share losses were predicted. We knew that we would lose this share in the last quarter," Patricio insisted. "Also we started a programme on SKU rationalisation. We had never done an SKU reduction in the company in five years. We increased the amount of SKUs big time during these five years, so it was time now to start it. We haven't finished."
Elsewhere, at least some growth in EMEA
In Canada, sales were down 2.5% even after a 5% drop in pricing. Volume/mix was up 2.5%, boosted by peanut butter and pasta sauce.
Sales from Kraft Heinz's Rest of World division – comprising Latin America and Asia Pacific – were hit by "lower shipments across several categories in Australia and New Zealand" as well as from its Latin America exports arm. These three areas were central to another round of impairment charges Kraft Heinz booked in the quarter.
Organic sales did grow at Kraft Heinz's Europe, Middle East and Africa division, albeit by 0.3%. Condiments and sauces in Russia, plus "foodservice growth across most regions", were factors in that increase.
"Fundamentals [are] still weak but marketing inflection yet to begin," Wells Fargo analyst John Baumgartner wrote in a note to clients. "Financial year 2020 is positioned as stage one of a three-stage turnaround and will see more concentrated innovation and product mix benefits as weaker products are rationalised."
CEO Patricio gets some praise for 2020 outlook
On the face of it, Kraft Heinz's forecast that its adjusted EBITDA in 2020 is expected to decline by almost 8% to circa US$5.6bn (especially when the consensus forecast among analysts was for $5.81bn) does take the breath away – but some on Wall Street felt the company needed to reset expectations on this earnings metric.
"Management provided an outlook for 2020 that includes a meaningful rebasing of EBITDA and earnings to reinvest in people and working media," AllianceBernstein analyst Alexia Howard says. "We see this as a good sign that the CEO is taking the necessary steps to stabilise the business rather than rearranging the deck chairs."
Part of the decline will be due to what Kraft Heinz called "divestitures" and "business exits" but the company does plan to make changes in the way in invests in areas like media spend.
"We have a slight decrease in marketing for 2020, but we have a big increase in media for 2020," Patricio said.
For all that, there are, of course, factors that add some uncertainty to new, 'rebased' EBITDA forecast: the pressure the African swine fever outbreak in a number of markets could put on meat commodity costs, as well as, naturally, whether Kraft Heinz's work on innovation and marketing will really kick-start that top line.
A redrawing of Kraft Heinz's innovation and marketing
"Fewer, bigger, bolder" – that's how Patricio is describing Kraft Heinz's efforts on innovation.
"Our 2020 plans now call for 50% fewer projects, a significant shift from land extensions to expansionary launches, mainly behind existing brands and just as much sales generated from more concentrated efforts," he said.
Related to the redrawing of Kraft Heinz's innovation strategy, the company is also shaking up its expenditure on marketing.
"In marketing, we have defined optimal media spend by portfolio role," Patricio explained. "In 2020, we will be redirecting dollars disproportionately towards support of our flagship brands.
"We are also finding efficiencies in non-working marketing, such as fewer research dollars necessary for the more concentrated innovation pipeline, as well as cutting the number of agencies we employ in half. As a result, we plan to increase working media – what consumers actually see – by 30% in 2020, with even greater increases behind the brands that are the biggest drivers of our profitability."
Rethinking the geographic and portfolio mix
With one factor set to weigh on Kraft Heinz's adjusted EBITDA in 2020 being the company's plans for divestitures or "business exits", the group's management was asked about its strategy in this area on the conference call with analysts.
"Aligned with our strategy, we will opportunistically explore divestitures – but we are going to be very disciplined on price and, more importantly, with no hurry," CFO Paulo Basilio said. "So we want to explore potentially the parts of the business that makes sense, aligned with our strategy, with no hurry to execute that and only at the right price."
Common-sense remarks, given no company wants to be seen as in desperate need to part with assets, but it seems more disposals are likely to be on the cards at Kraft Heinz.
On geography, while some 70% of Kraft Heinz's sales are made in the US, the company is an international business and Patricio wants the company to review how it resources its operations.
"We have operations in 40 different countries and the way we've been operating has been literally, country by country, defining what each country has to do. We need to have a higher-level view," Patricio said. "Not all countries have potential to grow. We need to define what are the countries that have more potential and put more resources behind these countries and define the role of the other countries."
Oops! This article is copy protected.
Why can't I copy the text on this page?
The ability to copy articles is specially reserved for people who are part of a group membership.
How do I become a group member?
To find out how you and your team can copy and share articles and save money as part of a group membership call Sean Clinton on
+44 (0)1527 573 736 or complete this form..