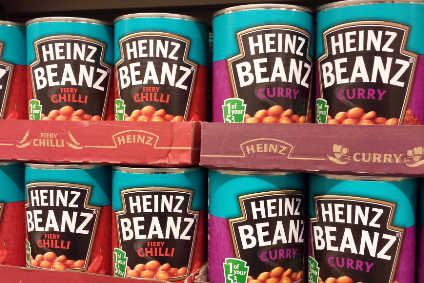 Kraft Heinz's third-quarter results won praise from some on Wall Street but the US food giant still faced questions about its performance in Europe. The company pinpointed the UK as a problem area and outlined its plans to breathe fresh life into its business in the country.
Kraft Heinz's third-quarter results showed, CEO Bernardo Hees said, "where we are as a company", with the US food giant, formed just over a year ago, reporting higher profits but falling sales.
The Heinz ketchup maker's overall third-quarter numbers, issued on Thursday (3 November), won some praise from analysts on Wall Street. However, the quarter was the third in a row in which the company's European operations had reported worsening sales and profitability. And when Kraft Heinz announced its third-quarter results last week, Hees faced questions over the company's performance in Europe. Hees insisted Kraft Heinz was performing well in most markets in the region but admitted the company had problems in some markets, notably the UK. Nevertheless, he was confident the business would see its results improve next year.
Overall, Kraft Heinz reported higher earnings but lower sales for the third quarter, which ran until 2 October. Kraft Heinz's group operating income for the third quarter stood at US$1.4bn, compared to $652m for the comparable period of last year on a pro-forma basis. The growth in operating profit was driven by a reduction in selling, general and administrative costs, which Kraft Heinz reduced to $805m versus $1.05bn last year, if SG&A expense is calculated as though the merger was already complete.
The work on costs – key to the playbook of Kraft Heinz owner 3G Capital – served to offset a reduction in sales. Pro-forma net sales totalled $6.27bn, compared to $6.36bn in the comparable period of last year.
On a group-wide basis, then, a mixed performance, although some analysts commended the results. Barclays Capital's Andrew Lazar called the numbers "very solid in the context of a difficult operating environment" and pointing to what he called Kraft Heinz's "strong EBITDA margin expansion", which came in up 5.5%.
Sanford Bernstein's Alexia Howard called Kraft Heinz's third-quarter results "generally positive", although, in a note to clients, she noted the mixed performance of the company's four geographic divisions of the US, Canada, the Rest of World and Europe. "Bears might find cause for concern in the segment level data. US and Canada account for 80% of sales and did very well, but Rest of World stumbled and Europe, especially the UK and the Netherlands, did quite poorly, particularly in organic sales."
In Europe, Kraft Heinz saw its top line and its earnings profitability come under pressure again. Kraft Heinz booked pro-forma net sales of US$513m in Europe for the three months to 2 October, down 14.5% year-on-year. Adjusted EBITDA from the company's European arm, a metric that excludes factors like restructuring costs and impairment losses, was down 17.9% at $183m. The results marked the third successive quarter in which Kraft Heinz's sales and adjusted EBITDA in Europe had fallen.
Exchanges rates trimmed 6.7 percentage points from Kraft Heinz's sales in Europe but, on an organic basis, sales were still down 7.8%. Volume/mix slid 4.9%, with Kraft Heinz pointing to the timing of shipments but also to "ongoing consumption weakness across several categories, primarily in the UK and the Netherlands".
KraftHeinz prints -7.8% organic "growth" for Europe. Even adjusting for currency the decline is staggering. Vol/mix -4.9%…

— Cyrille Filott (@Cyrille_Filott) November 4, 2016
In May, when Kraft Heinz reported the results for its first quarter, the company's management signalled it believed the business would see improving results in Europe as it moved through 2016. On Thursday, the numbers appeared to suggest otherwise, with the declines in sales – when measured on reported, underlying and volume/mix bases – and in adjusted EBITDA steeper in the third quarter than the first.
Speaking to analysts to discuss Kraft Heinz's third-quarter results, management faced a series of questions about its performance in Europe. Hees said the timings "made Europe's financial results look worse than our internal assessment would indicate". CFO Paulo Basilio said: "Results this quarter were sequentially worse than Q2, after Q2 was sequentially better than Q1. However, we do not believe that the underlying trends are as bad as the Q3 numbers suggest."
However, Kraft Heinz did face some specific questions about its performance in the UK and one analyst, JP Morgan's Ken Goldman, asked if the company's results in the country had been due to its moves to make cuts in areas like people or promotions.
Hees said the baked beans-to-baby food group had been facing problems in the UK.but insisted Kraft Heinz's performance in the country had not been caused by cuts. He pointed to "difficult" trading conditions in the UK but acknowledged the business had made some mistakes in the country, indicating he believed the company had not responded adequately to the changing dynamics in the market.
"I really don't think the UK performance has anything to do with the level of spend or we cut too much on the model. I can guarantee you we really don't see it that way," Hees said. "Our performance in the UK has been poor, right? The environment has been difficult, but that has been the case for a couple of years, and we really don't see that changing in the next coming months, quarters, or even years. I really believe we have been slow to react and get the right price, mix and offering in the marketplace," Hees said. "If you see our market share, especially on key categories like beans, sauces and others, and also to some small degree soups, it hasn't changed that much. It has been a quite solid share performance. But we haven't suffered from a category decline in a channel mix change in the country. There is a lot happening now, especially with the new soup season that starts right now. We're really changing a lot our balance [of] price, promotion, distribution in this very shaky retail environment in the UK."
Hees described the UK as Kraft Heinz's most "competitive and evolving retail environment" and the company planned to become "more aggressive to jump-start our categories in the country". He added the company does "expect their results next year".
It is to be expected Hees and his colleagues did not go into too much detail about Kraft Heinz's plans for the UK but he did give some flavour of how the company believes it can improve its performance in the country. "We are working on the categories we have a strong presence like soups and so on," Hees said. "We'd come here with a completely different product offering in volume/mix, promotions and so on."
The Kraft Heinz chief also pointed to the application of the company's overall "Big Bets" strategy – a programme to launch fewer but bigger new products across its markets. Hees said the strategy could "really move the needle" for the company's operations in the UK. "A good example of that would be Heinz Serious Good Mayo that we just had started in the last really seven, eight months and it's doing quite well from a market share standpoint. And we see more of that coming 2017 and beyond," Hees said. "Is that going to be enough to the turnaround of margin to the country? It's for us to prove. But they're the seeds of the things we are doing there, are definitely showing much better results and give us optimism about what's happening for the coming quarters and years in the country."
There will likely be some in the investment community that argue the Kraft Heinz playbook of aggressively cutting costs has been a factor in the company's performance in the UK. The company insists otherwise and it has some support on Wall Street. "Bears will say that 3G's allegedly excessive cost-cutting has come home to roost, leading to the decline in organic sales. We disagree and accept management's view that .. there are issues in the UK … but they are unrelated to cost cutting, which didn't even happen in marketing and sales but were instead driven by a failure to adapt to a very competitive and fast-changing retail environment," Sanford Bernstein's Howard said.
Of course, the UK is but one market in the Kraft Heinz portfolio but it is a significant one and central to the company's performance in Europe. The group faces a challenge in the UK; some of its core categories – soup, beans to name two – are slow-growth at best. Private label can present stiff competition on price and range in soup and on price in condiments. Its efforts will be closely watched in the quarters ahead.