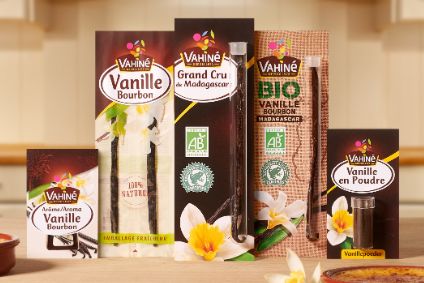 McCormick & Co., with its stable of herbs, spices and sauces, always appeared a likely beneficiary of the Covid-19 lockdowns – and the company's Q2 numbers have borne that out. Dean Best reports on McCormick's performance and the US group's thoughts about what might lie ahead for retail and foodservice.
Companies with product ranges designed for home cooking have looked nailed-on certainties to gain from the Covid-19 lockdowns in North America and Europe in the second quarter of 2020 – and McCormick & Co., home to spices, sauces, herbs and baking ingredients, hasn't disappointed.
The Frank's RedHot sauce and Schwartz spices owner saw its net sales jump during its second quarter, boosted by more consumers making meals at home and driving growth from the company's consumer division. Crucially, that growth offset falling sales from McCormick's "flavour solutions" business, which sells to packaged-food manufacturers and, more pertinently, a foodservice market that saw custom slump as the lockdowns took hold in April and May.
McCormick, which has seen its share price rise by more than 7% since the start of the year, believes its consumer arm will seen sales remain at an "elevated" level during the rest of 2020. The foodservice recovery, McCormick warns, will be "gradual" and vary by geography, echoing the cautious commentary seen in recent weeks from other packaged-food manufacturers selling into that part of the market.
McCormick's Q2 catches the eye
Viewed through the prism of sales growth (Covid-19 has caused significant problems in manufacturing and in the wider supply chain) packaged-food manufacturers have, in the main, been beneficiaries of the Covid-19 pandemic, especially those that have a large chunk of their business through the grocery retail channel.
McCormick is often among the first of the packaged-food multinationals to report its latest three-month financial results every quarter and, while we should expect to see a host of its peers book similar levels of growth, the results at the French's mustard and Lawry's marinades maker caught the eye.
In the three months to 28 May, McCormick's net sales rose 10% (on a constant-currency basis), thanks to a consumer division buoyed by more of us having to eat at home.
While McCormick's consumer arm saw its second-quarter sales jump 25% to more than $962m (thanks to growth in North America and in Europe), the company's flavour solutions division suffered amid the restaurant closures sparked by Covid-19. Sales from that part of McCormick's business slid by more than 18%, with sales in EMEA (which saw a near-shutdown of foodservice in a number of geographies) tumble by a third.
Lawrence Kurzius, McCormick's chairman, president and CEO, described the company's second-quarter performance as "exceptional" – and the reaction on Wall Street was positive.
"McCormick reported another one of those stellar quarters we have seen from the food companies in this environment," Stifel Nicolaus analyst Chris Growe said. "McCormick has been the fastest growing food company in our coverage with its consumer sales up nearly 60% in the quarter in the US in the measured channels and up 28% overall for the quarter. The company refrained from offering guidance given the uncertainty, but we are raising our estimates in part due to the stronger Q2 performance."
McCormick's home comforts – and gains in Europe
The extent to which McCormick's second-quarter sales were boosted by the lockdowns could be seen in the company's domestic market.
On a conference call with analysts, Kurzius pointed to a jump in the "consumption" of McCormick's branded products in the US of 55%, an increase he described as "substantial".
However, Kurzius was at pains to insist the rise in sales wasn't simply due to consumers stockpiling, though he conceded it was a factor in the initial weeks of the quarter. "We have, in our US business, had a sustained surge and pull and growth in demand," he said. I don't really want to call it a surge, because it's not pantry loading, it's consumption over 50% across the quarter, and there just wasn't that much stock in our supply chain."
In Europe, McCormick's net sales grew by more than a quarter on a constant-currency basis, helped by Schwartz in the UK and, tellingly, the Vahiné brand, as the company rode the wave of more consumers baking indoors. "Growth in our Vahiné brand in France was excellent, led by vanilla and baking products. Urban spice consumption was strong in all markets, driven by consumers cooking more at home to discovering they need our product for great-tasting, healthy, flavour solutions," Kurzius asserted.
B2B division a mixed bag
It's no surprise McCormick's sales to foodservice customers fell during the quarter as government lockdowns curtailed movement and closed outlets.
Kurzius, who says the "away-from-home" products in McCormick's portfolio usually account for 20% of the company's annual sales, said the situation was particularly pointed in EMEA "as most restaurants completely closed".
However, sales of McCormick's ingredients to packaged-food and beverage manufacturers generates around half of the annual revenue for the company's flavour solutions division and that fared better, even if demand eased off as the quarter progressed.
"Early in the quarter, we experienced surges in demand, which tapered off throughout the quarter and performance varied by customer," Kurzius said, reflecting on the sales to food and drinks manufacturers. "We expect overall demand consistent with pre-Covid levels in our second half."
Confidence about consumer
No-one can make predictions with any certainty at the moment, not even in the relatively resilient world of packaged food.
Countries may have eased – or may be easing – lockdowns, leading to a greater ability for more people to return to work, to shop and to visit restaurants. However, from Victoria in south-east Australia, to Beijing, to the UK city of Leicester, to California, lockdown measures have had to be re-introduced, making it hard to make solid forecasts about consumer behaviour in the weeks and months ahead, particularly around the recovery of the foodservice market.
However, it is relatively safe to assume packaged food sold through the grocery retail channel – in bricks-and-mortar stores or e-commerce – will remain at a higher-than-normal level for the foreseeable future – and it was a prediction McCormick's management felt comfortable in making.
"We believe the shift in consumer consumption to eating at home will continue, partially driven by the status of the restaurant and foodservice industry, as well as consumer confidence with eating out – and significantly influenced by an increased preference for cooking at home, which we believe will be longer lasting," Kurzius said, echoing comments made by the CEO of UK manufacturer (and one-time McCormick takeover target) Premier Foods last week.
Kurzius added: "While we expect consumption will not continue at this highly elevated level of our second quarter, you can see it as still strong, and we expect continued growth from an increase in consumer cooking at home to last for a period of time."
Another safe-ish prediction many are making is that the health crisis will give way to an economic one. Based on previous downturns, consumers would be expected to eat at home more in any case, Kurzius said. "We would expect to benefit from consumers eating at home if we were to enter a recessionary period consistent with our historical sales performance during past recessions."
That said, McCormick's management was pushed on whether the company could see a slowdown in sales if consumers believed they had stocked up on the herbs and spices they need. Kurzius disagreed. "Many of our products are single-use. A big part of the surge in demand that we're seeing is from our dry recipe mixes, for example, which would be a single-use product. Wet marinades are single-use," he said. "And just the sheer level of increase in cooking says that consumers are going through their spice supply."
But what about foodservice?
The McCormick chief said the company was "seeing our away-from-home demand beginning to come back" as the business started its third quarter.
Quick-service restaurants (QSRs), for example, have been offering limited menus for delivery and drive-thru services, Kurzius noted. As June progressed, in certain markets in the Americas and EMEA, indoor dine-in services started to re-open in a limited fashion, while other outlets have been offering outdoor options.
However, he conceded the recovery will be "gradual", adding: "QSRs will recover more rapidly, with the rest of food service building more slowly. Based on this, combined with our different mix of quick-service restaurants and other foodservice customers between the regions, we believe the pace of recovery of the away-from-home part of our business will vary from market to market."
And it's the uncertainty over the foodservice market that stopped McCormick from re-instating any guidance for the full year even amid the bounce in grocery-retail sales. "We are not providing guidance due to the high level of uncertainty driven by the Covid-19 crisis for the balance of the year, including the variation in consumer comfort with respect to eating away from home versus at home and its impact on consumption level, the pacing of restaurant and foodservice locations fully reopening in our various geographic markets, and finally the possible impact of any resurgences of the Covid-19 virus," Kurzius said.
At Stifel Nicolaus, Growe forecasts McCormick's annual net sales will grow 3.7%, based on growth of 10% from the company's consumer division and a 5% fall in its flavour solutions business. "Our estimates are based on a monthly progression of recovery of QSR sales, slower recovery in full service restaurants, more muted growth in sales to packaged food companies, and sustained elevated at-home food consumption benefiting the consumer division. At this time, we believe this presents the most likely outcome for the year."
Covid-19's impact on supply chain
Many packaged-food manufacturers may be enjoying a bump in sales but that's not to say it's been plain sailing.
As well as the efforts to keep staff safe and well, companies have had to react quickly to the volatility in demand and to the new shape their custom has taken – and could continue to take in the quarters ahead.
McCormick saw a depletion of inventory to cope with that "surge" in demand Kurzius described. "It's been a challenge for us, primarily on manufacturing capacity in the Americas, and it's been a challenging time for the retailers because of the surge in demand and their ability to actually receive product," Kurzius told analysts.
"Our ability to service this demand was really good in the initial weeks but, as it continued at a sustained rate, it really dipped as we went through May. We took a lot of steps to initially expand just our logistics capabilities and capacity to meet the surge in demand. Then, as we de-bottlenecked that, our manufacturing capacity became a pressure point."
McCormick invested in its blending capacity and added to its capacity through co-manufacturers to meet demand. "We're really past the low point in our ability to service the customers, which we hit right around the end of the quarter. Our service has been improving week by week since then," Kurzius said.
Given the investment in capacity in the US, McCormick's largest market, the company was pushed on the analyst call for its thoughts on longer-term demand.
Kurzius said McCormick had already decided this year to start to "pivot" its capital expenditure projects from Asia back to western Europe and the US. On the prospects for demand, he added: "We really believe that consumers are going to continue to cook at home more for an extended period of time, which is going to be constructive to our growth. Further, the new normal for restaurants is going to involve more take-out consumption at home."