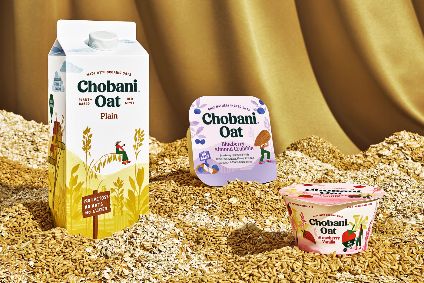 In the first of a two-part feature, Andy Coyne charts the emergence of the market for oat-based dairy alternatives in the US.
When Mooala, a Dallas-based producer of organic and dairy-free drinks and creamers, secured US$8.3m in a funding round in November, barely an eyebrow was raised.
That's because the new financing came towards the end of a year in which the company, just three years old, expected to double its net sales.
US investment houses M3 Ventures and Sweat Equities, which took part in the Series A round as they did in a $5m seed-financing round in 2018, would have been impressed with Mooala's fast-increasing reach. Its products are now sold in around 3,500 stores in the US, with chains including Whole Foods Market, Safeway and Kroger among its customers.
In the words of Charlie Sweat, managing partner of Sweat Equities: "We were attracted to Mooala given its success rapidly disrupting the mainstream marketplace with best-in-class, organic, plant-based dairy alternatives."
Mooala in that sense is typical of the new generation of alternative dairy product companies in the US shaking up the dairy category.
Last week, Califia Farms, the Californian plant-based business best known for its alternative milk products, further underlined the investor interest in dairy alternatives when it announced it had raised $225m in a funding round led by the Qatari government's investment arm.
Investors are making what, on the face of it, they think is a shrewd bet that plant-based milk alternatives are here to stay and the numbers would seem to support their view.
According to the statistical organisation Statista, the market value of alternatives to dairy milk in the US in 2019 was US$3.7bn and that figure is expected to grow to $6.4bn in 2024. Other estimates put that 2024 figure over $8bn.
By way of contrast, the co-op Dairy Farmers of America recorded that US sales of conventional dairy milk dipped by $1.1bn in 2018 to $13.6bn.
The macro trends behind the growth of alt-dairy products are largely the same as those that have seen plant-based food products more generally explode over the last 18 months: a focus on health and wellness; the increasing number of people with food intolerances or those who don't like the taste of dairy; and a desire for greater choice and more interesting options in what was a pretty staid marketplace. Added to this is the desire to aid a more sustainable future for the planet.
As Susie Fogelson, a New York-based food marketing strategist who runs her own consultancy, F&Co., says: "Carbon footprint is a factor. Some 83% of farmland in the US is used for meat and dairy consumption. Also there is a lot of curiosity about veganism and about what's next."
Plant-based dairy encompasses products from almond and coconut-derived lines to soy and oat. It is the latter that's arguably the most on-trend of the plant-based segments at present.
Larger manufacturers have not been slow to see the market opportunity, perhaps learning lessons from other product segments where new entrants rode in and claimed significant market share, such as was the case for low-calorie ice-cream brand Halo Top.
Fogelson says: "The Halo Top experience blindsided everyone in the industry – that a brand could come out of nowhere and tear a hole out of the industry. Oat milk to me is an example of where no time has been wasted. So many brands have moved into it in a meaningful way."
Oat milk is the fastest growing segment of the plant-based dairy category in the US and arguably the Halo Top-style catalyst for the segment in the country has been Oatly.
The Swedish company entered the North American market in autumn 2016, supplying coffee shops with its product as competition for the more established almond milk and soy milk products. It opened a manufacturing facility in the country in 2018. It has since moved into supplying grocery stores such as Wegmans, Whole Foods and Target.
Fogelson says: "It was launched here in the specialist coffee shops such as Birch with baristas. It created a real demand and brand evangelists made you find it and then crave it."
Jordan Campbell, VP, marketing at Mooala, is happy to pay credit to Oatly's role in leading the oat milk charge.
"Oatly came into the US and it exploded, first in coffee shops and then in retail. They do it well," she says.
All the new brands that have followed in Oatly's footsteps have tried, to a lesser or greater degree, to carve out a niche for themselves. Campbell says a USP for Mooala is its clean label.
"The main driver for [founder] Jeff [Richards] wasn't just about creating another me-too product. A lot of the stuff that was around had synthetic ingredients," she says.
"We launched oat milk a year ago with our oat and coconut-based product. It's quite different to other products. The coconut gives it a creamy consistency.
"We have zero grams of sugar per serving and we are organic. When we launched, we were the only organic product of this kind in the refrigerated section. And the manufacturing process is less complicated when you don't add synthetic things."
Danone entered the US plant-based dairy market when it acquired WhiteWave Foods, the manufacturer of the Silk brand, back in 2017. Silk, best known for its soy alternative, launched into the oat segment in January last year with its Oat Yeah line. Since then, the French giant has rolled out a "zero-sugar" version of the product and, under its So Delicious Dairy Free brand, it has launched Oat Milk Yogurt Alternatives.
Domenic Borrelli, president of what Danone North America calls plant-based food and beverages and premium dairy, says: "Danone has expertise developing breakthrough products across many plant-based food and beverage categories and we have iconic brands in plant-based with Silk and So Delicious that can drive consumer interest, excitement and trial. We knew it was a strong opportunity for us to innovate in oat in the US and continue leading growth in plant-based food and beverages."
Borrelli insists retailer reaction has been positive. "Retailers have committed an increased amount of shelf space for oat-milk offerings, with more shelf space for Oat Yeah than any other brand in the category today, and we expect this growth momentum to continue in 2020," he says.
"Consumer reaction has been positive as well, with more choice in plant-based offerings leading to increased category growth across multiple forms such as beverages, yogurt alternatives, coffee creamers and frozen desserts."
The newest kid on the oat-based block is Chobani. Best-known for its Greek-style yogurt, it launched oat-based products. Chobani's range is made up of oat drinks, a barista blend intended to behave like steamed whole milk in coffee and tea, and oat cups.
Niel Sandfort, the company's VP new product development, says: "The big picture is that we never thought of ourselves as just a yogurt company. We always had higher aspirations, aspirations to be a true food and wellness company. Our customers are just seeing that coming into fruition on the shelves.
"We are a dairy company at our core but we don't think of plants and dairy as mutually exclusive.
"We have our own plant which has allowed us to scale quickly. A lot of other producers are not fully in-house with their oat milk whereas we are."
But why launch now?
"We are very tuned into the market," says Sandfort. "We've seen this taking place for a few years and we were looking for the trigger for when it could go mainstream, which was a similar case with Greek yogurt."
Asked about the drivers behind the category's growth, Sandfort says: "I don't think it is for taste reasons. People like the sensory experience of dairy but a chunk of the population think they have dairy sensitivities.
"The number of people with lactose intolerance is smaller than the number of people who claim they are but perception is reality."
But why should oat milk, and oat milk-linked products, be faster growing than other non-dairy variants, such as soy and almond milk?
Sandfort says: "First and foremost they taste better and they perform a lot like milk and that has allowed us to leverage what we know about milk as opposed to almonds which act very differently to milk.
"Oats are more sustainable. It is an incredible crop. It doesn't need a lot of water. It fights weeds so you don't need a lot of pesticide and it is a rotation crop that keeps soil in place so there is less soil erosion."
Campbell at Mooala points to its flavour profile and the way it acts as an ingredient. "Oat milk does well in the US market because it has a good creamy consistency, doesn't add too much flavour and doesn't separate in coffee," she says.
Borrelli at Danone agrees: "We see strong interest in oat milk for a few reasons. Its neutral taste and creamy texture is reminiscent of traditional dairy milk. Taste and texture are typically two of the biggest barriers for people considering plant-based beverages and when consumers taste our oat milk products, and experience the versatility, they notice a step-change. It's also a great option for those with nut or soy allergies, or anyone simply seeking a delightful, creamy, dairy-free product," he says.
"Innovation will continue to fuel growth for oat milk. It's a great base for traditional milk-based products and we are helping to build up the category with new options."
Tomorrow – Fad or Fixture? In part two of this feature we ask whether oat-based dairy alternatives are here to stay.