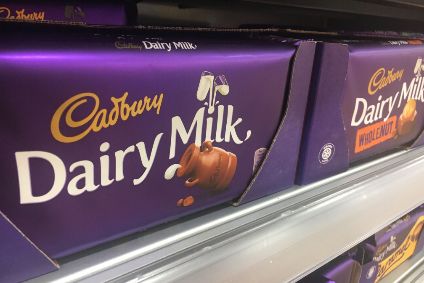 Mondelez International issued a pretty solid set of annual results this week but will be up against some tough comparables in the first quarter, along with uncertainty revolving around the spread of coronavirus. Simon Harvey takes a look at the key talking points.
Snacking giant Mondelez International has delivered annual results above its own expectations, helped by a new strategy designed to enhance the performance of 'local' brands in individual countries, particularly those in emerging markets.
Chief executive Dirk Van de Put had previously outlined how he planned to supplement revenues from Mondelez's so-called 'power' brands such as Oreo and Cadbury Dairy Milk, and at the same time focus on boosting the company's top line, instead of purely honing in on margin growth, after progress on that metric by predecessor Irene Rosenfeld.
And the strategy seems to be paying off, so far at least, with the organic footprint registering a 4.1% increase in 2019 (driven by volume and pricing), which, while slowing from the first-half stamp of 4.6%, was above Mondelez's guidance or 3% or more.
Of course Van de Put was upbeat in his earnings commentary, noting: "Execution of our strategy, including investments in global and local brands, enabled us to deliver strong top-line performance and to meet or exceed all of our financial targets."
However, while the latest results were applauded by analysts, a new uncertainty has emerged – the coronavirus outbreak in China. Although the Chinese market is comparably relatively small for Mondelez, investors will keenly watch the first-quarter numbers for any impact, particularly when consumer spending during the Lunar New Year holidays will undoubtedly have been muted.
Van de Put told analysts on Wednesday (29 January) local and global brands now account for an even share of the business of around 45%, but he will be eager to further bolster the former. However, he mentioned, without elaborating, how the remaining 10% "is a brand that we do not want to activate" and is there largely for cash purposes.
"Agile and faster"
Mondelez registered broad growth across all regions, with a "good" balance between volume and pricing. Finance chief Luca Zaramella noted on the call that 12 of its 13 business units delivered growth during the year, while the company held or gained market share across three quarters of its portfolio.
"We are becoming more agile and faster, trying many new ideas, and in fact, rolling out fewer initiatives, but with bigger success," Van de Put says in relation to new innovation. "We are clear that that strategy only succeeds with outstanding execution."
Emerging markets remain a key growth area for Mondelez, with more opportunities to grab, particularly those the CEO described as "fast-growing", like China, India and Russia, where distribution is being expanded.
Nevertheless, the supply chain in Brazil remains an issue, while the coronavirus outbreak in China needs watching closely, Van de Put says. The virus, which at the time of writing had spread to 18 countries, will likely impact Mondelez's first-quarter earnings, although it's too early at this stage to gauge effectively, he adds.
John Baumgartner, a senior analyst at Wells Fargo Securities, was positive about on Mondelez's full-year performance but noted the warning on China.
"No Matter How You Slice It, It's All Good," was the headline on a section of a research note, which went on to say: "Despite isolated market commentary of volatility across some developing markets, Mondelez isn't seeing any discernible softening across developed or developing markets, albeit coronavirus may pressure quarter-one revenue in China (we've lowered our Q1 China estimate to 3% from 8%)."
Generally speaking, Van de Put is confident Mondelez can maintain long-term organic growth of around 3%. "This is what our long-term algorithm is predicated upon," he adds.
Mondelez recorded "strong" emerging-market growth of 8% last year, but the figure was lower at 6% when inflation in Argentina was stripped out. Latin America as a whole grew 7.8%. Meanwhile, south-east Asia is also joining China, India and Russia as a "high-growth" destination, the Ritz crackers and Milka chocolate owner says.
"We have a high-inflationary environment in Argentina, [where] we are largely managing to protect our scale and our absolute profit generation as well as our cash flow in the country," the CEO explains.
Erin Lash, a director of consumer equity research at Morningstar, says: "While Mondelez's stellar performance in emerging markets (partly due to its focus on fuelling growth of local brands that had previously been starved of investment) has been a key contributor to its gains, we don't posit that management is content with the status quo. Rather, we think the firm hungers to ensure this improvement persists (even in the face of competitive and macro headwinds), as it continues to emphasise the need for further investments behind its global and local fare.
"Even though Mondelez has refrained from quantifying its aims, we expect it will look for opportunities to extract excess costs when possible (possibly by rationalising its suppliers, parting ways with unprofitable brands, and continuing to upgrade its manufacturing facilities)."
Coronavirus a concern
Mondelez provided a country-specific breakdown for its emerging-market performance: revenue up at a high-single-digit rate in China led by biscuits and gum; south-east Asia by mid-single-digits with "solid results" in biscuits and chocolate; India double-digits on "strong execution and investment; and Mexico mid-single-digits "driven by strong execution and share growth across most categories".
"These results support our conviction that our emerging-market footprint is a competitive advantage and the investments we have been making in 2019 and previous years are paying off," CFO Zaramella says.
China remains a hefty market for Mondelez, described as a "$1bn net revenue country", and the disruption to the Chinese New Year celebrations in January from the coronavirus could be significant.
It could have wider implications too, not only for Mondelez and other food and beverages companies operating in the country, but also the government in terms of the economy.
The week-long Lunar New Year holiday is the biggest and most-celebrated festival in China, but with people quarantined in their homes instead of paying customary visits to relatives, and with some cities such as Wuhan completely shutdown, the implications could be far reaching and very dependent on when the virus can be brought under control.
Mondelez has imposed travel restrictions on staff within China and also those travelling to the Asian nation on business. More importantly, the company operates four production facilities there. While the plants remain closed for the ongoing New Year festivities, local authorities have requested two remain shut for an extended period to reduce the risk of infection.
Coronavirus aside, Mondelez has big ambitions for China. Van de Put says the company plans to expand into "third-tier cities" and set up sales teams in those locations to increase revenues. The Toblerone candy maker added 140,000 "new stores" in China last year, and will continue along that trajectory in 2020, the CEO confirms.
2020 outlook
Alexia Howard, a senior analyst at Sanford Bernstein, says Mondelez will be up against tough comparisons in the first quarter compared to last year, even without any potential impact from China, although she plays down the prospect of any real shock on earnings. In the first three months of 2019, developing-market growth was a commendable 8.4%, she points out.
"The bigger test will come next quarter when the company laps the 3.7% organic-sales growth seen in the first quarter of 2019," Howard warns. "While the earlier Chinese New Year and the coronavirus outbreak could put a dampener on performance next quarter, China only represents 4.5% of sales."
Zaramella says Mondelez is sticking with its 3%-plus organic growth outlook for the new financial year, "predicated on our view of category growth of approximately 3%, some share gains and revenue growth driven by both volume and pricing".
Adjusted EPS growth is expected in the high-single-digit area, compared to 8% for the year-ended in December.
Biscuits is a category targeted for continued expansion in 2020, particularly in the US and Russia. For example, Van de Put highlights progress made in the legacy Jubilee brand in Russia, where he says it lay dormant for some time but has been revamped and is now growing at a double-digit pace with "strong" market-share gains.
A "local-first culture"
Backing Mondelez's local brands is a central part of the company's investment strategy. Van de Put spoke last year about the "local heritage brands" in the Mondelez portfolio that have "a very strong, emotional connection to consumers".
It looks a wise strategy, given the macro trend of growing consumer interest in 'local' food.
On Wednesday, Van de Put provided an update on the progress of its local- versus global-brand strategy, saying Mondelez is putting more effort into identifying opportunities in individual markets relevant to consumer eating habits and snacking preferences.
"We are constantly trying to be more consumer-centric using our new and unique understanding of consumers around the world to develop a more effective and a more consistent approach to marketing," the CEO says. "And as a consequence, growth in our global brands has accelerated further, while our local brand growth is now very close to overall category growth."
He added: "We really want them to be in line with category growth and global brands clearly need to be above that, that's the way we think about it."
Van de Put also spoke about how Mondelez is trying to develop a "local-first culture", not just on investing in its local brands but also in the way executives make decisions.
Mondelez has been, he said, "empowering local business units to make the right choices for their consumers and their clients". He added: "This empowerment has led to clearer accountability and faster decision-making and was reinforced by focused incentives."
Progress on sustainability
Amid Mondelez's commitments to sustainability and the environment, the CEO was happy to applaud some progress, particularly with respect to cocoa sourcing and cutting the use of plastics in packaging.
The snacking giant launched its Cocoa Life sustainability programme around six years ago, and last year said the project would supply 100% of its cocoa needs for chocolate products by 2025, from about 43% at the time.
Van de Put says the company is now sourcing 63% of its cocoa quota from the programme and has a "clear roadmap for the remainder".
And on plastics, Mondelez set a similar target in 2018 to make all of its packaging fully recyclable by 2025, and by the end of last year had achieved 92%, the CEO says.
Mondelez, like many of its food peers, will increasingly be measured by its progress on sustainability, especially with more and more investors shunning companies that aren't showing a commitment to reduce the environmental footprint, a facet Van de Put recognises.
"We know that our future growth and success as a company depends on ensuring people and the planet thrive," he says.
But from a financial perspective, the investment community will be focused on how far Mondelez can go with its new brand strategy. And further afield, how the world deals with the spread of coronavirus and prevent it from having wider implications on the global business environment. It could well be a different kettle of fish this time next year.