Talking shop: Morrisons ups the stakes with its "Shop of the Future"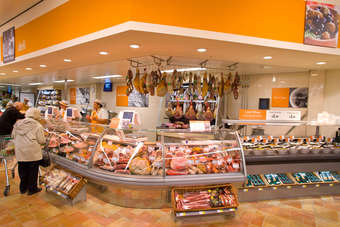 Analysts rate Morrisons' new store format highly
Through its innovative focus on fresh food and deep involvement in the supply chain, Morrisons has become the wunderkind everyone is watching. Andrew Don takes a look at how the UK's fourth-largest retailer is attempting to stand out from the pack.
Located in St Albans in Hertfordshire, Morrisons' flagship 28,653 sq ft "Store of the Future" has upped the grocery sector ante.
How rivals respond and whether they erode, and improve on, the Bradford-based multiple's differentiation remains to be seen. However, Morrisons is attempting to steal the march as the chain rolls out "all or most" of the new concepts on show at St Albans to about 15% of its selling space, including the 12 stores that have already been converted, by the end of the first half of the year.
Morrisons plans to tailor the concept to different locations and store sizes "ensuring that we provide customers with the elements they really want", a spokesperson says.
Mike Ward, store manager at St Albans, the only superstore to include all elements, believes rivals would struggle to follow suit. He says sourcing some of the products was difficult and emphasises that the group has its own manufacturing facilities and pack houses.
"We have butchers and fishmongers that are trained as part of our culture...it would take the others a huge amount of time and investment to do," he says.
The emphasis is on fresh food and skilled staff, from the fish counter and the butchery through to the "specially trained barista" in "Fresh to Go".
Here, banks of self-serve salads, juices nestling in crushed ice, fruit salad ingredients, pizza slices, patisserie, baguettes, salad & wrap ingredients and soups are to be found. Ward says the sushi was "a major wow factor" when customers saw staff hand-rolling.
Another eye-catcher is the fresh produce section, which Nick Gladding, senior retail analyst at the IGD, describes as "presented in a highly experiential and visual way that creates a halo effect on the rest of the store". The produce is merchandised on flat-bed misters that keep the fruit and vegetables fresh with dry ice. The mist rising from these fixtures not only enhances the perception of freshness but creates theatre.
The breadth and variety of range makes this a stand-out category, from the Green Romanseco cauliflower to the 14 types of mushroom, a dozen varieties of tomato and purple potatoes.
The store has 18 self-serve olive mixes; an impressive counter where the cheese is categorised by strength; deli meals and fresh deep-pan pizza to go with an ingredients selection facility; islands of deli bites; and a counter selling hot snacks along the back that are merchandised in paper bags and cooked to order.
A single row of bottled beers, sauces and wines in baskets at the base of this counter is clever juxtaposition as is the wine island just feet from the fish and meat counter with "great with red meat" and "perfect with seafood" signage.
The patisserie compares with the best specialists for colour, theatre, product and design. "It's the way our bakers roll that make the difference", the sign says, the emphasis on skill.
A Morrisons spokesperson says shopping is functional and undertaken in the "soulless 80,000 sq ft sheds" of some of its UK rivals. But St. Albans and Store of the Future was a "game changer" in UK food retail.
"From knocking down walls so that customers can see our craft skills in practice and the theatre of preparation, through to introducing 350 more fruit and vegetable products, we have been able to create a store that moves us away from the average," the spokesperson claims.
And Morrisons is not alone in rating its new store concept highly. Neil Saunders, managing director of Conlumino agrees: "Everyone else will look over their shoulder and see what Morrisons is doing. There is no way Tesco will spend the kind of money required to mimic what Morrisons has done."
Grocery Insight's Steve Dresser adds that even if rivals have the will they may not have the way to follow in Morrisons footsteps.
"Sure they [rivals] could attempt to copy the produce but do they have the capability to source it? They've not got the integration with the pack houses. There will be a huge push on fresh from Tesco and we have seen other pushes from Asda and Sainsbury's but Morrisons is the best placed."
Nevertheless, competition is stepping up around fresh. Sainsbury's chief executive Justin King said in the company's fourth quarter trading statement that the company had invested more than GBP85m (US$135m) "to make our fresh food better than ever".
Meanwhile, Saunders believes Waitrose overall was on a par with Morrisons, although he adds: "At Waitrose you pay for it. With Morrisons you get price competitiveness thrown in. Morrisons is saying we are pretty competitive on price but we are giving you good quality food as well and we are giving you a good environment. That to me is a winning combination."
On a note of caution, Saunders says rolling out aspects of St Albans into the fledgling M-Local convenience store network would be a challenge. "They've got to make it work commercially."
Looking at where retailers will go next to differentiate themselves, Ralph Hengsenberg, marketing director for BT Global Services and panel member of Retailtopia, says one of the likely areas for one-upmanship will likely be reducing queuing times because self-service checkouts fail to sufficiently address this issue.
"I see the potential for intelligent shopping trolleys which automatically register and display in the trolley what you have bought and you pay with a mobile device," he says. According to Hengsenberg, this would be achievable with radio frequency identification and near-field communications.
This technology would allow retailer to provide a more personalised shopping experience where they would be offered promotions against what they had previously bought, Hengsenberg suggests.
"We think it will not just be customer relationship management (CRM) to remember information about your customers but CRM to remember information for your customer."
And digital signage in-store would give people a much richer experience and more suggestions of recipes, which was where the Morrisons' concept of freshness of merchandise featured strongly, he continues. "You can give a lot more personal advice about where to get the best ingredients and what to use."
He adds: "With food retailing, customers are more and more interested in product information and we will see a lot more of that with smart devices."
So, while Morrisons may have set the pace with its "Store of the Future", the future will always hold new innovations that update the shopping experience.
Oops! This article is copy protected.
Why can't I copy the text on this page?
The ability to copy articles is specially reserved for people who are part of a group membership.
How do I become a group member?
To find out how you and your team can copy and share articles and save money as part of a group membership call Sean Clinton on
+44 (0)1527 573 736 or complete this form..