Nestle might find positives in failure of Milkybar Wowsomes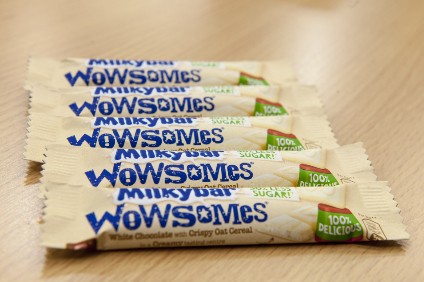 The technology Nestle developed had impressed some experts
Nestlé's decision to discontinue low-sugar chocolate product Milkybar Wowsomes shows challenges still persist as food manufacturers look to offer healthier options – but the world's largest food maker might take some positives from the episode. Dean Best reports.
Two years ago, with no little fanfare, Nestlé unveiled the first product it had developed using what the company described as an "innovative sugar-reduction technique".
Milkybar Wowsomes, chocolate bars containing "30% less sugar than similar chocolate products", went on sale in the UK and Ireland.
The chocolate contained a new type of sugar Nestlé had developed, which the company called "structured sugar", describing the ingredient as "an amorphous and porous sugar made with all-natural ingredients". Amorphous sugar dissolves faster in the mouth, Nestlé explained, effectively providing more sweetness from a given amount of sugar.
Nestlé's technological breakthrough impressed experts, as did the speed with which it brought a product to market. The world's largest food maker had only started work on the new technique in 2015.
In fact, the innovation and its application in a new chocolate bar prompted industry watchers to wonder whether Nestlé's work would prove something of a game-changer in the efforts to reduce sugar.
However, Nestlé last week admitted it has discontinued Milkybar Wowsomes in both the UK and Ireland. There have been rumours of disappointing sales, although Nestlé refused to give a reason for its decision to axe the product when pressed by just-food. The company did point to other low-sugar snacks it still has on sale and insisted it is "working on some new and exciting products for the future".
Nonetheless, the failure of Milkybar Wowsomes will leave something of a bitter after-taste – and highlights the challenges companies face in getting low-sugar snacks to stick.
Data may point to a general desire among shoppers to cut their sugar intake but the reality is often different. The taste of low-sugar products may not hit the mark, while there are other structural issues at play: the snacks category is over-crowded and even brands from companies like Nestle might struggle to gain traction without significant marketing support.
It could also be some consumers are sceptical when a business the size of Nestle – and with its history in mainstream confectionery – tries to market a healthier snack.
Jose Miguel Flavian Erlac, an FMCG researcher who studies the UK grocery market, says he thought the Wowsomes bars might have appealed to consumers looking for clean-label products and for foods with lower sugar.
"I thought the Wowsomes bars were ticking on clean-label demand – with claims of no artificial sweeteners – as well as the sugar reduction, and that could be favourable but in the end it has been difficult to sell indulgent treats explaining the innovative sugar reduction technology," he reflects.
"If prospective Wowsomes consumers fail to understand the benefit of the technology, they may very well believe that what's on offer is just a less yummy Milkybar than the 'real thing' because it has less sugar and no artificial sweeteners, and they have plenty of tested options to satisfy their needs."
Hamish Renton, managing director at UK food and drink consultancy HRA Global, believes in the technology behind the Wowsomes bars but argues the product may have faltered for other reasons
"Nestlé are absolutely on the right lines. I just think this is a case they got the execution wrong," Renton says.
Sugar is under scrutiny but Renton also suggests there is growing questions among consumers about the impact sweeteners might have on gut health.
Nestlé, Renton explains, therefore "had the right tech" but he believes Milkybar Wowsomes failed due to other issues.
"Maybe they were too early and the market wasn't ready for it, maybe it wasn't indulgent enough, maybe it was a bit too top-dollar and then they trashed it and tried to trade it," Renton suggests. "They just got the mix wrong. The tech is too good and the need is too great for ultimately this not to come back to the market.
"I think this tech is alive and well and I think it'll come back and come back soon because the biology of it is we want to indulge and we don't want the sugar. That ain't going anywhere soon really."
Renton also wonders whether the Milkybar Wowsomes bars had received enough support from retailers. That is hard to prove either way, although anecdotally your correspondent (a regular buyer of the bars for his children) did note how the products were often perched on the top shelves of confectionery fixtures in some UK stores.
"The retailers didn't seem to get behind it in the way that you would have expected them to," Renton says. "The need for this has not gone away. Thirty per cent is a really meaningful amount. If you think about it in cheese terms, that lighter cheese is all 30% fat reduction. It's a meaningful reduction to the man in the street. It's the right tech, just the execution and the mix wasn't right. It'll be back."
For now, Nestlé says it is focusing its efforts on its newer lower-sugar range More – which, again, touts a sugar reduction of 30% – as well as on looking to develop more products.
Healthy indulgence. To some, a contradiction in terms but, to a growing number of consumers, a concept that does appeal. The challenge for manufacturers (and marketeers) is coming up with a winning product – and brand – formula.
It appears as though Nestlé has at least something to build on.
Oops! This article is copy protected.
Why can't I copy the text on this page?
The ability to copy articles is specially reserved for people who are part of a group membership.
How do I become a group member?
To find out how you and your team can copy and share articles and save money as part of a group membership call Sean Clinton on
+44 (0)1527 573 736 or complete this form..