Nestle proves resilient to Covid challenge with outlook "to hang your hat on"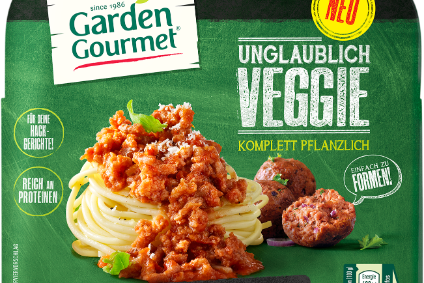 Garden Gourmet owner quietly optimistic about outlook
Nestlé has confounded market expectations with a strong set of third-quarter results, and to boot, a new upbeat forecast for organic growth. But it has challenges to overcome, and not just Covid-19. Simon Harvey reviews the key talking points.
Nestlé has shown its resilience to Covid-19 by posting the strongest quarterly organic growth in six years but it's not been all plain sailing for the world's largest food manufacturer.
Growth rebounded to a market-beating 4.9% in the third quarter running from July-to-September, up from a 1.3% print in the previous three months, when Nestlé felt the impact of the coronavirus-related shutdown of the out-of-home sector across its markets.
Much of that lost business was fed into retail as people were resigned to cooking in their own kitchens, a trend that has since solidified with no end to the virus in sight and the foodservice sector remains under pressure.
Even though the dynamics connected to consumer purchasing patterns remain largely the same, Nestlé chief executive Mark Schneider was confident he can meet or even exceed the more upbeat organic guidance of 3% revealed on Wednesday. He said he'd be "disappointed" if Nestlé didn't achieve or beat that.
Nestlé's presence in the health science sector, where it has completed four deals in three years – most recently with allergy-treatment firm Aimmune Therapeutics – may go some way to explain Schneider's optimism as consumers have tended to turn to health, wellness and immunity-supporting products during the crisis. But diversity across food categories has also perhaps been a saviour for the Garden Gourmet plant-based brand maker just as the foodservice channel is facing potential restrictions again to combat a second coronavirus wave.
Despite the difficulties and uncertainty posed by the pandemic over the last eight months or so, Nestlé's third-quarter organic growth of 4.9% exceeded the 3.7% in the corresponding three months last year, and the 2.9% in 2018.
Schneider's new guidance (raised from 2-3%), if achieved, would be just shy of last year's 3.5%. And it looks reachable given Nestlé also reported a year-to-date rate of 3.5% on Wednesday – "led by sustained strong sales development in the Americas, Purina Petcare and Nestlé Health Science".
"This is something you can absolutely hang your hat on," Schneider said in terms of the guidance. "We know this is cautious. This year with Covid, this is not exactly the environment for high-precision forecasts. This is where you would want to leave yourself a little bit of safety margin and that is what we are doing."
And he's confident on the outlook for the new year too as the prepared dishes and cooking aids category expanded by mid-single digits over the nine months, and vegetarian and plant-based foods "delivered strong double-digit growth".
"The trend toward more in-home consumption is here to stay"
"With the strong roller-coaster profile that you've seen this year, when it comes to a quarter-over-quarter comparison, you will see a messy 12-to-18 month period. I think that's unavoidable," Schneider said. "But, by and large, the trend toward more in-home consumption is here to stay and I think that bodes well for next year.
"For the full year and beyond, I feel quite optimistic because it's clear that even when some of the immediate health concerns might be abated, people do actually skew toward more in-home consumption now."
During a Q&A session to discuss the results, Schneider was pressed on Nestlé's ability to meet his longer-term target of mid-single digit growth in organic sales, to which he exuded the same confidence around the shorter-term outlook.
"The good news to me, and the reassuring news to me, is that while we are handling the Covid crisis, in all modesty so well, the internal work when it comes to ensuring our future innovation building product pipelines, building new digital capabilities, that continues unabated, so that has not slowed down," he said. "I feel good about our ability to be there in a reasonable amount of time."
Currency depreciation, deflation
Following the revision to the outlook, MainFirst has also increased its estimates for Nestlé's organic growth not only for this year but also in 2021.
The fund manager and financial services business sees a print of 3.4% for 2020, up from a previous forecast of 2.8%, and 3.8% for next year, compared with 3.4% previously.
Nevertheless, exchange rates are expected to continue to throw up headwinds in terms of the potential impact on sales, particularly in emerging markets, amid a flight to safety in currencies such as the US dollar during the current uncertain environment.
Nestlé's reported sales over the nine months dropped 9.4% to CHF61.9bn (US$68.3bn), with divestitures and foreign exchange having a negative 12.9% impact.
Both Schneider and CFO François-Xavier Roger noted how the Stouffer's ready-meals maker had not been in a position to benefit from pricing in what was described as a "deflationary environment", with real internal growth taking up the slack. RIG climbed 3.3% for the group over the nine months ended in September, while pricing was up a paltry 0.2%.
"Do keep in mind that RIG has expanded very solidly, some of it is mix, which is signalling the strong innovation track record that we are building up now," the CEO said. "To us, mix is the new form of pricing and it is clearly paying off."
Roger expanded on the link between pricing, inflation and currency valuations.
"Pricing is relatively limited in today's world because first of all we live in a deflationary environment and pricing is actually the mere reflection of two forces. One is the depreciation of currencies, which happened essentially in emerging markets, as well as input costs, which means commodity and packaging materials pricing," he adds.
"As far as inflation coming from depreciation of currencies, we will see more of it, and we have started already to raise prices in some emerging markets where we have been facing, in a number of cases, depreciation of currencies of 25-30%. That has to be addressed over time with some kind of inflation."
It was a mixed bag for pricing and RIG across developed and emerging markets. While both organic and reported sales growth were unsurprisingly superior in established countries in which Nestlé operates (3.9% and 58%, respectively, versus 2.8% and 42% in emerging nations), pricing fell 1%, compared to a 1.5% increase in the less developed world.
A 4.9% print was reported for RIG in developed markets and 1.3% in emerging markets.
Blip in confectionery
In terms of global categories, confectionery has suffered this year, with sales down on an organic basis in the nine months to the end of September. Nestlé pointed to the division's "exposure to out-of-home channels" but said the unit did see "some improvement" in the third quarter.
The Nutrition and Health Science division was the third-largest contributor to group sales with CHF9bn (with sales up 1.5% in the first nine months of the year), compared to CHF16.2bn for powdered and liquid beverages, and CHF10.3bn for pet care.
Milk products and ice cream led the sales gains (+8.2%) in the food and drinks category, with prepared meals and culinary aids runner up at 4.5%, but confectionery was down 1.8%.
Even so, confectionery improved in the third quarter – due to "strong sales development in France and the UK", Nestlé said – after sales dropped 4.1% over the course of the first half. The result would have been better had it not been for a decline in KitKat sales in Japan, which was put down to a tail-off in tourists linked to coronavirus.
Confectionery was also indirectly affected by Covid-19 in China, as consumers avoided the pick-and-mix category for fear of contracting the virus.
Schneider said: "I'm very pleased with the progress we have seen in Q3. Clearly this business has been hard hit by the reduced out-of-home consumption, in particular when it comes to Hsu Fu Chi in China, where a big part of the business is pick-and-mix. In this current environment with hygiene concerns, this is sometimes a hard sell on people.
The Nestlé chief, reflecting on the division, insisted he is "feeling good about", remarking he was "very pleased with the amount of innovation I am seeing".
Alain Oberhuber, and analyst at MainFirst, offered his perspective. "Hsu Fu Chi in China continues to be soft as this category remains challenging. Nestlé wants to give it some time to recover, however, we think it will become challenging for Nestlé as competition has increased," he wrote in a research note. But the "jury is out to turn around this business", he said.
China challenges
In China, Nestlé said there was a "broad-based improvement" in the third quarter after a flat performance in the previous three months and on the back of a decline in the first quarter. The main growth drivers in China, Nestlé's second-largest market, were dairy, ice cream and culinary products, coffee and pet care. But CFO Roger said Nestlé lost market share with Yinlu peanut milk – another brand up for sale - and in S26 infant formula.
Oberhuber commented on the under-pressure market for infant-formula in China. "The turnaround in infant formula in China is vital to get the category back to double-digit growth rates. Infant formula is 25% of Nestlé's Greater China revenues, or 1.5% of group sales." He estimates an improvement in the baby-milk category will only likely be realised in the first quarter of next year.
But into the fourth quarter and beyond, Roger warned Nestlé will lose more than two weeks of sales because of the later timing of the week-long Chinese New Year holiday, which starts on 12 February, compared to 25 January in 2020.
As a consequence, sales in China will be "lighter" in the fourth quarter, Schneider predicts. Roger explains that because the company won't get pre-season shipments as early as it did last year in the final quarter, it equates to around a 40-50 basis-point impact on the group in organic growth terms. "So it's quite material."
Nestlé is facing up to the reality Covid-19 isn't going to go away any time soon. That was evident in the continued demise of foodservice, which contributed 10% to group sales before the pandemic emerged. Sales through the channel slipped 26.4% in the third quarter, a slower rate of decline than the 54.7% slide witnessed from April through June, but still more protracted than the 11.2% drop in the first three months of the fiscal year.
Conversely, growth in sales at the retail level accelerated to 8.6% in the period through September, compared with respective prints in the second and first quarters of 6.9% and 5.7%.
E-commerce reaps rewards
And it's a similar trend in e-commerce too, where the Zurich-listed business has picked up customers still reluctant to go into stores, or those that have realised the convenience offered by online shopping.
Schneider said: "This is the coming of age when it comes to digital in food and beverages. This is here to stay. We don't expect this to slide back even after the immediate pandemic is over. So all the more reason to give it continued effort, create more investment in this area and be a leader in this space."
Sales through the channel represent 12.3% for the group, up from 8.5% for the whole of last year, and according to Roger has grown 48% since the beginning of the year.
In some categories, Roger said online sales have been better than offline, and in general terms, growth has been "consistent across all categories".
He adds: "We continue to gain market share online in about 60% of our business sales. In about two thirds of the cases, we have a better market share online than offline. It's largely coming from the US, the UK, France, Germany, China and Japan. Some categories are more advanced than others."
All told, it would appear Schneider's 3% outlook is conservative, not withstanding any unforeseen shocks the pandemic might throw up, given the fillip the channel switch into retail and the rise in e-commerce has provided. It could be even better if foodservice comes fully back on stream.
For the time being, Schneider is quietly confident. "What you are seeing here is generally people staying more at home, consuming more at home and also getting settled into that habit. I think that bodes well generally, so I see that as something positive."
Sectors: Allergen-free, Baby food, Canned food, Cereal, Chilled foods, Confectionery, Dairy, Dairy-free, Frozen, Ice Cream, Meat-free, Vegetarian & vegan
Themes: E-commerce, Emerging markets, Foodservice strategy
Companies: Nestle
Oops! This article is copy protected.
Why can't I copy the text on this page?
The ability to copy articles is specially reserved for people who are part of a group membership.
How do I become a group member?
To find out how you and your team can copy and share articles and save money as part of a group membership call Sean Clinton on
+44 (0)1527 573 736 or complete this form..