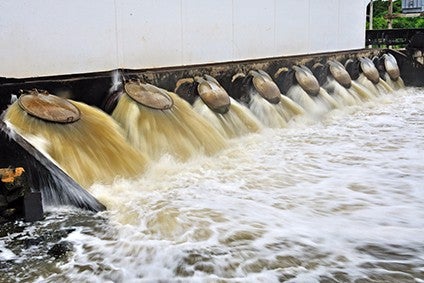 A new study into how global food companies are responding to water risks from US sustainability non-profit Ceres reveals a huge divergence in engagement and disclosure on water issues among food companies – and underlines it is in their agricultural supply chains where the most work needs to be done.
Overall, Ceres says food companies are making progress, but "many remain unprepared for the profound impact of climate change on the availability of the water resources that sustain their operations and agricultural supply chain".
Ceres' Feeding Ourselves Thirsty report ranks the 42 largest global food and beverage firms on performance across four areas of water management, namely governance and strategy, direct operations, manufacturing supply chain and agricultural supply chain, comparing performance with a corresponding report in 2015.
Nestle achieved the highest score of 82 out of 100, overtaking Unilever, which had topped the rankings in 2015 with 70 points. Unilever remained the second-highest scorer with 73, followed by Coca-Cola (72) and PepsiCo (70). The average score across the 42 companies was 31, up 10% from 2015.
"We think that there's definitely been some positive change, and there are a lot of companies that are doing some really great things and have made some really great steps forward," Eliza Roberts, manager of Ceres' water programme and co-author of the report, tells just-food. "That being said, across the board there really is quite a lot of room to go, and for some companies in particular there's a lot of room for improvement."
The numbers bear that out. Of the 31 food companies assessed in 2015, eight saw their scores fall while another four were unchanged. Only seven out of 34 food companies in the 2017 report – Olam International, Mars and Danone being the new additions this year – recorded a score above 50.
The other four food companies to score 50 or higher were General Mills (68), Danone (65), Kellogg (56) and Campbell Soup Co. (50). However, while plaudits for leaders may be warranted, with 21 food firms below the average of 31, and 14 below a score of 20, there is more to raise concern in the report than celebrate.
According to Ceres, there have been improvements in integrating water into business strategy, setting targets, water accounting, risk assessment and sustainable sourcing. Areas that have "stalled" include governance, wastewater management, integrating water risk into procurement processes, collaboration to protect watersheds and board oversight.
All the findings are based on publicly-disclosed information. According to Roberts, some companies say they are stepping up their efforts but are choosing not to disclose what they are doing. That, in itself, appears to raise questions regarding transparency. Intuitively, given the PR benefits of taking proactive steps towards greater sustainability, the chance under-reporting of actions might be a significant factor seems slim. "The data speaks for itself," Roberts says. "Some companies simply have not stepped up to effectively respond to these risks."
Companies that saw their scores fall or achieved particularly low ratings were reluctant to comment directly on Ceres' findings. Kraft Heinz, the lowest-ranked packaged food company with a score of nine, said it had no comment. Mondelez International, which saw its score fall from 43 to 31, said it did "not wish to comment specifically on this report".
Asked to respond to its rating of 22, four points down on 2015, Hershey made no reference to the report itself. A company spokesperson detailed a range of actions the company has reported in relation to water stewardship and pointed to "ambitious new goals that include water".
Conagra Brands, which saw its score fall from 31 to 21, said it is "committed to actively managing water resources across our value chain", again pointing to previously reported actions but not responding to any specific observations in the report.
That some companies can become defensive when their commitment to responsible water stewardship is questioned only underlines the reputational risks around water use and the level of public concern water issues can arouse.
Indeed, Roberts believes consumer pressure to be one of the primary reasons why packaged food and beverage manufacturers significantly outscored meat and agricultural products companies.
According to the report, the meat and agricultural sectors have "disclosed limited investments in mitigating water risks in their operations and supply chains" in spite of having the most direct exposure to climate-related water risks.
While the meat sector recorded a 20% increase in its average score, the strongest growth of all categories, that average was still only 15 points. Meanwhile, its top-scoring company, WH Group-owned Smithfield Foods, had a score of 33, unchanged from 2015 and well below the leading companies in packaged food and beverages.
The agricultural products sector saw a 10% decline in its average score to 18, with Olam achieving the top score of 49. The average score among packaged food companies rose by 16% to 37.
"Consumers are much more familiar with the packaged food brands than they are with meat and agricultural products," Roberts says. "That may be changing and there are certain exceptions to that but I think across the board consumers are much more connected to those brands. And I think because of that there's a lot more pressure on those packaged food companies to step up and demonstrate to consumers that they are responding to sustainability challenges like water."
The meat and agricultural products companies contacted by just-food after the report was published again chose not to comment on the report's findings and conclusions specifically, but restated their commitment to improving water stewardship and cited various actions.
Tyson Foods, which recorded a score of 11, compared with eight in 2015, said it is "focused on continuous improvement, and is working to deliver system-level sustainability initiatives that drive improvement across the entire value chain and provide safe, affordable, and sustainable food".
Hormel Foods, which scored 23, up from 11 in 2015, said it "has a long tradition of water stewardship and continues to advance its efforts", while Archer Daniels Midland, which saw its score rise from 10 to 16, said water-resource management is "a key sustainability focus area".
The lowest-scoring meat company was JBS-controlled US poultry group Pilgrim's Pride which scored only one, down from three in 2015. In a statement, Pilgrim's Pride criticised Ceres' methodology and took issue with its findings.
"Due to the timing of Ceres' data analysis, it appears that a thorough review of Pilgrim's Pride's publicly available information related to water was not considered," the company said, adding that it had "clearly discussed" in its 2016 sustainability report "all elements required by Ceres" relating to governance and management, direct operations, water use in the supply chain, recycling and discharge. "As is often the case with these sorts of reports, where data analysis is based on a publication deadline rather than accurately reflecting the current situation, critical information is overlooked, which limits the usefulness and credibility of the report."
Roberts, however, said one of the reasons for having a two-year interval between the reports was to ensure it captured new disclosures, filings and reports from companies.
Interestingly, the most complimentary remarks about the report itself came from another relatively low-scoring company, namely agricultural commodities group Cargill. "This report adds to the growing body of knowledge around sustainable agriculture," a Cargill spokesperson said. "Cargill is actively engaged in efforts to address water quality and scarcity issues, and they are increasingly important as we work to nourish the world in a safe, responsible and sustainable way. We welcome insights from a variety of partners to identify new opportunities and scale up best practices."
Partnership between packaged food firms and the meat and agricultural products companies that supply them will be particularly important in accelerating progress across the food sector.
That the agricultural products and meat sectors are lagging behind may be due to an inadequate focus on water by some, but it is also because these companies face the toughest challenges in relation to water stewardship. Agricultural supply chains are where most of the water footprint for food products is concentrated and where the most serious climate change risks are to be found.
Moreover, the companies operating in meat and agricultural commodities are part of the supply chains of the packaged food companies and, in relation to water, an extremely significant part.
Ceres has reweighted its scoring system this year to give more emphasis to water use in manufacturing and agricultural supply chains, reflecting how the focus for companies has moved from gaining water efficiencies in direct operations to looking at the entire value chain.
The faster progress achieved by packaged food companies has in no small part been spurred by consumer sentiment and Roberts believes there is a "tremendous opportunity" for packaged food companies to "look more carefully at the water risks that the companies they're buying from are exposed to and set clearer and higher expectations for how these companies should be responding to these risks".
Jeff Hanratty, who heads up the water programme at General Mills, stresses it is more a matter of engagement than putting pressure on commodity suppliers. "I don't really think that pressure is the right word," Hanratty says. The goal is to "connect our risk to theirs and work in collaboration to help watersheds improve".
Roberta Barbieri, vice president of global water and environmental solutions at PepsiCo, also emphasises water should be seen as a common struggle.
"Ceres' latest analysis on water use in the food industry," Barbieri says, "highlights our shared water emergency and the need to implement solutions and collaborate within and across sectors to deliver solutions that last."