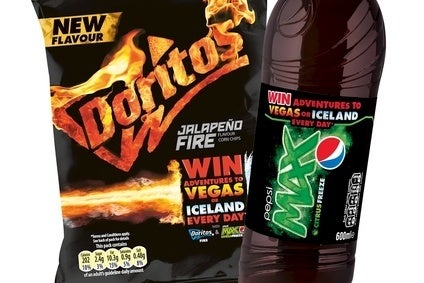 Frito-Lay, the North American snack business of PepsiCo, is responding to the slow erosion of its market share in a "disciplined" way, while also innovating to fend off competition from premium players, its management insisted yesterday (10 October).
PepsiCo said third-quarter organic revenue at the unit increased by 3% in the period. This represents a sequential improvement on the 2% growth booked by Frito-Lay in the second quarter of the year and was in-line with group-wide third-quarter organic revenue growth, which totalled 3.1%.
However, top-line momentum at Frito Lay is still down from the 4-5% level of sales growth reported for the prior 18 months to the end of the first quarter.
Commenting on Frito-Lay's performance, PepsiCo chief executive Indra Nooyi said she could not predict whether these depressed growth trends were a "new normal" in US snacks.
Nooyi attributed much of the slowdown to the wider consumer environment in the US and insisted the business had done "a very good job" in "this very difficult environment".
"Overall in Q3, food industry sales in retail [were] challenging. And within that, Frito-Lay performed well. In fact, [it] was the best performer in that group… centre-of-the-store is particularly challenged, but, I would say, overall food industry sales are challenged. Frito has been a shining star."
While Nooyi insisted the business was performing ahead of many of its peers in US snacks, she conceded the unit nevertheless continued to lose market share in the three-month period. According to the chief executive's assessment, losses can be chalked up to rising competition from "premium players".
"The share loss is really to premium players who don't last for long time in the market. People come in and out of the market. And Frito has been very careful not to react to players who are not long-term players in the marketplace. So, Frito has been playing a very, very responsible game. What we have been trying to do at Frito is to say, let's make the core very solid, deliver on the core and start expanding the shoulders of the business in a profitable way."
According to CFO Hugh Johnston, Frito-Lay has introduced some premium products in response to the growth of premium snack sales in its domestic market.
"In terms of addressing those premium innovation opportunities, we have been building more capability. You see products like Stacy's Pretzel Crisps, you see products like Smartfood Selects, all of which are entering that premium space and to-date we have been quite successful with them. So, we would certainly expect to see that aspect improving over time," Johnston revealed.
PepsiCo has also focused on cross-selling opportunities with its drinks business as it works to leverage points of difference in defence of its market share. In particular, PepsiCo has introduced cross promotional activity with Mountain Dew and Doritos.
Nooyi explained: "We are increasingly leveraging the complementary nature of our products and brands. A case in point is Mountain Dew and Doritos. Dew and Doritos have extremely high co-purchase incidence. In the US, over 60% of Mountain Dew households buy Doritos.
"In the US this fall, Dew and Doritos are giving consumers access to Call of Duty: Advanced Warfare. They are going to give them exclusive in-game gear, double XP and rapid supply rewards…. A number of our largest customers will run better together programs linked to this promotion."
According to Wells Fargo Securities analyst Bonnie Herzog, this strategy has been key to PepsiCo's "solid" performance in the challenging US snack environment.
Herzog wrote in an investor note: "Share losses to premium players have narrowed from Q1 and PepsiCo remains disciplined in its strategy, which has allowed it to continue to outperform its peers in a challenging environment. Despite the challenges in centre-aisle categories, we believe PepsiCo has done a solid job of leveraging its "better together" strategy and innovation platform to support ongoing top-line results."
Frito Lay generates 20% of PepsiCo's total revenue and around one-third or group operating profit.
Click here to view PepsiCo's third-quarter results.