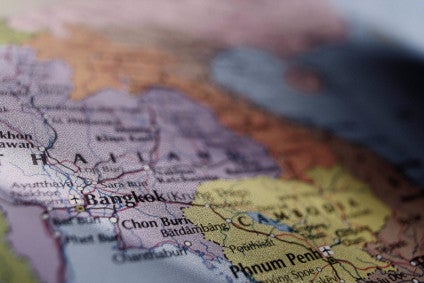 After a period in the economic doldrums, Thailand looks set to be a potential opportunity for domestic and international food manufacturers marketing premium wares. Poorna Rodrigo surveys what is driving demand for premium products in south-east Asia's second-largest economy.
A string of political crises may have weakened consumer spending in recent years but Thailand's economic growth accelerated in 2015 and the country's GDP in the first half of 2016 was faster still, suggesting south-east Asia's second-largest economy could again present a lucrative opportunity for premium packaged food markets.
And there is optimism among industry watchers about demand for packaged premium brands despite the possibility the wave of bomb blasts this summer could affect tourism, which is a driver in the trend of premiumisation and some concerns over the levels of household debts in Thailand.
The appetite for packaged premium brands remains strong and is expected to grow – and trends including impulse and health are expected to be key to the development of the more premium parts of the market.
Overall, packaged food sales (retail and foodservice including premium) soared from US$8.06bn in 2011 to US$11.07bn in 2015, according to data from UK-based market researcher Euromonitor International, with sales projected to continue to grow through 2020, albeit at a slower pace.
The rate of growth in the sales of more upmarket products is predicted to rise, according to Yongyut Ongwattanapat, a Bangkok-based senior manager at US market research company Nielsen. "Premium food grew at four per cent, while the non-premium category grew around six per cent in 2014. Premium food sales are expected to grow around six to seven per cent within the next two years," Ongwattanapat says.
Reflecting the growth in the size of Thailand's middle-class, the increase in premium goods sales is shaping Thailand's fast moving consumer goods industry, Ongwattanapat explains. One common theme persuading consumers to pay more for premium foods is the ability of brands to "convey functional benefits" Ongwattanapat says. For example, products claiming to have lower or less sugar, high in fibre and protein, organic, and 100% juice content are becoming more appealing to Thai consumers.
A spokesperson from Euromonitor says the urban lifestyle of many modern Thai consumers is encouraging them to spend more, despite higher living costs and debts. For example, World Bank data says out of 67.9m people overall, nearly 10m live in the capital Bangkok. New product launches are well received, as "adventurous tastes [drive] consumer willingness to spend on new experiences," the spokesperson says. "Impulse and indulgent packaged food products" have been instrumental in boosting retail value sales growth, the spokesperson adds.
Fonterra, the New Zealand dairy giant, has a growing business in Thailand, with its foodservice-oriented business, Anchor Food Professionals, central to its strategy for growth in the category. Anchor Food Professionals supplies a range of dairy products to foodservice and convenience store outlets in Thailand. That part of Fonterra's operations in Thailand "has seen double-digit growth in the past few years", Paul Richards, managing director of Fonterra's branded business in the country, says. Richards points to one category benefiting from growing demand for convenience. "There's huge potential in the premium segment of the bakery category where more Thai consumers with higher incomes demand greater variety and western-influenced options," Richards says.
Looking at other factors industry watchers see as driving demand for premium food, data from UK-based market intelligence firm Mintel suggests wealthier consumers are becoming more interested in ethical food. According to Mintel's 2016 Asia and Pacific (APAC) consumer lifestyle study, this year 31% of urban Thai consumers prefer products that carry an environmental certification from a credible government or non-profit organisation, Jane Barnett, the firm's head of insights for South Asia-Pacific says. This means having a "stamp of approval" from a known organisation works well with consumers, Barnett says, adding this cohort of consumers is willing to pay more.
She continues: "Forty per cent of metro Thai consumers are willing to pay a premium for products that are safe to use, such as products that have no additives and 27% would pay a premium for products that are natural for example organic or uses pure, naturally-sourced ingredients."
A growing fondness for healthier food is also opening doors for foreign investors: 66% of metro Thai consumers hope to achieve eating a healthier diet in 2016, according to Mintel data. Barnett believes "more opportunities for imported health foods in the market will arise".
According to Dee Richmond, general manager of AgriSource Company Ltd, a food and agriculture firm based in Bangkok, there is increased interest in quality from Thai food manufacturers in US pulse-based food products such as peas, beans, chickpeas and lentils
"We have not yet seen very many new products yet, but there are a record number of research and development trials with US pulses taking place in snacks, canned foods, and other value-added products," she says. "We are also seeing increased availability of US pulse ingredients, including pulse starch, pulse flours, and pulse protein." Dry pulses provide a hard-to-beat nutritional profile for food processors looking for healthy ingredients, being rich in protein, soluble and insoluble fibre, antioxidants, vitamins, minerals and low in fat and oil content, she adds.
This premium health-based positioning is even extending to snacks. Bangkok-based snack maker Hanami Foods Company Ltd, a subsidiary of Friendship Company Ltd, sells the Snack Jack extruded green pea snack, while Modern Food Industries (India) Ltd, based in Thailand's central Pathum Thani province, also produces green pea-based snacks.
However, the growth in demand for more premium products has also seen some food companies misusing 'premium' labelling, forcing the Thai ministry of public health to implement additional controls, according to Siradapat Ratanakorn, a regulatory affairs consultant and food technologist at the Bangkok-based south-east Asian leading law firm Tilleke & Gibbins International.
"If a food company wishes to claim 'premium' on a food label, it needs permission from the Food and Drug Agency, who decides these requests on a case-by-case basis," Ratanakorn says. For organic products, certification from an official government agency body or approved by an authorised agency official is necessary, he adds.
Thailand has lagged the growth of some of its neighbours in recent years but there have been signs the country's economy is getting stronger. There are some concerns about whether Thailand's high levels of tourism will be affected by the bomb blasts this summer, while household debts could dampen growth. But the continued growth in the country's urban middle class looks set to drive incomes and, trends including impulse and health, could present opportunities at the more premium end of the market.