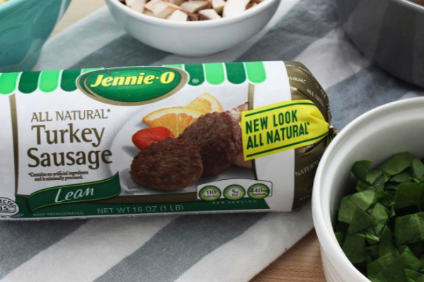 Hormel Foods outlined its plans at an investor day held at the New York Stock Exchange last week with plant-based foods and further acquisitions high on the radar of the US-based group's aspirations. Simon Harvey takes a look at what else might be on the cards.
Hormel Foods is undergoing a transition from what was once just a pork and turkey products manufacturer into a "global branded food company" with more acquisitions potentially on the horizon along with a bigger push into the plant-based arena.
A host of Hormel executives took to the stand at the New York Stock Exchange last week to present their aspirations for the US food group, which, through M&A, has expanded its portfolio from tinned Spam meat and Skippy peanut butter into Mexican foods, charcuterie and nut butters. It has also recently launched a deli division, described by chief executive Jim Snee as its "newest growth engine" to accompany the planned ramp up of its foodservice and international business units.
Snee, who is also Hormel's chairman and president, has been pretty open about the Austin, Minnesota-based company's ambitions around acquisitions but he said last week the right opportunities have yet to present themselves, although not for want of trying. Hormel was last active in the market two years ago with the purchase of US-based deli meat and salami producer Columbus Manufacturing, but has meanwhile been busy on innovation.
There are challenges, too, in the form of African swine fever (ASF), which has decimated hog herds in China since the virus broke out in the country in August of 2018 and, at one point this year, forced Hormel to raise pork prices to counter the increase in input costs. The company also has to grapple with reviving its legacy Jenny-O Turkey Store, which suffered from two voluntary recalls last year related to salmonella.
Robert Moskow, an analyst at Credit Suisse, says Hormel may have hurt its relationship with some accounts over the ASF episode and the food group could adjust its outlook accordingly going forward.
"Management sounded rather humbled by its experience in fiscal year '19 when it tried to raise prices ahead of ASF-related inflation," he writes in a note to clients. "Hormel apparently bruised some of its customer relationships when it raised prices in May only to lower them a couple of months later when pork input costs reversed. As a result, we expect management to guide below its normal algorithm in fiscal year '20 and with a wider-than-normal range due to the probability of pricing lags."
As a reflection of the challenges, Hormel tweaked its financial guidance for the year ending in October, cutting its top-end expectations of the earnings per share range to US$1.80 from $1.85, but raising the lower end to $1.76 from $1.71. Back in May, the company revealed it would likely see pressure on profit margins and volumes from ASF after adjusting its outlook when it reported second-quarter results.
Snee also set out a long-term algorithm for organic sales growth of 2-3% and organic profit growth of 5-7%. And again in the longer term, he's looking for top-line sales to increase 5% and bottom-line growth of 10%.
Last year, Hormel saw organic net sales drop 1% based on revenues of $9.6bn, while the operating margin dipped to 12.6% from 14%. It booked net earnings of $1bn, resulting in basic earnings per share of $1.91, and $1.86 on a diluted basis.
Plant-based an "era of disruption"
Investors at the New York Stock Exchange investor day event were perhaps eager to hear about Hormel's plans in the fast-evolving meat-alternative space, having launched a plant-based ground beef brand Happy Little Plants in September. It already had a blended burger with the Applegate brand – made with either beef or turkey incorporating organic mushrooms and rosemary – and Hormel's own similar Fuse burger.
Jim Splinter, vice president for corporate strategy, outlined Hormel's plans for the category, and revealed the company recently created an internal incubator – Cultivated Foods – to foster product development and from which emerged Happy Little Plants in less than 12 weeks.
However, Moskow at Credit Suisse argues "the lack of national TV support for this launch suggests some ambivalence on management's part about the concept".
It's an "addressable market", Splinter said, which could be worth $10-15bn in the next five to seven years, from around $1.4bn currently. Happy Little Plants will be targeted at retail and foodservice.
"Consumers and patrons are becoming increasingly curious about, and motivated by, great tasting, sustainable plant-based solutions, not just meat replacement," Splinter told the audience.
"We are witnessing this very complex and fast convergence of environmental health, human health, and the health of our food system and these disruptors are changing the way we think about food. We believe that the ultimate narrative emerging from this era of disruption will be one for food companies and businesses and brands that are agile enough to navigate all of these changes."
Hormel's Burke brand has also launched 100% plant-based pizza toppings made from pea protein. And further new product offerings are due to come to the table as part of the company's innovation goal, which CEO Snee said is on track to achieve 15% of net sales by 2020.
Splinter added: "Our pipeline is very robust. We are looking at different forms and varieties to augment what we have with the lean ground product. We see plenty of upside potential within this space."
Deli business grows to $800m
Snee laid out his priorities for the group into six areas: to expand deli and foodservice; foster growth in ethnic cuisines with products such as the Herdez Mexican brand and Wholly Guacamole; new innovation; expand its global presence from Brazil and China; "protect" its core brands; and continue the transition from a pork and turkey producer.
In the grocery division, Hormel is "well-positioned" to compete against the increasing prevalence of private label in the US, Luis Marconi, vice president for the business unit, particularly with Herdez, insisted.
And Hormel is focusing on the centre of the store, which in Marconi's mind is still a growth engine even as some manufacturers and retailers look more to the periphery aisles.
Rebecca Scheuneman, an analyst at MorningStar, says in a research note: "Hormel's Mexican foods should also contribute to growth, as the cuisine grows over twice the pace of centre-store foods and Hormel maintains its number-one brands in Herdez and Wholly Guacamole. Other growth drivers should be the international segment, which caters to high-growth markets such as China and Brazil, and plant-based proteins across retail and foodservice."
Tom Day, the executive vice president for refrigerated foods, said the recently-created deli solutions unit, has already grown to $800m in sales, accounting for 20% of sales within the refrigerated division, versus 40% for foodservice and 25% for retail. Commodity components make up the remainder.
He said most of the growth in deli is coming from grab-and-go categories (6.8%) and prepared foods (2.3%). And the refrigerated foods unit as a whole has healthy margins too, having increased 730 basis points since 2013 to 12.8% as of the third quarter.
Credit Suisse has doubts on Jennie-O Turkey Store
Getting Jennie-O Turkey Store back on-track is a challenge for Steve Lykken, the senior vice president for that business. He says the salmonella recalls led to a sharp drop in sales but affected all US turkey producers not just Hormel. Still, over-supply has caused "excessive inventory" at the company, although the brand remains a category leader with private label the largest competitor, he added.
"These disruptions were dynamic but we remain confident in our ability to refocus on our strategic growth map," Lykken said, noting how the business has invested in the infrastructure for Jenny-O and activated new media "strategies" in select markets.
He's expecting to achieve 12% profit margins by 2023 from 10.8% last year as Hormel seeks to regain its ground turkey distribution, rebuild customer confidence, "reinvigorate" the innovation pipeline and "realign the cost structure to invest in growth".
At Morningstar, Scheuneman says "this implies a more gradual recovery than our forecast, calling for 15.5% margins by 2023".
She continues: "We think Hormel should be able to regain lost shelf space next year because scanner data shows the category has not performed well for retailers who have eliminated the number-one Jennie-O brand. The firm also plans to reactivate proven media campaigns nationwide, and reinvigorate the innovation pipeline, which we think will return the brand to growth in 2020."
However, Moskow says Credit Suisse continues "to harbour doubts about the struggling Jennie-O turkey business".
Glenn Leitch, the executive vice president for supply chain, added: "The truth is the recalls didn't allow us to invest in the market place. And as we look going forward, really from a cycle standpoint, the whole bird piece of the business is starting to come back. You're seeing that in the market for this year. That will certainly be an advantage or a help as we think about next year."
ASF the "biggest unknown"
Nevertheless, CEO Snee said the "biggest unknown" for Hormel is ASF, which creates a level of uncertainty. "But clearly, we'll be ready to address it."
He added: "Across all of that business [refrigerated foods], it's really well positioned for growth. Everything else in that business is really sound and ready to deliver continued value-added growth.
"I think the same thing holds true for our grocery products business. What Luis talked about protecting the core, leveraging centre of the store, seeing the moderate growth there but then accelerating it or complementing it with our Mexican food portfolio. I mean, that's something that we do every day and expect to continue to do that. What Steve is talking about getting Jennie-O back on track, we're going to have some investments back in that business."
He continued with respect to the financial goals, seen in the context of ASF: "I think the growth targets that we put out there clearly are realistic and achievable because you've got a good fundamentally sound business model. But I do think, as you think about the higher level orders, it's really ASF in 2020 and trying to predict that is really going to have a high level of uncertainty."
Ready for M&A
Snee has consistently said he's open to further M&A but it's a case of finding the right candidate at the right price and in the right categories. At the investor day, he indicates expanding Hormel's global footprint is an option as it seeks to grow the international business and could "leverage" its operations in Brazil and China.
Hormel acquired the Brazil-based packaged meat firm Cidade do Sol in 2017 and with it the Ceratti brand. In China, the company has built a new plant in the city of Jiaxing in northern Zhejiang province, and in so doing, has "developed a platform there that we are very confident in and it's a platform that we'd love to add on to", he said.
"The lack of acquisition is certainly not a lack of effort or desire," Snee noted. "It could be a due diligence issue, it could be a valuation disconnect. I've talked a lot of our desire to become more global, so an opportunity is to leverage the scale of our businesses in China and Brazil. All of those opportunities are in play for us and there is a very active process, we just haven't been able to get them across the finish line. We will keep that as a strategic imperative.
"Finding the right opportunity, the right size, at the right valuation that is very strategic, is really appealing to us. And so, I do think it's been this change of mindset and opening of the aperture that has made it more interesting to us over time."