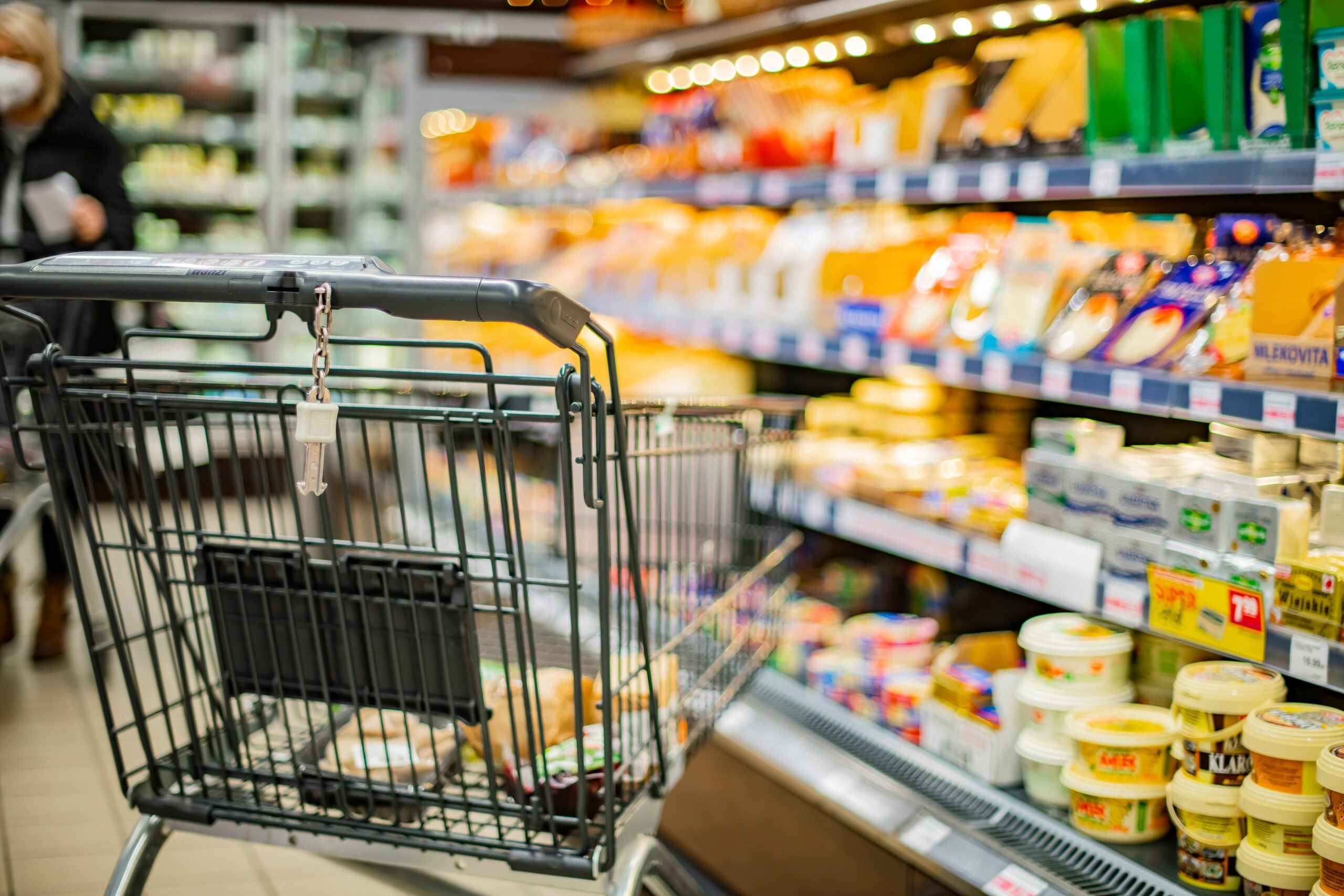 Private-label dairy is winning market share from branded products as consumers seek to preserve food budgets in the midst of the cash crunch.
The pattern is more pronounced in Europe, where own label is more established than in North America. However, in less developed countries such as India, consumers don't have the luxury of turning to a private-label proposition in these inflationary times.
Surging costs arising from higher grain and energy prices due to the war in Ukraine have added to the challenges faced by dairy manufacturers, retailers and consumers. The conflict has exacerbated the supply-and-demand dynamics associated with the pandemic, with the inevitable pass-through price effect weighing on shoppers' purchasing power.
In the UK and much of Europe for instance, rocketing butter prices have seen shoppers favour private-label spreads over more upmarket brands. The price of a typical family pack of branded butter has surged in the UK's major supermarkets, prompting some retailers to install security tags to prevent theft. Consumers also have the option of the discount retailers, where similar packs were selling for around a third of the cost.
While private-label dairy provides diversity to cash-strapped shoppers, there are differing scales of affluence and affordability between high-and low-income consumers.
Nevertheless, the choice element serves as a demand buffer to some extent in the current inflationary environment, and the effects on discretionary spending for premium, organic, plant-based and fermented dairy alternatives. Then there are nutrition considerations too as meat prices also rise.
Honor Strachan, a retail analyst at research and intelligence company GlobalData, Just Food's parent company, says: "Dairy is a relatively easy category for consumers to trade down due to the simpler nature of products such as butter, milk and yogurt, which are harder to distinguish in terms of taste across private label and branded.
"Dairy items also make up a significant proportion of everyday essentials, so consumers are unlikely to stop spending on the category, safeguarding it versus more discretionary categories."
Milk supply
In Europe, declining milk supply from the farm is feeding through to prices in the dairy case, most notably butter. The ripple effects are being felt from higher grain prices linked to the Ukraine conflict, and, according to FrieslandCampina, higher costs for feed concentrates, energy and fertilisers.
Netherlands-based FrieslandCampina, one of Europe's largest dairy companies, threw in regional cold weather as a factor during the early months of the year, notwithstanding the recent spell of unprecedented hot temperatures, and the implications of that moving forward.
The drop in milk production primarily occurred in north-west Europe, mainly the Netherlands, Germany, the UK, France and Ireland, the dairy manufacturer said last week in its first-half results commentary.
Consequently, butter production dropped 4% from last year, accompanied by an 18% increase in butter quotations to EUR7,190 (US$7,263) per tonne in the six months through June, FrieslandCampina said.
"Due to the lagging milk supply in the European Union and high global demand, milk powder stocks remained low," the company explained, adding that the "Dutch price for basic cheese, tracked butter and skimmed milk powder prices".
Strachan singles out premium cheeses and premium dessert-style yogurts as likely candidates to see a "reduction in volumes as consumers cut back, entertain less and prioritise spend to more affordable alternatives".
Similarly, her observations are borne out by a survey in April taking in the UK, Germany, France, Italy and Spain. Consulting firm McKinsey and Company found dairy was the most susceptible to trading-down contingencies behind snacks and confectionery, and frozen foods, with more than 50% of respondents making the switch.
In the UK alone, the pattern has continued into July as food inflation gathered pace and manufacturers and retailers pushed up prices.
Kantar data identified retailers' own-label butter, spreads and margarine (BSM), along with yogurt and cheese, as the beneficiaries of such consumer purchasing patterns over branded equivalents.
Comparing the 12 weeks to 10 July to a similar period last year, BSM private-label volume share rose 4.1 percentage points to 36.6%, while yogurt increased 3.1 points to 40.9% and cheese climbed 2.1 points to 73%.
An in-depth analysis by investment group AllianceBernstein, including managing director Bruno Monteyne, identified dairy as the most susceptible within the food categories to downtrading to private label in an inflationary environment.

And the research suggested the downside risk to branded dairy and dairy alternatives vis a vis private label is more pronounced when slowing economic growth is added to the equation.

Based on assumptions of consumer prices rising 7% across a basket of household goods and a growth slowdown of 1.5%, the loss to branded dairy and dairy-alternatives growth was measured at 2.1%, with food staples close behind at a negative 2% and sauces and ingredients at minus 1.5%. Baby milk formula and confectionery rest at the bottom of the food list, with the trading down impact on branded growth a negative 0.7% and 0.5%, respectively.
Preben Mikkelsen, the owner of PM Food and Dairy Consulting in Denmark, says inflation is likely to "dampen" demand for dairy, with increased private-label consumption also evident in his home country as budgets tighten.
"Brands are having a hard time at the moment," he suggests, adding people are "not looking for high quality, expensive dairy" in the current environment, especially butter, where they will either consume less or cut down.
"Drinking milk will decline, as it has been in recent years and, because alternatives like oat milk have also increased in price, you can't just find a substitute. Yogurt and fermented products could maybe see a more severe drop in consumption because they have increased quite significantly too," Mikkelsen contends.
India lacks options
Dairy consumers in Europe, and to a lesser degree in North America, are fortunate to have a private-label proposition. In India, for example, where the majority Hindu and predominately vegetarian population count on dairy as their main source of nutrition, the only option is to turn to the unregulated market. And they don't have the benefit of turning to discount retailers either, aside from the mom-and-pop stores, or Kirana shops selling milk to rice to bread and local veg.
Prices of locally-produced food in India are susceptible to the hot weather and monsoons but, the Ukraine crisis has pushed up the cost of wheat used for cattle feed, and consequently the price of milk.
Rohan Mirchandani, the CEO of Mumbai-based premium dairy business Epigamia, says the nearest equivalent to private-label dairy in India is the "unorganised market, literally local guys around the corner making curd", which he estimates makes up around 60-70% of the domestic dairy industry.
"There are some hygiene concerns with that," he says, emphasising the limited options Indian consumers have amid runaway inflation.
Mirchandani explains: "Dairy is an important Indian tradition. If you look at the Hindu religion, dairy is a big part of it – the cow is holy, the cow is holy because the cow gives you milk. In a very predominantly vegetarian country, not vegan vegetarian, dairy is the only protein source. There really isn't an alternative."
Epigamia has passed on some of the higher milk inputs to consumers of its Greek-style yogurts and dairy desserts. However, Mirchandani says the company has soaked up much of it, with a mixed impact on volumes: "It's not been net zero for us given we wanted to retain the consumer. Where we see challenges are in attracting new consumers – we're still a young company trying to grow."
Canada dairy
Over in Canada, which like its US neighbour has more limited exposure to private-label dairy than markets in Europe, food retailers are taking notice.
While Canada has discount food stores such as Walmart, Costco and Dollar Tree, Professor Sylvain Charlebois at Dalhousie University says the own-label market "is quite simply underdeveloped" compared to Europe.
Aside from President's Choice own-label supplier Loblaws, which also operates the No Frills and Maxi discount stores, Charlebois says "more and more grocers are reorganising their infrastructure in order to support a much more aggressive private-label portfolio".
Meanwhile, Walmart on the US side said on Monday (July 25) it is seeing a "heavier mix of food and consumables" sales, noting inflation is cutting spending on general merchandise.
In Canada, Charlebois, a professor of food policy and distribution at the university, and a director of the institution's Agri-Food Analytics Lab, concedes "the dairy section is absolutely going to be a problem for families operating on a tight budget" as prices continue to rise.
The Canadian Dairy Commission, which regulates farm-gate prices, plans to raise milk prices by 2.5% from 1 September, adding to the unprecedented 8.4% increase last autumn.
Nonetheless, Charlebois cited evidence milk alternatives may be coming down in price in Canada and in some provinces have reached parity with milk produced from the cow.
"In Ontario and Québec, dairy alternatives are now cheaper than milk so it's going to be interesting to see whether milk is pricing itself out of the market," he noted from a study conducted by the AgriFood Analytics Lab and BetterCart Analytics.
On the other side of the coin, "if you're into milk, you like milk, you probably don't feel that there are any substitutes out there for you but, with prices being lower, maybe consumers will be tempted", Charlebois suggests.
He suggests cheese could see a downside from the milk price hikes given the segment has "always been quite expensive", although he says, in the wider scheme of things, food inflation may be approaching a peak in Canada. "I can't see how sales will increase for that category anytime soon."
Still opportunities for dairy brands
Thijs Geijer, a senior economist at Dutch financial services firm ING, says value-added products like quark and dairy drinks other than milk are quite vulnerable to a trade-off. However, semi-skimmed milk, cream and yogurt are more insulated.
He agrees with the perception that the breadth of choice will be supportive of dairy demand as we navigate through inflation but with the caveat that opportunities will still exist for premium products based on affordability. And, Geijer suggests, dairy products that lean into the needs of consumers such as high protein and sustainability linked plant-based categories.
"The dairy category offers consumers many opportunities for substitution due to the general depth and width of the product range. Given the spending squeeze that many consumers are experiencing, it seems likely that private label in categories such as cheese will grow at the expense of branded," Geijer says.
"At the same time, not every consumer feels the same urgency when it comes to cutting back on grocery spending. This is also one of the reasons why there continue to be opportunities for premiumisation."
Supermarkets, meanwhile, are under pressure to implement counter measures such as 'price matched to Aldi', for example. The price of butter in the UK being a case in point, where those same retailers' own private-label dairy is often priced above the discounters.
Faced with the same inflationary challenges, the likes of Aldi and Lidl might have to adjust prices accordingly.
"At some point, they will if inflation keeps on rolling," Mikkelsen says. "I think they will have increasing sales for a while but, supermarkets will of course react to that. They cannot just sit back and look at losing market shares."