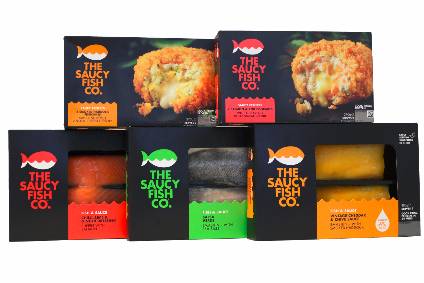 Hilton Food Group's acquisition of Seachill , announced last week, confirmed the UK meat processor's interest in the local seafood group, which raised a few eyebrows in the industry when a deal was first mooted back in August. Andy Coyne analyses why Hilton has moved for the owner of The Saucy Fish Co. and diversified into a new sector.
Hilton Food Group was set up more than 20 years ago to supply meat to Tesco and the growth of the UK-based processor has been, until the last 12 months, on the back of building its business in that sector.
However, in the last year, the Huntingdon-headquartered business has started to spread its wings, supplying fresh pizza to a customer in Sweden last year and, this August, announcing a deal to build a factory in Poland to supply the UK retail giant's local stores with items such as pizza, sandwiches, ready meals and soups.
Last week, Hilton made an announcement that was more of a step-change for the company, adding to its business through acquisition a company in a different industry.
Hilton struck a deal to buy Icelandic Group's UK subsidiary, Seachill, a chilled fish processor that supplies branded and private-label seafood products to the UK retail sector.
The group has paid GBP80.8m (US$106.5m) for a business that owns The Saucy Fish Co. brand – a product with listings at home and abroad – and supplies own-label to some of the country's largest food retailers.
However, Seachill has had some recent issues, including the loss of three contracts to supply upmarket UK grocer Marks and Spencer in the summer of 2016. The contracts came to an end in March this year.
Hilton, when it announced its move for Seachill last Wednesday, revealed 80% of its new asset's net sales are generated with Tesco. There is, Hilton acknowledged, "consequently significant reliance on one customer relationship".
The company said Seachill's revenue stood at GBP266.3m in 2016, up from GBP248.4m in 2015, although its operating profit dipped from GBP4m to GBP3.4m.
Hilton pointed to Seachill's dealings with Tesco – the retailer with which the meatpacker has worked in the UK and in central Europe – and said it would "strengthen the company's existing relationship with Tesco through the supply of a new product category".
Overall, Hilton described its move for Seachill as "strategically and financially compelling". The company claimed the deal was an "attractive growth opportunity and entry" into fish and it said its customers at home and abroad "see opportunities in adjacent categories, such as fish".
And, after some initial surprise, industry watchers seem to understand, and even applaud, the thinking behind the deal.
As Nicola Mallard, an analyst with Investec in London, puts it: "When we first heard the rumours, we were surprised but when we sat down and thought about it, we saw there were a number of overlaps.
"We don't have many businesses which are cross-species but they have a common customer in the UK in Tesco – it's 80% of what Seachill do and Hilton in the UK is dedicated to Tesco. Hilton is a meatpacker and Seachill takes a similar approach to fish and we believe both companies also operate on a cost-plus basis."
Julian Wild, a partner specialising in M&A at UK-based law firm Rollits , also sees the deal as a logical move. "I don't think it's that surprising that Hilton would want to diversify," he tells just-food. "It [Hilton] would look at the business as having a similar customer profile and see it as an opportunity to support those customers. I think it is a good fit."
The move into seafood is perhaps best seen as a trend-driven growth opportunity rather than a Damascene conversion.
"We are all trying to eat healthier so you don't want all your eggs in the red meat basket. Healthier protein makes some sense," Mallard says.
Other meatpackers are similarly looking to diversify into other protein areas, although they have mostly been looking at businesses that supply products seen as alternatives to their own. A number of major meat suppliers in Europe and North America have either invested in or acquired outright suppliers of meat-free products. Earlier this year, Canada's Maple Leaf Foods snapped up US plant-based protein manufacturer Lightlife Foods. In October 2016, US meat giant Tyson Foods took a 5% stake in plant-based protein business Beyond Meat in a move it said gave it "exposure to a fast-growing segment of the protein market".
Hilton sees strong potential in supplying non-meat protein. Speaking after the Seachill deal was announced, CEO Robert Watson said: "The processing and supplying of fish and seafood into the UK is an attractive and growing market and one where we see considerable opportunities to build Hilton's business."
The acquisition has the potential to give Hilton another string to its bow in terms of what it offers to its retailers and may help it to secure new ones.
"I can also see international opportunities. Hilton has had an incredible run on new international deals and they will now be able to go to existing customers with a fish offering," Investec's Mallard says.
In what looks a wise move, the news Seachill will become a stand-alone division of Hilton following completion with the existing Seachill management team remaining in place has also been given the thumbs up by analysts.
"I think that makes sense. The supply chains and sourcing are quite different – there's not a huge amount of synergy there," Mallard says.
Wild at Rollits agrees. "Seachill is a very well-run business with a good management team," he says. "It has been extremely innovative in recent years, particularly with The Saucy Fish Co., which has blazed a trail for fish with sauce.
"Seafood isn't the easiest sector and you have to know what you are doing. Hilton will be very sensible and leave Seachill's management to get on with running the business."