Smaller can be beautiful amid changing face of NPD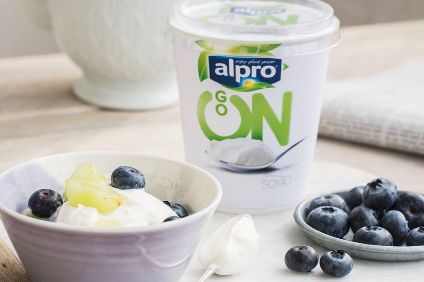 Alpro Go On found success in Netherlands in 2017, IRI said
Sjanny van Beekveld, the business insights director for the Netherlands arm of IRI, crunches the market researcher's local data and looks at the changing nature of innovation, offering observations that can apply across western Europe.
Innovation is vital to the food industry as a way for manufacturers to maintain and grow market share.
However, an annual study conducted by IRI in the Netherlands indicates the value of the 20 best-selling new FMCG products in a given year has dropped over time.
For the last 20 years, IRI has conducted an innovation ranking in the Netherlands, looking at which branded products have been most successful in the first calendar year of launch and ranking them by value. The ranking does not cover private label.
In the early years of the ranking, the value of the top innovations was around EUR2m (US$2.3m) per week, dropping to EUR1.7m in 2008 during the recession that hit much of western Europe but recovering back by 2013. It is no surprise that in a tough economic climate the value declined, so it might seem strange that, in the last couple of years, value has dropped again, to a historic low of EUR1.3m a week in 2017.
Innovation hasn't reduced in terms of volume though; there is a lot of innovation but it's smaller and the value sales that are being achieved are lower.
Away from the underlying growth in private label (products not covered by the ranking), there are three key reasons for the fall in sales from new, branded products.
The first is hidden innovation. Recently a lot of the innovation budget of major manufacturers has been focused on improving existing products, for example, making them healthier. Suppliers such as Bonduelle, Kraft Heinz and FrieslandCampina have had a programme of reducing sugar and salt a little at a time to get consumers used to the changed flavour. Our ranking measures innovation as a new product entering the market so this sort of activity isn't captured.
The second reason is that people are seeking a more individual experience. In response, manufacturers and retailers are striking exclusivity details whereby a new product is only available in selected retailers for the first 12 months, which can limit its sales – for example, Zwitsal Diapers (number 11 in the latest list) was exclusively distributed in Albert Heijn initially. Another way retailers are trying to meet this consumer need, and to differentiate themselves versus other retailers, is to stock different brands, so local and niche players are getting more distribution. But as they have more limited marketing budgets, it can take longer for sales to grow.
Fragmentation is the third major reason for the decline in the value of innovation. Fragmentation of media and channels makes it harder to reach a big audience. Arguably, consumers themselves are fragmenting, too, as more data makes it easier to understand the consumer, so their specific needs can be targeted. While this might mean the product is more successful with its specific audience, the size of that group is finite.
Having understood the context, it's still really useful to look at the products that have been successful in the last year (the latest ranking is for 2017). We've identified seven key trends in the brands that have been most successful.
Real indulgence is a big trend and exemplified by several indulgent ice cream products, which have a high position in the ranking, for example, Unilever's Magnum Pint at number four, which was launched in April 2017 with five variants.
Others include two other Unilever-owned ice cream products - Magnum Double Raspberry (at number 7 in the ranking) and Ben & Jerry's Topped Salted Caramel Brownie (at 17) - and the Hertog brand, which was third. All of this innovation is linked to the trend for premium, quality products with a clear sense of treating oneself.
At the other extreme, products that focus on "less" have done well; sugar being one example and another being reduced alcohol. Beer brand Heineken 0.0 topped the ranking as products with less alcohol and added taste like lemon have grown much more popular than pilsners.
Another trend is natural, exemplified by products without additives, such as Coca-Cola's Finley Frisdrank (at ten), Swiss soft-drink brand Rivella (at 16 and PepsiCo's 7Up (at 18).
Nostalgia has fuelled the success of brands such as Zwitsal Luiers (11th on the list), a babycare brand with a very distinctive smell. The manufacturers have successfully capitalised on the positive feelings the product provokes by stretching the product into laundry detergent.
Combining unusual taste combinations, for example sweet and sour, spicy and sweet was a trend seen in the top innovations in 2017, with products like PepsiCo's Doritos Heatwave at position 15 being successful.
Convenience has been a trend for a long time but it's now a standard expectation, not a key driver It's interesting, however, to see the trend for healthiness and convenience converging, so, for example, instead of ready-cut vegetables, it is now more popular to buy a ready-assembled pack of whole vegetables for a particular meal. The effort is taken out of selection, but the meal will still be freshly prepared at home.
From looking at the latest innovation ranking, it's clear innovation is still as important as it has ever been. There are some great examples from outside of the top 20 of brands like Holland Jersey Dairy and Danone's Alpro Go On, which were very successful innovations despite being smaller.
In the future, manufacturers will need to adjust their expectations of what success looks like. There's a need for more innovation but the launches are likely to be smaller and will take longer to grow.
Oops! This article is copy protected.
Why can't I copy the text on this page?
The ability to copy articles is specially reserved for people who are part of a group membership.
How do I become a group member?
To find out how you and your team can copy and share articles and save money as part of a group membership call Sean Clinton on
+44 (0)1527 573 736 or complete this form..