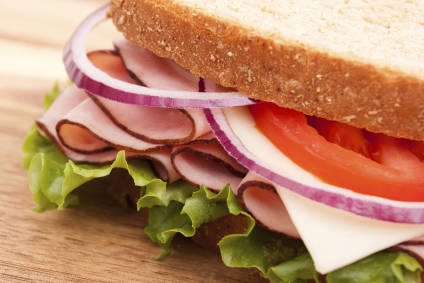 December saw some significant developments in the convenience channel in a number of markets, with Japan's Lawson Inc plotting a strategic alliance with Three F, Couche-Tard acquiring an Irish operator, its Canadian rival Sobeys launching a convenience concept and Morrisons returning to the sector in the UK. In other news, it emerged Kroger plans to trial a store format in the US while Lidl is continuing the march of the discounters across Europe. Here is just-food's round up of the big news stories from the world of grocery retail last month.
Morrisons returns to UK convenience
Last, month Morrisons returned to the UK convenience sector just three months after selling off its 140 M Local stores. The company opened its first of five trial forecourt convenience stores in Crewe, Cheshire in partnership with Motor Fuel Group.
The trial concept is branded Morrisons Daily and the outlet will sell fresh and chilled food, including sandwiches, fruit and vegetables, meat, fish, ready meals and other groceries.
When Morrisons sold the M Local outlets, CEO David Potts branded the convenience chain a "distraction" from its core supermarket business. Nevertheless, the grocer is still searching for an answer to changing UK shopping habits, which are seeing consumers switch to online, discount and convenience channels.
The tie-up with Motor Fuel Group could be a schrewd move. The forecourt operator has 373 petrol stations across the country under the BP, Shell, and Texaco brands. Using this existing infrastsructure provides Morrisons with a less costly in to the c-store sector because it will dramatically cut store opening expenses.
Shore Capital analyst Clive Black said the move was "small beer in the big scheme of things" – because "a trial is just that" – but said he nevertheless "kind of likes" the development. The model has, after all, proven successful for the likes of Marks and Spencer and Waitrose, which have developed convenience offerings in forecourts and rest stops in the UK.
Couche-Tard acquires Ireland's Topaz
Canadian retailer Couche-Tard entered into an agreement to acquire Ireland's "leading" convenience and fuel retailer Topaz.
The company said it will be funded through Couche-Tard's available cash and existing credit facilities. However, the parties agreed not to disclose the purchase price.
Announcing the deal, Brian Hannasch, president and CEO of Couche-Tard, was upbeat on the prospects for the Irish market. "Ireland has been on an extraordinary journey over the past decade. We have been looking at this market for several years. With the addition of Topaz, we would expand our geographic footprint into what, today, is one of Europe's best performing economies."
The agreement was Couche-Tard's second European acquisition in 2015, having previously taken control of Shell forecourts in Denmark. It should be viewed as a signal of the importance Couche-Tard places on growing its operations in the region and the company has indicated it will use Statoil Fuel & Retail, acquired in 2012, as its foundation to grow in Europe. It would not come as a surprise if the North American forecourt giant was to continue its acquisitive expansion in Europe, entering markets in the region through future M&A.
Lawson inks tie-up with Three F
Japanese convenience store operators Lawson and Three F have struck a strategic alliance that will see them co-operate on data sharing, product development, procurement and promotional campaigns. The companies will continue to operate on a stand-alone basis but it is hoped the deal will enable each group to improve their competitiveness.
"Lawson and Three F decided to sign a letter of intent to form a capital and business alliance that will complement both companies' individual efforts to stay abreast of significant changes in the convenience store environment, and further strengthen their business management structures," Lawson said in a statement.
Japanese convenience store operators – alongside all grocers in the country – are facing a number of structural challenges, including the nation's ageing population, high operating costs due to a lack of human resources and high costs associated with new store openings. Economic conditions, such as Japan's sluggish recovery and the potential impact of consumption tax hikes, are also taking their toll.
As a result of these challenging conditions, the sector has witnessed an intense period of consolidation and the gap between the largest players and the rest of the pack has widened. In these circumstances, a purchasing partnership in particular could deliver value. In France, for instance, such arrangements have become commonplace as French retailers battle the incursion of the German discounters. Buying tie-ups have enabled French retailers to deliver private-label items at or below the price of the discounters and as a result this is one of the few European markets where Aldi and Lidl are struggling to gain share.
Lidl to launch in Serbia in 2016
Elsewhere in Europe, however, Lidl continues to grow sales and expand its store network. After years of speculation, the company's Serbian business has confirmed it intends to open its first stores in Serbia in 2016. Lidl said it is still in the phase of purchasing land for development in the country but added it has started building its first test branch in Smederevo, which it expects to be ready in Match. "Intensive continuation of construction is planned for next year when it will be started the construction of a large number of facilities as well as a logistics centre," the group said.
With rising per capita spending on groceries, a growing middle class and a narrowing economic gap between Serbia and the rest of Europe the longer-term consumer potential is strong. The largest grocery retailers in Serbia are Delhaize and Mercator and – perhaps – with the majority of sales in Serbia still conducted through traditional retail channels, there is enough room for all to grow in the modern retail space. However, Lidl's track record of gaining share and attracting consumers to its discount model could well give competitors cause for concern.
Sobeys launches convenience format
Another Canadian retailer making waves last month was Empire-owned Sobeys, which launched a convenience and fuel format in its domestic market.
In what the company described as a "fresh take on the traditional convenience offer", Sobeys Express focuses its grocery offer on fresh, on-the-go meal solutions. "Consumer research has shown us that customers are looking for more fresh food options to meet their on-the-go needs," Valerie Ryan, vice president, convenience and fuel explained. "Sobeys Express will carry a broader assortment of traditional convenience items; however, the new format will focus on the customer looking for a fresher alternative."
Products on offer will include a selection of 14 "signature and all-butter croissant sandwiches", Sensations by Compliments hot soups, cookies and baguettes baked fresh daily in-store, rotisserie chickens and freshly made salads.
The emphasis on fresh items reflects broader trends in the North American grocery market, which has seen consumers migrate from centre-store ambient categories to fresh items. It also shows the growth in on-the-go pre-prepared foods on which manufacturers such as Greencore have capitalised to great effect.
Kroger to trial Main & Vine banner
Elsewhere in North America, it emerged US supermarket Kroger is preparing to trial a store concept under the Main & Vine banner.
According to its trademark filing, Main & Vine will offer "retail grocery store and on-line grocery store services with in-store pick-up or home delivery in the field of packaged and fresh foods and beverages, natural and organic foods and beverages, general merchandise, health and beauty products, vitamins and supplements". The business will also provide a "retail delicatessen store and on-line delicatessen store services with in-store pick-up".
Main & Vine looks set to be an upmarket offering. It will focus on fresh produce, food preparation advice and high-end fresh prepared foods. A Facebook page for the new banner invites shoppers to "discover local artisans, fresh food and delectable culinary experiences with us."
The first store is slated to open early this year in the Seattle area. Again, while a trial is just a trial, this could well prove a headache for the likes of Whole Foods Market, which was left reeling last year after it emerged stores in the New York area were overcharging consumers for products. While details are scant, Main & Vine's website promises to make healthy food "affordable and fun" – a swipe, perhaps at the pricey reputation of Whole Foods.