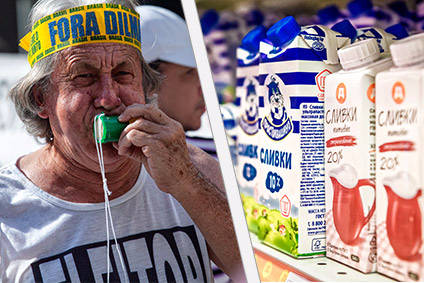 There has been an almost unexpected level of volatility in emerging economies in 2015, with three of the BRIC markets Brazil, Russia and China, notably under the spotlight. Hannah Abdulla explores what the BRIC markets hold in store for packaged food firms in 2016. The first of a two-part feature looks at Brazil and Russia.
Brazil
To say the Brazilian economy is "challenged" at present is an understatement.
The country is in recession, its worst since the Great Depression. In the third quarter, Brazil's GDP fell 4.5% year-on-year, the third straight quarter of negative growth when compared to the year before.
Inflation in the country has topped 10%, the highest level reached in 12 years. Meanwhile, in October, Brazil's unemployment rate hit 7.9%, its highest level since 2009.
A range of factors has been said to be behind Brazil's inflation, including a weaker currency, higher utility prices and pressure on prices in the service sector. Food prices have come under pressure following heavy rainfall. Food and beverage prices increased 1.83% between October and November alone.
The downturn, rising prices and growing unemployment has hampered consumers' buying power and concerned industry watchers are worried the jump in inflation could lead to even tighter monetary policy,
"It's not a promising outlook for 2016," asserts Ana Paula Picasso, a freelance research analyst and writer specialising in emerging markets.
While trying to deal with the economic issues affecting the country, Rousseff is also battling calls for her to be impeached amid claims of corruption involving her party.
Unsurprisingly consumer confidence has taken a hit. "Nielsen has said it is the lowest now since 2009," says Picasso.
And unfortunately, things do not look a whole lot brighter going forward. "It is not likely the economy will improve any time soon," Simon Moriarty, head of emerging markets research at Mintel, says. "It is expected there will be another fall in the GDP for 2016, with slight growth predicted for 2017. The current situation in Brazil is not only due to economic factors but politics as well, which makes things even more difficult to foresee."
Look out for:
Cost-consciousness
Mintel's Moriarty insists Brazilians are "highly influenced by price" He says it is likely consumers will keep buying their usual categories but they'll seek less expensive brands than their usual ones".
Moriarty suggests companies could look to vary product sizes, making them smaller and demanding a more competitive price, in order to retain market share.
"There is also an opportunity for retailers to invest in a premium segment for their private labels, giving consumers better value alternatives to their premium brands," he adds.
The rise of the wholesaler
Retailers are becoming increasingly aware of the cost-consciousness among Brazilians, who are altering where and how they shop. Cash-and-carry formats – Brazil's answer to discounters – have become more popular. Picasso says the size of Brazilian families means bulk-buying less frequently appeals as an option. Furthermore, cash-and-carry stores are more competitively priced. Carrefour is one retailer that has adapted, closing down a number of stores and re-opening cash-and-carry formats in their place.
But with a real focus on price among the Brazilian consumers, there could be a squeeze on the profitability at some food manufacturers, particularly as they may have looked to pass on rising operational costs to consumers. Moreover, their supermarket customers – where manufacturers may have been more able to enjoy a share of larger margins – are now struggling to claw back market share from cash-and-carry outlets who are increasingly attracting even the wealthier Brazilian shopper due to the convenience of their bulk-buy offering.
Look forward to:
Convenient opportunities
With food prices rocketing, there's been a sharp change in how and where consumers eat, Moriarty says, with signs some consumers are cutting down on the amount of times they eat out.
"This could represent an opportunity for the packaged food industry, offering ready meals that resemble restaurant dishes or ingredients for consumers to cook those dishes at home,"Moriarty argues.
Broadly speaking, there will be some resilience in the packaged food sector, with convenience a trend that has come to be ingrained among some consumer groups in the country. "Brazilians, especially in the major cities, are leading busier lives and still want more convenience when buying food," says Moriarty.
Picasso says with less time to cook from scratch consumers are increasingly on the look out for microwaveable ready meals and other convenient food items.
Russia
Russia will likely continue to pose a string of challenges to food manufacturers and importers in 2016.
This year, Moscow continued the sanctions it imposed on a number of western markets in 2014, which at a stroke had hit sales in the country for firms including Arla Foods and Valio, while contributing to the downward pressure on prices of some foodstuffs outside its borders with the Russia-bound supplies looking for new markets.
While not all categories were affected by the embargo and non-Russian groups with local manufacturing were able to withstand the worst impacts of the embargo, the ban has affected the Russian consumer, with prices of some foodstuffs rising year-on-year, a factor in the country's high inflation rate. There were some signs prices were easing in some categories during the summer but food inflation was high year-on-year. And industry watchers expect pressure on prices to remain in 2016, not least with Russia's recent restrictions on exports from Turkey.
"The government is trying to limit the impact but naturally with all these food bans in place and in place longer than most people expected, the prices will continue to rise so we're expecting in Russia especially, with a lot of the political tensions, the packaged food market will suffer," asserts Lianne van den Bos, an analyst at Euromonitor International.
The devaluation of the rouble has compounded pressure on food prices. "The rouble has halved now from about a year ago," says Ian Luyt, director atRussia-based food and agribusiness advisory firm Novirost. "That's having an obvious impact on the cost and demand of imported foods products. Wages have risen only modestly, if at all. The economic slowdown has resulted in significant job losses and I think more are expected."
Confidence among Russian consumers is low. A report from Deutsche Bank reported business confidence is at its lowest since March 2013, tumbling by 23% between October and November.
Look out for:
Local preference
With inflation remaining high, Russian consumers are increasingly seeking out locally produced foods, which though not cheap, are significantly cheaper than imports.
"You have the complexity of the sanctions and the added complexity of what's happened with the exchange rate, making imports increasingly expensive. You will have some increased push towards local products, local firms. I don't think it's particularly surprising given that trend right now," asserts Andrew Cosgrove, global consumer products analyst at EY.
And while affordability is a key factor behind the Russian consumer's decision to go local, the real question – particularly in the long term – is how capable Russian manufacturers are to meet demand.
Look forward to:
Convenience is key
For packaged food manufacturers, there are still opportunities in Russia. One trend Luyt notes is the rise of convenient snacking, in particular, energy bars such as fruit-, yoghurt- and muesli-based bars.
"They are convenient – an energy filler between meals. This category is experiencing significant growth. I think it is growing partly due to convenience but also it appeals to a generation that is more accustomed to them now".
He also notes "market speculation" of the rise in consumption of canned fruit and vegetables, partly seasonal and partly due to the increased cost of fresh imports and in some instances the lack of availability due to sanctions.
The fog will clear
There is hope among industry experts Russia's economic problems will ease. Cosgrove believes the landscape could start improving toward the tail end of 2016.
"I think it will pick up a bit, but it's going to be a very fragile pick-up. I think it's really hard to predict quite honestly. Most clients I speak to are nervous, but more positive about the future than they are about the current. I think growth is expected to move from negative to positive, but it's probably towards the tail end. That recovery is going to be both fragile and slow."
Luyt adds he doesn't foresee many "surprises" over 2016 and, despite the current turbulence, conditions will improve, albeit unevenly. He says Russia still has significant potential in the longer term.
"The reality is that Russia remains a significant market of 140m potential consumers. Plus you've got another 60m people in the CIS countries outside of Ukraine. When the current political smoke finally clears, these fundamentals remain."
But while the belief is investors will not necessarily pull out of the country, 2016 will see a hold on investment in the packaged food industry.
"You don't know about the government and what new rules they will afflict in months to come. I think a lot of companies are putting investment on hold to see how the environment stabilises and how it will continue going forward," asserts van den Bos.