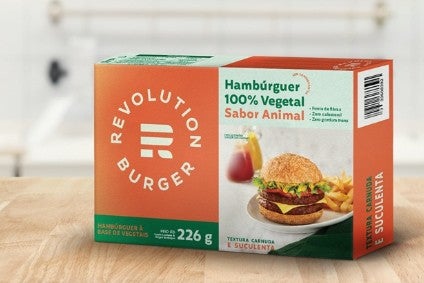 Plant-based alternatives to meat are even starting to carve out a foothold in Brazil and, while the market is a long way from mainstream, there's optimism for the future, with Covid-19, it's argued, set to fuel sales further. Mauro Fernandes reports from São Paulo.
A year ago, there were few options in Brazil of meat-alternative products. However, brands have started luring beef-crazy Brazilians into buying several plant-based meat substitutes, chiefly burgers. And some of the country's biggest meat packers are now exploring this relatively small, but promising, category.
In Brazil, plant-based protein sales were growing before the Covid-19 pandemic kicked in, and the crisis has not dissuaded food companies the category will continue growing. Quite the contrary.
Major Brazilian meat processors, including JBS and Marfrig, have entered the country's budding meat-free market in recent months. Pure-play plant-based business, including Brazilian firm Fazenda Faturo, Chile's NotCo and US upstart Beyond Meat, are also jostling for a piece of the action.
In recent weeks, major retailers in Brazil, Carrefour and Pão de Açúcar, have listed products supplied by US meat-free upstart Beyond Meat – its Beyond Burger, Beyond Sausage and Beyond Beef.
"While Brazil ranks as the third-highest market in terms of meat consumption worldwide [behind China and the USA], there is also a growing demand for more plant-based protein, which gives Beyond Meat a unique opportunity to provide Brazilian consumers with another sustainable protein option," Beyond Meat chief growth officer Chuck Muth tells just-food. "Entering the Brazilian market is the next step in advancing our goal of increasing accessibility to plant-based protein worldwide."
Data on the size of Brazil's fledgling meat-free market is hard to come by at the moment. Nielsen is preparing its first study of the segment in Brazil but has yet to release numbers. All companies speaking to just-food for this article said plant-based burgers are their most popular non-meat product in Brazil, totalling nearly 50% of sales in the country's category so far.
In Brazil, plant-based products are currently aimed at richer consumers but could soon become cheaper without losing their quality, Muth says. A market appears to be building. According to The Good Food Institute, the US non-profit that advocates for plant-based alternatives to meat, dairy and eggs, 29% of Brazilians are reducing their meat consumption. There is, GFI says, a growing number of so-called 'flexitarians' in Brazil who do eat meat but are consciously cutting their consumption, motivated by health, environmental or animal welfare concerns.
Luiz Augusto Silva, country manager in Brazil for Chile-based plant-based food manufacturer NotCo, has opened a delivery food restaurant in São Paulo amid the pandemic to serve plant-based food. Hamburgers are the best sellers, but there's room for other products, he tells just-food. "Brazilians have in their culture the need to take care of their health and their bodies. That alone stimulates a quick curiosity about alternative categories like plant-based products," Silva asserts. "Our upper class follows what happens in the United States, where these markets are well-established. They only needed companies to offer good solutions, good experiences, and that has come about now."
Silva suggests the Brazilian government could help grow the domestic market by reform of the tax system. Proponents of reform have produced accounting models showing taxes are 4.6 times higher for plant-based, meat-style products than for animal-based meat.
A pack of six beef burgers, for instance, can be as cheap in supermarkets as US$1.25. Store checks by just-food of retail outlets in São Paulo suggest no packs of plant-based burgers pack cost less than USD3 in Brazil.
The disparity in the economies of scale achieved by Brazil's meat-processing giants compared to those in the fledgling meat-alternatives category will go a long way to explaining the difference in price. However, supporters of tax reform highlight incentives received by meat-packers that are not on offer to producers of vegetable-based alternatives producers and argue the consumption tax ICMS (Imposto sobre Circulação de Mercadorias e Serviços) is four times higher for plant-based products than meat.
Some of Brazil's big meat-packers are now players, too, in meat-free. Beef major JBS sells meat-alternative products under its Seara brand.
JBS rival Marfrig Global Foods is also doing business in the plant-based category. Durval Cavalcanti, the company's director for vegetable products, believes 120,000 tonnes of plant-based meat alternative products are sold in Brazil today, with potential for much more.
The company launched its first meat-free products last December, sold under the Revolution brand. Its plant-based burgers have largely been targeted at the foodservice market where they are sold by the likes of fast food giant Burger King and local chain Outback Steakhouse, which brands its meat-free offering the Aussie Plant Burger and sells it for around US$8.
Marfrig expects to start selling the products in domestic supermarkets from next month and has plans to export them to China.
"The public is still learning, but there are some attractive numbers. We are going through the same process of other markets. Many families are yet to try it for the first time, but it is an irreversible process," Cavalcanti says. "We are in the initial phase, that's why the prices are higher, our plants produce small volumes. But, year after year, those will become regular products."
Ricardo Laurino, the president of the Brazilian Vegetarian Society, is excited about a new group of potential consumers of plant-based products. "Brazilians now like [plant-based] burgers, but soon they will be curious about sausages, hams, salamis. They will also want to know more about vegetable cheese, milk, ice cream. The market of vegetable fish hasn't even arrived yet, and it will be big here," he said. "Brazil grew quickly in this market because the products are really good. Every quarter something new appears."
Gustavo Guadagnini, managing director of The Good Food Institute's arm in Brazil, thinks the country's non-meat sector is developing at a swifter rate than in other South American countries.
"Some companies are already exporting, selling around Latin America, Europe, Asia and Africa. All meat companies decided to invest in plant-based products," Guadagnini says. "The industry also understood it is no longer talking to vegetarians. It is making products that taste like Brazil's beloved beef for those who love beef. The key is diversification."
And Covid-19 does help, Guadagnini argues. "This pandemic, which has an animal origin, has increased the appetite for vegetable proteins here."
Laurino agrees, offering another reason why the pandemic would give a boost to sales of meat-alternative products, predicting sales would grow faster after the pandemic because of Covid-19 infections within Brazilian meat plants.
Brazil has suffered from this disease. It has infected – at the time of writing – more than 3.2m Brazilians and killed more than 105,000. Only the US has more victims. The economic dislocation caused by the virus has left tens of millions unemployed. For more than two months, Brazil had a daily average of 1,000 deaths from Covid-19, and the virus is still spreading in smaller cities and rural areas, including many filled with cattle ranches.
Silva, of NotCo, also hopes the pandemic will help Brazilians reappraise what they eat.
"About 60% of Brazilians eat chicken three times a week. Half eat beef three times a week. Now there is a discussion on doing it fewer times a week. Some people are having entire meals without any kind of meat," he says. "This pandemic is associated with the way we eat. Too many people died of Covid in Brazil. It is clear a new culture is arising from this, and we want to be part of it."