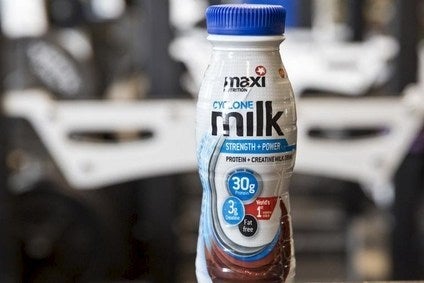 Protein supplements, once the preserve of beefy body builders, are moving into the mainstream. A positioning that links protein consumption to healthy lifestyle choices is broadening the appeal of the products and resulted in strong category sales trends in developed markets such as North America, Australia and western Europe. Katy Askew looks at the sector's prospects.
Protein supplements. Once upon a time they featured exclusively in dedicated body builder magazines like Flex. Today, you can read about them in lifestyle magazines as prevailing as Cosmopolitan.
The shift is indicative of a growing trend for conventional lifestyle consumers to associate protein with a healthy diet. To today's shoppers, protein consumption is not just about building muscle – it is linked to satiety and weight management and viewed as a natural source of sustained energy.
In the UK, GlaxoSmithKline-owned Maxinutrition was one of the first companies to focus on appealing to consumers beyond the 'hardcore workout' set.
In 2005, when it operated on an independent basis under Darwin Private Equity, the company started to develop relationships with 'brand ambassadors' with greater popular appeal. Today, the group is linked to sportsmen including England rugby captain Chris Robshaw and dancer Kimberly Wyatt.
Maxinutrition senior sponsorship and PR manager Mark Morgan tells just-food the inspiration to shift popular pre-conceptions came from Australia, which has the highest per capita consumption of protein supplements.
"Out in Australia anyone playing sport or doing exercise will use a protein supplement. In the UK we decided to associate with a wider range of activities and sports – a wider set of need states," Morgan tells just-food.
This change in perception has supported strong growth in the global protein supplement sector.
According to researchers at Euromonitor International, powdered protein supplement sales stand at around US$5.5bn annually, with other supplements such as RTD protein products adding around $2bn to the total.
Sales have expanded quickly in recent years. In 2012-13 sales increased by 13.3% year-on-year, data from the research firm reveals.
And, Euromonitor analyst Chris Schmidt tells just-food, the category is expected to grow at a good clip over the next five years, with forecasts for CAGR of 9-10% through to 2018. "Growth is remarkably high relative to a lot of the other packaged food categories, particularly, and generally a lot of the other consumer packaged goods categories," he notes.
Significantly, global growth is broad based and – although percentage growth is higher in emerging markets – volume growth is greatest in the developed markets of North America, Europe and Australia.
"Growth is a lot more global than you would have a lot of other CPG categories. It's not just dominated by the BRIC markets. You have developed western European markets that are growing 6-7% a year, the US [which accounts for 60% of global sales] is expected to grow at about 7-8% a year going forward," Schmidt notes.
"If you ask any packaged foods company if they want to operate in a market that is as stable as Canada, or the UK, or Australia and still get 4-5% a year growth they would snap that up. It's a great category to be in because you don't necessarily have to go in to these difficult to operate in emerging markets just to get growth. You can pick and choose what markets you want to go into because it is growing strongly universally."
Volume expansion is weighted to developed markets because the price of the product is prohibitive to many consumers in developing countries. This factor bodes well for the long-term development of the category because, as consumer spending power increases in these emerging markets, it is likely these areas will prove bountiful future bases for consumption.
Growth is also strong in developed markets because protein supplement companies are working hard to expand their routes to market and grow the presence of supplements in mainstream grocery channels.
In the leading markets for protein products, the US and Canada, distribution of protein supplements has expanded from the traditional base of supplement speciality retailers to encompass big box retailers, such as Wal-Mart and Target, natural retailers and conventional supermarkets.
This increased penetration and growing retailer uptake has been underpinned by the development of channel-appropriate products, including protein bars and smaller pack sizes for protein powders.
Retailers are also increasingly evaluating how protein products are positioned in-store, enabling protein powders to break out of the vitamin aisle. Whole Foods Market, for instance, cross-positions protein powder products with associated foods such as frozen fruit.
While the growth prospects for the sector look largely positive, according to Michael Hughes, lead analyst at Canadean, a number of issues could potentially act as a barrier to the development of the sector.
Protein supplements have updated their image – but there is more work to be done, he suggests. "When you think about a powder, it automatically [equates to] a compromise on indulgence. Consumers think: 'If we have to make something from powder is it going to taste as nice?' compared to something like a fresh product," he suggests.
At the moment, consumers are willing to make this compromise while the popularity of high protein diets are at a high but the situation could reverse, Hughes warns. "When the novelty wears out, the casual users realise that protein is not a cure-all source of all health-related problems and that it needs to be absorbed into a sustainable, healthy diet and active lifestyle, they will start to find it difficult to commit to a buying and consumption routine," he predicts.
Euromonitor's Schmidt is more optimistic. "Talking about the three big micro nutrients it is the only one that hasn't had some public demonisation. There was low fat in the 80s and 90s and low carb in 2000s. Nobody has ever said you should have a low-protein diet, and I don't think they ever will."
Likewise, Morgan strikes a confident note on the outlook for the category. "Moving into 2015, for us there is a big emphasis on appealing to anyone. That means providing more convenient formats such as bars and RTDs and making these widely available," he observes.
Maxinutrition has started supplying BP petrol stations and the company is working with its other retail partners to improve availability, Morgan reveals. Asda, the UK arm of Wal-Mart, is trialling sports nutrition aisles in some test stores that include clearer category communication to eliminate consumer confusion, he continues.
With some strong prospects, a relatively fragmented industry could well catch the attention of the packaged food majors, turning the heat up on an already active M&A scene.
Indeed, US cereal group Post Holdings has set its sights on what it terms "active nutrition" sales. The company has swooped for a number of brands in the space, inking deals for protein bar firm Dymatize, protein food and drink manufacturer Premier Nutrition Corp and Nestle's sports nutrition brands PowerBar and Musashi.
Could high growth rates in stable developed markets be enough to tempt more CPG players to bulk up in sports nutrition?
This sector spotlight forms part of just-food's latest management briefing, which analyses the rise of protein and discusses the prospects for one of the hottest trends in the food industry.