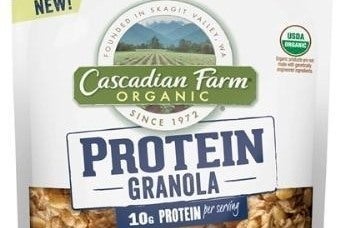 Consumer interest in protein is driving the use of different protein ingredients in a range of foods. Jonathan Thomas looks at the ingredients attracting the interest of food manufacturers as they develop more products to meet growing demand.
The global market for plant-based protein ingredients used in food, beverage and supplement applications is particularly dynamic at present. Research carried out in 2012 by The Hartman Group found consumers are increasingly seeking protein from sources such as vegetables, legumes and nuts. And with the numbers of consumers turning vegetarian – or cutting down on meat consumption – rising, demand looks set to continue to rise.
Plant-based protein ingredients offer a range of benefits. "Non-dairy/animal protein ingredients are well-placed to address the recent clean-label/natural trend," a spokesperson for UK-based Leatherhead Food Research says, "and some have functional health properties".
Traditionally, the plant-based protein ingredients market has been dominated by soya proteins, a sector which accounts for up to 70% of volume sales. This is largely due to its broad range of applications and uses, as well as its perception as a sustainable source of protein.
One of the global market's leading suppliers is Archer Daniels Midland, which has a soya protein range including isolates and concentrates. The company has successfully targeted the sports nutrition market – specifically protein-fortified beverages, the consumer audience for which is widening beyond bodybuilders and professional athletes. According to an ADM spokesperson, its Clarisoy 100 soya protein "contains more protein per gramme [than traditional soya protein ingredients]". Furthermore, it provides "a clean and bland flavour", the spokesperson says. "This appeals to sports drinks manufacturers, as it allows consumers to access higher amounts of protein without increasing fat intake or compromising on taste, and aids the development of high-protein sports beverages."
Soya proteins, however, are facing increasing competition from other plant-based ingredients. One notable example is pea protein. As is the case with other plant-based proteins, these are increasingly being adopted by food and beverage manufacturers, partly due to the rising cost of dairy-based protein ingredients. The market is also expected to benefit from advancements in extraction technology.
Thus far in 2014, pea protein has already featured in the cereal bars sector, courtesy of General Mills, which this summer launched a pea-protein organic granola in the US under its Cascadian Farm brand. According to the company, the granola offers up to 10g of protein per serving.
Pea protein has also been used by Israeli confectioner Carmit Candy Industries, which launched a gluten-free chocolate wafer bar featuring the ingredient in April. According to Carmit, pea protein was chosen for reasons such as the rise of veganism, the non-allergic properties of peas and their full amino acid profile.
Another vegetable-derived protein ingredient gaining in favour is potato protein. One of the world's largest suppliers is Solanic, a division of Dutch starch producer Avebe. According to the company, potato proteins offer myriad benefits to food manufacturers, examples of which include good solubility, a powerful gelling ability and suitability for clean-label applications. In 2012, Solanic's potato proteins gained GRAS status in the US food industry.
According to a Solanic spokesperson, major areas of application for its potato proteins include "free-from products such as gluten-free foods", while they are "also being used to replace gelatin in sugar confectionery and egg white in vegetarian foods". The latter has witnessed significant new product activity of late – Solanic's potato proteins have recently featured as a substitute for chicken egg white in vegetarian foods launched by both Vegafit and the Vion-owned Vegetaria.
The company expects considerable growth during the next few years. "We are expanding production capacity, a move we expect to complete by the fourth quarter of next year, in response to strong interest from the food industry and the anticipated increase in demand. This development forms part of our feed to food strategy, whereby usage of our proteins will shift from feed to food applications."
The escalating price of whey, meanwhile, has driven growth in demand for rice protein ingredients, together with activity from leading suppliers such as Axiom Foods and AIDP. Rice protein is especially well-suited towards sports nutrition products, on the grounds its effects upon the body after resistance exercise have been shown to be similar to whey protein. Elsewhere, rice proteins are thought to be suitable for gluten-free and vegetarian foods.
Moving away from traditional plants, microalgae could be the next significant development within the protein ingredients industry. Not only is its sensory profile potentially good, but it boasts a carbon neutral production process. In 2013, Twinlab launched a Veggie Protein Powder under its CleanSeries brand, which featured an algal protein ingredient. Compared with vegetable and rice proteins, the powder claimed to offer a superior taste and texture.
On a final note, it has even been suggested that insects may represent a possible source of protein at some point in the near future, given the continued growth of the world's population and the subsequent pressure on food supply. Therefore, it is possible that protein ingredients derived from insects may start to emerge.
To support this view, a Leatherhead study of 1,500 UK-based consumers this year found 41% considered insects to be an acceptable form of protein, while a surprisingly high 13% had knowingly tasted or eaten an insect in the past. Men appear to be rather more comfortable with the idea of eating insects – almost a quarter (23%) of males fell into this category, compared with 11% of females.
"I think the [food] industry has more work to do if it wants people to buy into this," Nicole Patterson-Lett, principal market analyst at Leatherhead, says "but people no longer regard [the idea of eating insects] as a joke."
This focus on protein ingredients forms part of just-food's latest management briefing, which analyses the rise of protein and discusses the prospects for one of the hottest trends in the food industry.