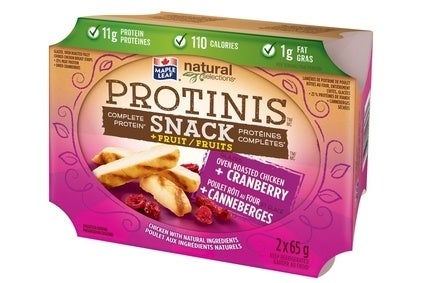 From bars to jerkys, the snack industry has visibly been hit by the protein bug. As more consumers seek quick and easy ways of adding protein to their diets, the number of protein-boasting snack launches has rocketed. Hannah Abdulla investigates.
Protein has quickly become one of the hot trends in the food industry. From protein shakes to bars – even in the once simple box of Cheerios – the importance of protein is quickly increasing.
The interest in protein flourished first in the US. It wasn't eons ago the market for protein was almost centred on body builders. Beef, nuts, fish – all formed an important part of their diets because of the links to boosting muscle mass. Soon, however, came the dieters who were ditching carbs in favour of protein bars in the hopes of quickly shedding pounds.
Then, as is often the case, with A-list celebrities plugging their protein-fuelled diets, your average Joe has started looking at quick-fix ways to increase his protein consumption. With protein being associated with satiety, it has meant hard dieting was soon falling out of favour. Sales of diet meals have quickly fallen, as consumers look for options that allowed a healthy and sustainable approach to weight management. According to Packaged Facts April-May 2014 survey, 63% of Americans now "make a point of consuming plenty of protein".
"With emphasis on the obesity crisis, people are looking for more sustainable ways to lose weight. Rather than restricting calories, they want to eat the right type of food. Protein is proving that you can still eat, but you're full for longer," says Mintel global food analyst Laura Jones.
Consumer interest in protein has been a key factor in the boom in Greek yoghurt sales in US but, increasingly, mainstream food manufacturers, searching for ways to revitalise stagnant sales, are entering the fray. In May, General Mills launched a Cheerios cereal containing 11g of cereal.
One category that has seen a notable rise in protein-boasting launches, according to Mintel, has been snacks. In data which looks at the global launch of 'high protein' food and drink products between 2012-2014, snacks had the lion's share at 23% of launches. This was followed by dairy at 19% and processed fish, meat and egg products at 16%.
It's an easy win with consumers: rather than getting them to replace whole meals with an alternative meal built around the latest fad diet, they are just replacing traditional snack options with options they perceive as better for them. There's also the idea that because the snack bar is "filling", it itself can act as the meal alternative.
"Boasting the high protein content creates the idea that a snack bar can replace an entire meal, pushing consumers to that particular bar," says Market Research's Caitlin Stewart.
Crucially for food manufacturers, consumers are willing to pay big for the mealtime swap, Jonathan Feeney, principal at Athlos Research, says. "Here you have people paying US$5-$10 for a snack they like, that tastes great and probably substitutes a $1 bag of nuts or chips," he says. The change in habits is driving category growth, Feeney adds.
Of course, there is also the convenience factor of snacks that one has to consider. Traditionally, the growth of snacks, cake bars et al. has increased as people find themselves more time-starved. Consumers skipping breakfast has been central to the stagant US brakfast cereal market as shoppers switch to items like cereal bars.
Various on-the-go breakfast options have been developed to fill this gap. A spokesperson for General Mills said one of the driving forces behind the launch of its Nature Valley Protein snack bar range was consumer demand for "high-protein options" that they can "take on the go".
This trend is not just being seen in the US. Consumers in the UK are now seeing snack bars as "genuine, almost meal replacements that are incredibly convenient and portable," according to Mark Gould, managing director at local firm Wholebake, which in March launched 9Bar, a breakfast bar containing 9g of protein.
There has been NPD activity outside of breakfast-related products. In the US, Kraft Foods Group extended its Oscar Mayer brand to try to attract those on the hunt for more protein in their diets with the launched of the P3 Portable Protein Pack. The pack contains 13g of protein across three compartments comprising nuts, Kraft cheese and Oscar Mayer meat. Convenience was key to the product's development. Speaking to just-food, a spokesperson at Kraft says: "Oscar Mayer saw P3 Portable Protein Pack as an opportunity to introduce an easily recognisable protein snack to give people the energy they need while they're on-the-go".
In Canada, Maple Leaf Foods has rolled out Protinis, which it calls the "complete protein snack". The product, made with oven roasted seasoned chicken and dried fruit, carried an endorsement from Canadian women's hockey player Hayley Wickenheiser.
According to Mintel's Jones, launches for throughout the day eating options have become more and more popular as people switch from consuming all their protein in the last meal of the day, which was traditionally the case.
"One of the big things is it is becoming more important to spread protein consumption evenly over the whole day. Research is showing it's a better way to do it rather than having all your protein in one go," she says.
Kraft and General Mills say their respective "high-in-protein" products have put in pleasing performances. Kraft reveals it "would be open" to further high-in-protein ranges and products under the Oscar Mayer brand. General Mills also suggest future launches "may include high-in-protein options".
That said, it is not an easy category to survive in. Reflecting on the snack bar segment, Feeney says the performance of many has been "volatile".
But for Feeney, the category overall is "a confusing, under-merchandised category right now in which there are too many brands, wildly varying price points and inadequate communication about what's good, better and best." That said, meat snacks, he concedes, is "the most exciting thing going on in the food industry right now".
And there are signs the trend has benefited snacks that have been in the market for decades. Feeney, in his review of the National Association of Convenience Stores October show, was "most impressed" with the high-end jerky products offered by Jack Link, Oberto and ConAgra "whose overall meat snacking business has been growing double-digits in convenience".
At UK firm Wholebake, Gould says that, following the "initial surge of new product development", the snack bar category is now in the phase of "me too" copycat products. However, Gould suggests this has a benefit. Given the bars are "embedded as part of the UK snacking landscape" it means people are more open to trying new and different options, so new players still have a chance of succeeding.
One thing analysts agree on is that the growth and trend for protein-fuelled snacks doesn't stop here. Despite stiff competition in a fast-growing sector, there are a number of reasons for manufacturers to feel positive about the category's prospects.
Consumers are increasingly drawn to a high-protein diet as a number of studies indicate the benefits of satiety and a lower glycemic index – great for those concerned with diabetes. The facts are "scientific and real", Feeney says, and "aren't part of a crash diet that is not sustainable".
And health conscious consumers with disposable income are likely to pay big money to sustain a protein-rich diet. Talking of jerky, Feeney says it is "pushing prices that have never been seen for snacks before".
"To be able to up-trade snacking consumers to higher price points for the same occasion is the essence of growth." This, he concludes, is "definitely, a place to watch."
This sector spotlight forms part of just-food's latest management briefing, which analyses the rise of protein and discusses the prospects for one of the hottest trends in the food industry.