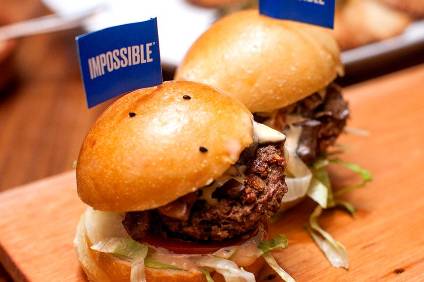 Ben Cooper analyses the relationship between the "clean-label" trend and the growth of the plant-based protein market – and examines whether clean-label concerns will support the plant-based category's continued growth or present challenges.
The "clean-label" trend has been a feature of the packaged food market for decades, but while it has become a steadily more influential as the years have gone by, clean-label cannot be claimed as the catalyst for the recent explosion in the plant-based protein category.
In fact, while some of the consumer motivations underpinning the clean-label trend may also be prompting consumers to move away from meat and dairy, plant-based alternatives can themselves be subject to criticism on clean-label grounds. This has been most vividly illustrated by the debate surrounding the new generation of meat "analogues", led by Impossible Burger and Beyond Meat.
While the underlying consumer sentiment behind clean-label can be expected to remain a driver of growth in the plant-based protein category, clean-label concerns may present an increasing challenge as the market matures.
Clean in comparison
Clean-label concerns most relevant to plant-based protein foods relate primarily to long ingredients lists, the use of novel or unfamiliar ingredients, criticism that products are "highly processed" and the use of genetically modified organisms (GMOs). That "clean-label" has come to represent a broad range of product criteria, extending beyond ingredients and additives to include processing and technological innovation, is significant for plant-based brands as the most likely comparison they will face will be with meat and dairy.
Michele Simon, executive director of US trade body the Plant-Based Foods Association (PFBA), believes the assumption that beef or cow's milk are single ingredients has to be challenged in order to judge fairly whether plant-based meat and dairy replacements are highly processed.
"There's this whole host of steps to go into in meat production that are hidden from the consumer," Simon says. Pointing out this typically begins with extracting semen from a bull and artificially inseminating a cow, Simon then asks: "Do you know anyone who has made a hamburger from scratch in their kitchen?"
The suggestion that plant-based protein products are highly processed is nevertheless a common line of attack by the meat and dairy lobbies, along with the idea that traditional meat and dairy products are made from one natural ingredient. Plant-based meat alternatives will almost by definition have more ingredients and involve more processing than the products they seek to replace. However, research suggests consumers not only appreciate the nuances Simon points to, but are far more concerned about the amount of processing in meat and dairy production than that found in the plant-based sector.
"Consumers are usually concerned first and foremost with how 'processed' meat and dairy are today, and it is this processing that makes meat and dairy unhealthy in their eyes," says Dr Sarah Marion, director of syndicated research at US research firm Hartman Group. "All animal products become tainted in their imaginations, and so, rather than being a clean single-ingredient food, meat and dairy have become suspicious, highly-processed foods, full of unknown chemicals and contaminants that are the by-product of the factory farming and slaughtering system."
Moreover, Marion suggests consumers have these concerns, regardless of what they may see on labels. "Meat and dairy producers – especially the big ones, who control most of the meat production in the USA – have a long way to go to rebuild trust with consumers. In effect, consumers perceive that there is so much that is 'dirty' going on behind the scenes that it doesn't matter what's on the ingredient panel."
By contrast, Dr Marion continues, plant-based "has become, to a certain extent, synonymous with 'healthy', similar to what happened to gluten-free a few years ago".
Interestingly, and possibly further showing how consumers are considering these issues in a broader context than just ingredients, Dr Marion says consumers do not tend to speak in terms of "clean-label" as such. "Clean-label is more of an industry term, and not something we hear consumers say."
However, this seems to speak to a more nuanced approach to evaluating product attributes. "We see both qualitatively and quantitatively consumers understand that they're eating a processed product, but they make trade-offs and concessions in every area of their food lives. This product offers them an alternative they see as both better for them and better for the planet. And there are a range of products available, from more to less processed."
Taste, variety, and a variety of health benefits are the top reasons for purchasing plant-based products, according to Hartman's research. However, with regard to drawbacks, expense was the most important factor (38%), followed by "they don't taste very good" at 23%. Once again suggesting consumers may view product complexity somewhat differently in relation to plant-based foods than for meat and dairy, processing was further down the list at 19%, while only 13% of consumers cite "it's hard to tell what they're made from" as a drawback.
Some may argue the attention focused on Beyond Meat and, particularly, on Impossible Burger have attracted as unhelpful. "There is too much emphasis on those two brands," Simon says. "While, yes, they are seeing a lot of success and popularity right now, there's a lot more competition coming into the market when it comes to those types of beef-life products. There's already a range of meat alternatives on the market that provide the consumer with a range of options. Let's look more holistically at the entire category and the opportunities and range of options that that presents to the consumer, whether that consumer's looking for a minimally processed tofu or tempeh type of product or a more indulgent Beyond Meat experience."
Other companies, either because they are more wary of the risks or more convinced of the potential benefits, will make clean-label a higher priority when launching plant-based foods. Nestlé, for example, has looked to ensure its Incredible Burger has strong clean-label credentials, which also means its plant-based protein range is in tune with its company-wide approach
"Nestlé is committed to creating tasty and nutritious food with ingredients lists that people recognise," a Nestlé spokesperson explains. "We are taking the same approach in plant-based foods such as our Garden Gourmet range. Our Garden Gourmet Incredible Burger for example is vegan and has one of the simplest and cleanest ingredients lists in the market."
UK plant-based dairy specialist Plenish also places clean-label high up the agenda. "As a brand we focus on giving customers everything they need and nothing they don't," says head of innovation and technical Nicola Oaten. "Our main 1-litre tetrapak range tend to uses between two and four natural ingredients." Electing not to include additional ingredients as stabilising agents, as some competitors do, in favour of offering consumers a very clean label presents technical challenges, Oaten continues, though this can be overcome by the comparatively low-tech solution of advising consumers to shake the bottle before they drink.
Meeting taste and textural challenges
Hartman's research shows even the non-purchasers of plant-based protein foods are still very concerned about the amount of processing in meat and dairy supply chains. "The only place where regular meat/dairy really wins out for non-purchasers is taste," Dr Marion tells just-food. "The implication here is pretty clear. If plant-based food companies can convince consumers about taste, the meat and dairy industry is in trouble."
However, as the questions over Impossible Burger and Beyond Meat suggest, it is in the pursuit of meeting demanding taste or textural characteristics that the envelope may be pushed from a food technology standpoint. In particular, the development of novel ingredients to provide functional or taste characteristics could precipitate clean-label issues.
While making a meat-free burger taste like a beef patty represents a challenge for food technologists, making it bleed like meat might have seemed to many, until very recently at least, an impossibility. The scientists at Impossible Foods found it could be done, and the marketers chose branding which sought to reflect the technological achievement, perhaps rejecting Improbable Burger as rather prosaic.
That Impossible Foods' use of soy leghemoglobin, or heme, to mimic the bleeding of red meat was not universally greeted as a technological master-stroke, as it may have been in other sectors, but with some suspicion, should not come as a surprise. Food is different from other products. Being risk-averse about consuming something unknown is essentially evolutionary. That said, visiting a Burger King is, or should be, a very somewhat different experience from the experimental foraging of early man.
Food safety regulations in most markets may provide sufficient reassurance to counter an instinctive wariness on the part of consumers but how companies communicate with consumers about such ingredients is probably just as important. It is too early to judge whether Impossible Foods has made mistakes in how it has introduced heme to consumers. Notwithstanding the media coverage, it is likely to receive greater direct scrutiny by consumers now it is being launched in retail.
Heme has received GRAS (generally recognised as safe) certification from the US Food and Drug Administration, which came as no surprise to Professor Mark O'Brian, Chair of the Department of Biochemistry at the Jacobs School of Medicine and Biomedical Sciences, University at Buffalo, New York, and a renowned expert in the study of heme.
"The quantity of heme in our blood system is equivalent to over 1,000 Impossible Burgers, and so I am not surprised that animal testing of leghemoglobin showed no negative health effects. Heme is present in meat and so there is nothing really new about heme in food. The structure and biochemistry of leghemoglobin is well-understood, and thus there is no reason to think that it will be different than heme proteins that we routinely eat."
Impossible Foods has sought to balance achieving desired product characteristics with the risks introducing an unknown ingredient to consumers might pose. While consumers appear to have given plant-based products some leeway on clean-label criteria because of the positive comparison with meat and dairy, they may be more demanding when it comes to the introduction of novel ingredients.
Simon adds: "I believe I feel like we need all solutions on the table, and PBFA is technology-agnostic. We just feel like whatever solutions that are out there to solve this problem we're in favour of. But at the end of the day the consumer will decide if they accept the technology in these foods. I mean, every food is some kind of food science. It's just a matter of degree and novelty, and that's really going to be a marketplace decision."
Heavy lifting
Products like the Impossible Burger, functioning as an entry point into plant-based for meat consumers, could have an important role to play in encouraging consumers to try plant-based meat alternatives.
The changes in global agriculture and land use required to meet climate objectives, as outlined in two reports from the Intergovernmental Panel on Climate Change (IPCC) over the past 12 months, is dependent on nothing short of a transformational shift in protein consumption, specifically requiring consumer uptake of a plant-based diet on a massive scale and corresponding growth in the plant-based protein market globally. In other words, the plant-based protein category will be required to do some heavy lifting in relation to climate and food security goals.
Groundbreaking innovation may be key, so ensuring consumers are correctly informed about new technologies or ingredients, and not misled by a disproportionate reaction to issues. "Certainly, fear of the unknown can inhibit innovation, and both the scientific community and food producers have to do a better job at educating the public," Prof. O'Brian suggests. Moreover, he warns: "We cannot assume that clean-label goals are in sync with solving problems of climate change and food security."
Scepticism about heme, not least within the plant-based foods sector, may be as much due to the fact that it is genetically engineered. Impossible Foods attracted further controversy when it chose to source GM soy for the Impossible Burger. In the plant-based category, GM is a particularly sensitive issue, which Prof O'Brian regrets.
"Agriculture represents about 10,000 years of high-tech solutions to food problems," he says. "Population growth and decreased land use for agriculture will require new solutions, some of which will include genetic engineering (GE). The anti-GE message is not consistent with the overwhelming amount of evidence showing that food from GE plants are safe. Moreover, GE offers solutions that environmentally-conscious and organic food advocates value such as reduction in environmental degradation and decreased reliance on some pesticides."
Dr Marion says: "Based on our experience watching other natural categories mature, yes, we think that prioritising clean-label – without sacrificing taste and other sensory aspects, of course – will best position a plant-based company for the long haul. We have no reason to suspect that consumers will become any less interested in "natural" foods with simple, recognisable ingredients (at least in aspiration) in the near future."