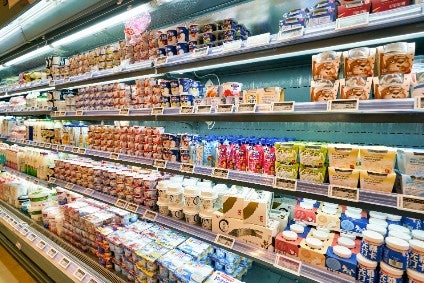 China's consumers, especially younger generations such as Millennials and Generation Z, are increasingly concerned with eating healthily – and that includes snack choices.
In a trend that may increase following the Covid-19 outbreak, sales of yogurts, nut snacks and snack bars have all seen soaring growth in sales in recent years.
Purchases of yogurt within mainland China, including chilled and ambient heat-treated lines, such as drinking yogurt, grew from CNY28.3bn (US$3.9bn) in 2014 to CNY67.9bn in 2018, at a compound annual growth rate of 24.5%, according to market researchers Frost & Sullivan.
Ambient yogurt sales grew fastest, at a CAGR of 39.8% between 2014 and 2018, compared with chilled yogurt's 16.3%. A major reason, according to Frost & Sullivan, is that cold chain logistics, still is not widely available in less developed and more remote rural areas of China.
Another reason for the growth of ambient yogurt products is consumers are increasingly purchasing them as a gift, said Lv Chi, an analyst at Mental Marketing Consulting, a Shanghai-based dairy products research firm. "Yogurt is known among Chinese as a healthy food. Ambient yoghurt is easy to be stored and usually well-packaged, making it an ideal gift especially for visiting elder people and families with young children," Lv said.
China's ambient yogurt sector is dominated by two Chinese brands – Ambpoeial, from Yili, and Just Yoghurt, from Mengniu Dairy, two major dairy products suppliers, both based in Inner Mongolia. In 2017, Ambpoeial had a 45.3% market share of Chinese ambient yogurt sales while Just Yoghurt commanded 26.1%, according to the most recent market share analysis from Frost & Sullivan.
In chilled yogurt, Mengniu and Yili also led the market in 2017, taking 18.2% and 17.1% of sales respectively, although Frost & Sullivan says in this segment there is another strong player – Shanghai-based Bright Dairy, with a 14.6% share.
Meanwhile, the range of products has grown in recent years. Lv said while in less economically-developed regions consumers still welcome plain and basic fruit flavoured yogurt, shoppers in richer areas, such as large cities, especially young consumers, have displayed more adventure in selecting in flavours, packaging, labels and even name.
For example, Just Yoghurt in early 2019 launched two ambient yogurt flavours – Belgian black chocolate and salted caramel. Another Just Yoghurt product line, named Xiao Man Yao (meaning tiny waist), changed its package to an hourglass-shaped bottle. In late 2019, Danone, which works with Mengniu in developing its Activia yogurt business in China, launched Smoothie Français, a chilled yoghurt, with two flavours – mango and strawberry, both claiming containing sugar levels less than 0.5%.
"Yogurt is no longer seen as some dessert after a proper meal in China. It's becoming more like a snack that can be enjoyed casually while offering high-quality protein without giving the body too much sugar," says Wu Hongtao, head of the marketing centre of Mengniu's fresh dairy business unit. He adds young consumers in urban areas are particularly interested in so called "premium yogurt", which, according to French consulting company Ipsos, in China includes the use of natural ingredients, trusted raw milk farms, high quality yoghurt bacteria and a smooth taste. Wu welcomed this increasing market sophistication. "More diversified demand leaves more opportunities for yogurt suppliers," Wu says.
Away from yogurt, nut snacks are a healthy offering that have deeper roots in China, where consumers have long valued their nutrition. The market size of nut snacks reached CNY83.6bn in 2018, a CAGR of 9.8%, up from CNY57.5bn in 2014, according to Frost & Sullivan.
This fast-growing category has attracted food giant PepsiCo, which in February moved to buy Be & Cheery, a Chinese snacks brand known for nut snacks and dried fruits, for US$705m. The deal is waiting for the approval from the Chinese government. According to Shenzhen-based consulting firm Zhongwei Intelligent, Be & Cheery is China's third-largest nut snack supplier, taking up 6.1% of sales nationwide, behind Bestore, 23.6%, and Three Squirrels, 18.2%.
Be & Cheery's product range includes nuts, dried fruits and meat snacks, sold mainly through e-commerce platforms such as Tmall and JD.com.
"Be & Cherry is a well-known online snacking player in China," Michelle Huang, a consumer foods analyst for Rabobank in China, says.
Huang says snacks accounted for 20% of total packaged food sales in China in 2019, with further growth to come, with trends pointing towards snacks perceived to be healthier. "Consumers are shifting from traditional snacks like sugar confectionery [and] potato chips – where PepsiCo has a leading share – and younger consumers are switching to healthy options including nuts, fresh fruit and also meat snacks. From my understanding, Be & Cherry is positioned as a healthy and convenient snacking brand," Huang says.
While unmixed nuts, such as walnuts and hazelnuts, are still popular in China, single-serving mixed nuts are becoming trendy among young consumers, Zhang Muli, analyst at Shenzhen-based research firm Zhongwei Intelligent, says.
"Mixed nuts are consumed at various occasions, be it at breakfast, with afternoon tea, in the office and even as a meal replacement," she says, adding nut quality and company brands are the most important factors behind consumer purchasing choices in this segment.
Take Three Squirrels as an example. According to the company, its single-serving, mixed nuts include hazelnuts from Turkey, cashews from Vietnam and almonds from the US, a diversity of sourcing being a big attraction to some consumers.
"Single-serving daily mixed nuts offer well-balanced nutrition and their small packages are easy to carry. Young Chinese consumers are after nutrition as well as convenience," Three Squirrels spokesperson Yin Xiang says. He adds the brand's principal consumers are females born after 1985 from the three wealthy provinces of Guangdong, Jiangsu and Zhejiang.
Founded in 2012, Wuhu, Anhui province-based Three Squirrels sells a variety of snacks primarily online. But it is the nut snacks that made its fame and fortune. In the first half of 2019, sales from its nut snacks grew 9.59%year-on-year to CNY2.19bn. The company launched an IPO in July 2019 on the Shenzhen Stock Exchange.
China's snack bar market, meanwhile, is at the nascent stage, but the number of varieties and suppliers of snack bars has surged in the past decade as young consumers have sought "extra meal options due to their busy lifestyle", Zhongwei Intelligent consultant Song Tao says.
Indeed, a quick search on business-to-consumer sales website Tmall finds more than 20 snack bar brands, including protein bars, nut bars and meal replacement bars on sale. According to Zhongwei Intelligent, snack bar sales in China jumped to CNY4.7bn in 2019 from CNY2.2bn in 2015
To western eyes, one unusual facet of China's snack-bar market is that Snickers is perceived to be a healthier option and is not regarded as confectionery, positioned by brand owner Mars as an energy bar. As per the Zhongwei Intelligent numbers, Snickers accounted for 37.2% of sales, followed by MuscleTech's protein bar at 3.1%, and Be & Cheery's nut bar at 2.7%.
Unlike nut snacks, however, where sales are widely spread across China, snack bars, especially protein bars, are typically consumed by young professionals leading a busy lifestyle in well-developed cities, Aaron Gong, general manager at Alandv, a sports supplement supplier based in Shanghai, says.
"They often work overtime, they tend to travel a lot for business and they like to play sports in spare time. They value their wellbeing and are willing to pay extra money for it," Gong says, adding a protein bar, usually priced around CNY10 a unit (US$1.40), is not considered a cheap product in China's snack market.
Alandv's product line includes professional supplements such as protein powders, as well as protein bars and cereal bars. Gong said such an assortment helps the company attract not only the gym-goers, but also more young mass market consumers, with the business promoting the idea of leading an active lifestyle.
That said, Gong says more tweaks are still needed to improve the Alandv snack bar's flavours and texture: "Unlike consumers in the West, where you don't see many interesting flavours, young Chinese consumers like to try different flavours aside from chocolate and the usual fruity ones," he explains. Alandv's protein bars have flavour combinations including mango pineapple, strawberry yogurt and sea salt cheese.
As for textures, one challenge, Gong says, is that Chinese consumers prefer neither dry nor chewy mouthfeels (they do, however, like crispy textures). "We have developed some decent solutions and will continue to invest in R&D to improve formula and bring better products to consumers," Gong told just-food. "The snack bar market is well developed in the US, [for example] but in China it is still in an early stage. I think the young generation will be the force to drive the market."
Part two of this deep dive – presenting an outlook for the three segments – can be read here.