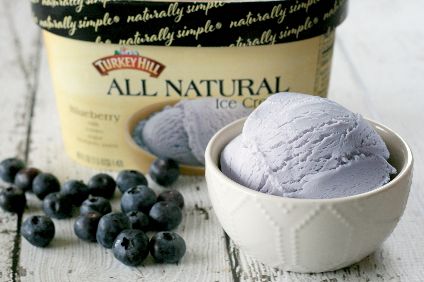 Part one of just-food's in-depth look at the US ice-cream market, Andy Coyne looked at how a sector dominated by big brands has been hugely disrupted by independent innovators. Now he examines how the category is likely to develop and how the larger players might fight back.
There is a danger of taking a linear view of the US ice cream category with giants such as Unilever and Nestle at one end and independent disruptors such as Halo Top and Arctic Zero at the other.
And, similarly, with indulgent/super-premium products at one extreme and their polar opposite, better-for you and plant-based ice cream, at the other.
The truth, as ever, is far more complicated than that with privately-run businesses and retailer own brands among those clouding the picture and, perhaps even more so, brands refusing to be one thing or another and attempting to have a product portfolio to suit all tastes.
Thus Unilever, the world's largest ice cream seller, cannot be seen as a slumbering giant concentrating on its premium Breyers brand when it also owns indulgent, ethical, super-cool outrider Ben & Jerry's and gelato specialist Talenti.
And even within a portfolio, brands cannot be expected to behave in one way.
Breyers Delights might be seen as an attempt by Unilever to ape the success of better-for-you poster boy Halo Top with its lower calories prominently displayed on the carton. Even Ben & Jerry's has, this year, launched flavours with 60 to 70% less fat and 35% fewer calories than its traditional ice creams. just-food approached Unilever to comment on this article but the company, owner of the two largest brands in the US, declined to comment.
Everything is in a state of flux and, therefore, everything is up for grabs.
Pennsylvania-based Turkey Hill has been making ice cream since the Depression era. It is owned by retail giant Kroger and, according to Statista, is the sixth-largest ice cream 'brand' in the US in 2017 by sales.
Lisa Hutchinson, the company's frozen product manager, says, in what be seen as something of an understatement, "these are exciting times to be an ice cream maker".
Turkey Hill has had to evolve to meet changing consumer demands. "With that category expansion comes a lot of pressure to continually involve and be innovative," Hutchinson says.
"Products like better-for-you ice cream or all-natural ice cream are growing fast and Turkey Hill has invested heavily in creating our own All-Natural Ice Cream line-up."
"There's no doubt that natural ingredients represent the biggest recent shift for ice cream and likely represent the future of the industry"
Hutchinson believes the changes the US ice-cream market has seen in the last few years are here to stay. "There's no doubt that natural ingredients represent the biggest recent shift for ice cream and likely represent the future of the industry," she says.
Her view is constant innovation and product development is the way for long-established companies such as Turkey Hill to compete with the new kids on the block.
"Consumers want choice and manufacturers need to deliver that. It all comes down to continued expansion, in terms of our distribution footprint but also in the types of product we create."
Market watchers seem to share this view but opinions differ as to whether products based on sugar replacement ingredients such as stevia, which is used in Halo Top ice cream, or those highlighting their all-natural credentials will dominate.
As ever, taste will be critical. "Frozen treats with hints of wholesome ingredients and healthy notes conveyed through product claims and real ingredients may allow customers to more frequently consume them with less guilt but may risk detracting from taste," research organisation Mintel wrote recently.
Susie Fogelson, a New York-based food marketing strategist who runs her own consultancy – F&Co – says: "Sugar is a big issue. Stevia is out there [while] there is a new product you can put in ice cream to reduce the sugar by 25%.
"But how do you define healthy ice cream? I did a workshop recently which asked whether healthy means lower calorie with no sugar or fat or whether it is whole ingredients. It was a divided room."
Arctic Zero, the San Diego, California-based ice cream maker, uses whey protein and monk fruit in its better-for-you products. It believes whole ingredients will win out over artificial flavours.
"Our flavours are very well received. That focus on ingredients has helped to separate us from the rest of the pack," CEO Amit Pandhi says.
Pandhi is unconvinced by the trend whereby protein is added to ice cream as a better-for-you bonus. "Our research shows that consumers are not buying ice cream to get protein."
Central to product innovation in US ice cream would seem to be about tapping into what Millennial consumers want – even if that may change on a regular basis.
Recent research by Mintel (its Ice Cream and Frozen Novelties – US report of April 2018) shows the category's most frequently active participants include consumers are aged 18 to 44.
Mintel suggests companies will need to continue to engage consumers with innovation that excites.
"Although consumers likely have established favourites they enjoy the diversity of options within the category. Nearly half purchase three or more frozen treat types," its research paper says.
"Packaging size and an assortment of flavour or formats within a product may play the most important roles in inspiring trial. Interest in further innovation in an already exciting space suggests that consumers want to break these habits and seek permission to indulge more, yet on their own terms."
Tom Vierhile, innovation insights director at New York state-based analyst firm GlobalData, puts this in context. "To some of the latest generation of kids, Millennials etc, Ben & Jerry's has always been around. That's an old product for them.
"Every generation looks at things through a new set of eyes and new brands are latching on to these consumers."
Specifically, Vierhile sees ice cream companies expanding with non-dairy products.
"We've looked at the numbers and, in the US, 25% of 25- to 34-year-olds are either vegan or vegetarian, twice as many as in the general population, so we will see more activity in that part of the market," he says.
"We will also see multiple textures, playing with brands. You can have multiple things happening at the same time."
With manufacturers innovating with different types of substitutes for dairy products, California-based food sector consultant and market observer Victor Martino underlines the importance of taste. "One constant is taste. With almond-milk ice cream, the flavour is not there but [Danone-owned] So Delicious, made with coconut milk, tastes good. Taste is a concept that has to be there."
Meanwhile, reflecting on what other factors could drive product development, Martino sees a trend in smaller varieties of existing products, such as Häagen-Dazs' recently-launched mini-variety pack.
"It's the same thing in novelties as elsewhere. All the excitement is at the super-premium end," he says. "I see indulgent, plant-based and better-for-you all growing strongly but, in the middle, I don't see anything that will grow them [premium brands] significantly."
Away from product development, could the larger players respond to the inroads made by upstarts by using M&A?
As Fogelson says: "Big Food is desperate to diversify its portfolio and find relevance. They have to be thinking about what's new and next in food culture. Their real challenge is to 'stop the bleeding' where their iconic products are concerned."
There has been the odd major piece of M&A in recent years, such as Unilever's move for Talenti in 2014, but the US ice-cream market has not seen a lot of acquisition activity. Some believe this could change.
"Unilever was going to acquire Halo Top and then decided not to. I don't know the details of that deal but I wouldn't be surprised if they talk again," Martino says. "I see M&A almost as a given."
Arctic Zero's Pandhi describes the larger players in ice cream, slow to innovate and seeing smaller brands finding favour, as "behind the eight ball".
And he suggests their mindset, collectively, has yet to fully grasp the changes seen in the category. "Because they are evolving so much slower they are not acquiring brands in the same way they are in beverages and snacks. It's great for little guys as we can grow and invest in our businesses," he insists.
Pandhi takes the point that the US market has seen high levels of acquisition or investment in disruptive brands in areas such as plant-based meat alternatives but says: "Veggie patties have been around for 20 years and although we've seen interest from private equity and 'big food' it has all been in the last two years.
"It will take a while before it gets to the point where 'big food' gets interested in M&A [in ice cream]."