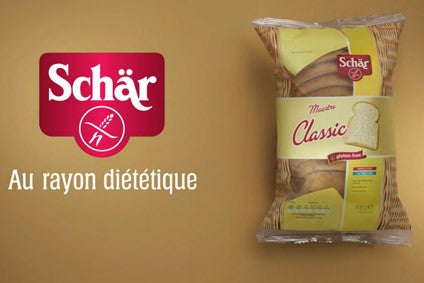 Over the past decade, gluten-free has established itself as a significant category in markets in North America, western Europe and Australasia. Gluten-free specialists have become sizeable businesses, with some building notable international operations and some attracting takeover interest from larger rivals. In a series of articles, just-food's John Shepherd puts forward five markets seen as the next for gluten-free manufacturers – and conventional businesses interested in gluten-free to target. First, we look at France, where gluten-free has taken longer to develop compared to some of the country's neighbours – and therefore one that could present opportunity.
France has an established market for gluten-free food but, according to industry watchers, it lags its western European neighbours and is far from reaching its full potential. One experienced gluten-free sector executive last summer described France as the "sleeping giant" of the category.
Retail sales of gluten-free products in France reached US$41.8m in 2015, according to Euromonitor. By way of comparison, sales in Italy, Europe's largest market for gluten-free products, reached over $260m.
The country is regarded as a market that should have a growing appetite for gluten-free foods, despite being one of the biggest markets in western Europe in terms of food sales and where gluten-free products have been on the nation's shelves for several years.
France is, of course, a major bakery market but gluten-free has not taken root in country's the bakery category to the same levels as elsewhere in western Europe. However, according to industry analysts Mintel, there are signs of demand for gluten-free bread building, while the segments for gluten-free pasta, snacks and prepared meals are developing.
Chris Brockman, Mintel's research manager for food and drink in Europe, the Middle East and Africa, says: "Unlike in the UK, the vast majority of sales in bread in France are still through traditional bakeries and that is not where we are seeing gluten free developed. Gluten free is coming up in the development of packaged bakery products, through supermarket chains, but the vast majority of consumers are still buying standard bread through the traditional bakeries.
"France has actually been a lot slower to develop, so it remains a market still in strong growth. France is behind the Spanish, Italian and German markets because it developed at a later date. Spain and Italy were particularly advanced markets for gluten-free awareness in terms of coeliac disease and gluten intolerance. And some of the major players are based in those areas – such as Dr Schär, which has its main production site in Italy. Those markets have developed quite strongly, but France was slow in getting into the trend so it is developing and now growing quite quickly."
David Hedin, food and nutrition analyst with Euromonitor International, agrees. "Our analysts in France confirm that it is likely that gluten free will now see rather strong growth there. There is a very low per capital consumption in France but it is a very big market," he says.
A country such as France, with a rich heritage that involves an appreciation of good wines, fine cheeses and premium pates has always been "more of a traditional food market", Brockman says. Bread is another example of an attachment by the French to traditional foods and a slower embrace of all things "new".
However, Brockman adds: "There is a wider shift towards free-from foods – not just gluten free, but dairy and meat-free – in terms of younger consumers." French citizens under the age of 40 are more "strongly engaged" with the free-from movement and "have become more aware of what is going into their food", Brockman says. In the third quarter of 2016, Mintel said 8% of French consumers surveyed said they were following a gluten-free diet, "but that rises to 18% among the youngest demographic of 16-24 year-olds". Mintel also notes 6% of total food and drink launches in France over the last 12 months, up to September, have been gluten-free.
Dr Schär's namesake brand is the best-selling in France, as in western Europe as a whole, and the Italy-based business is among the top five companies Mintel calls out as leading the pack over the past two years, based on the share of new product launches. The Italy-based business shows no sign of letting up on its investment in France; in April, the company launched its first TV advertising campaign in the country. "The company goal is to help all those who need to follow a gluten-free diet not give up a balanced and tasty diet," Sebastien Jaffeux, marketing manager for the Schär brand in France. "With a total of over 120 products, Schär now offers the widest range of gluten-free products on the market to meet their needs. We want to know the French population to know more about our entire range." And, this month, Dr Schär's ?product launches in France continued with two cracker SKUs.
Three local groups – Fleury Michon, with ready meals, Nutrition et Santé with pasta, cereals and cakes and smaller health food firm Vitagermine with baby food – also feature in the list of five companies provided by Mintel. The list is made up by the Nestlé, the world's largest food maker, with multiple products, which is an indication of the potential seen for gluten-free in France.
Another major name in the industry to watch as France's gluten-free industry develops is Netherlands-based natural and organic food group Wessanen, which acquired UK gluten-free baker Mrs Crimble's earlier this year. France is Wessanen's largest market by sales and Mrs Crimble's entered the market last year, securing listings at Auchan and Carrefour.
Speaking to just-food when Wessanen announced the acquisition of Mrs Crimble's, Patrick Cairns, the head of the Dutch group's UK arm, said the company would initially operate Mrs Crimble's on an independent basis as the group evaluates the best way to execute the integration process. Moreover, with the UK still accounting for over 85% of the turnover at Mrs Crimble's, the business "for the foreseeable future … will be predominantly a UK brand", Cairns insisted.
Speaking to the site for this article, a spokesperson for Mrs Crimble's told just-food it was "still too early" to discuss how the business will forge ahead following the acquisition.
However, with Wessanen's might in France, where it already owns organic brands including Bjorg, Bonneterre and Alter Eco, it would be a surprise if the company did not look to push Mrs Crimble's in the country, a market where there is more room for growth than in other countries in western Europe.
And in a further sign gluten-free is taking hold in France – and is seen as a category with potential – the country's major retailers, from Casino to Carrefour, have been investing in private label.
In relative terms, then, gluten-free took longer to take root in France than in other European markets. But for manufacturers looking for markets outside the likes of Italy, the UK and Germany, where competition may be fiercer and there may be less scope to gain a foothold, France could present significant opportunities.