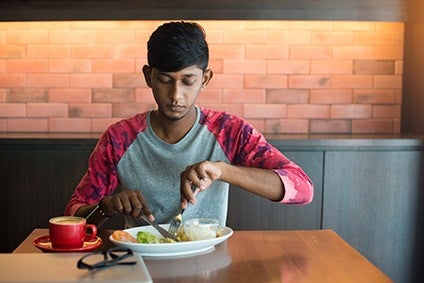 India has an expanding foodservice market but how can manufacturers doing business in the country harness that growth? Mini Pant Zachariah reports back from India Food Forum 2019.
There are big revenues to be tapped for suppliers into India's foodservice industry.
The channel is expected to grow at a compound annual growth rate (CAGR) of 10% between 2017 and 2022 and to be valued at INR5.52trn (US$77.49bn) by the end of 2022, according to a report from the Federation of Indian Chambers of Commerce and Industry (FICCI) and accounting network Pwc.
What suppliers are succeeding in this market? Navi Mumbai-based Vista Processed Foods is one, supplying value-added food products to McDonald's among other major chains. "We service almost all the western and Indian QSRs. In the last two years, some app-based service providers have also been added to the list. So, yes, the space is expanding," Manjunath Patil, deputy general manager at Vista Processed Foods, tells India Food Forum 2019, the annual gala of Indian food industry heads, held in Mumbai earlier this month on 5-6 February.
Foodservice can be a major outlet for suppliers that have in the past targeted retail sales. Oliver Mirza, managing director of Dr Oetker's business in India, tells just-food: "More than 40% of our sales come from the horeca segment; two years ago, the horeca share was 20%."
But manufacturers need to consider certain factors when drawing up strategies to do business in India's foodservice sector.
Experts believe it is critical suppliers invest resources in understanding the unique Indian palate and consumer mindset. The relative lack of loyalty shown to chains by millennials should also be weighed up. And growing consumer demand for sourcing is another growing trend.
Supplying food that targets Indian palates is key to securing foodservice contracts, even to supply major international chains present in the country.
Manufacturers must keep the unique Indian palate in mind – one that, to quote an example, prefers its pizza with a paneer tikka masala (spicy cottage cheese chunks) topping, rather than tomato and mozzarella.
Sudhir Tamne, vice president at Burger King's India businesses, stresses Indian customers want juicy, crunchy and spicy types of food. "Innovating from our experience of the Veg Patty Waffle, an offering we made in India, we launched the Big Boss Whopper, where we added texture by adding potato chips. The crunchiness of chips coupled with the softness of the bun and juiciness of the patty works well with the consumer."
Chicken biryani (a flavoured rice and chicken one-pot dish) topped the list of orders during 2018, according to food aggregators Zomata and Swiggy. The latter also found there was a 20% increase in vegetarian orders year-on-year.
For all that, the younger generation of Indian consumers – with nearly 50% of the country's population being aged under 35 according to the FICCI/PwC report – will switch loyalties easily, Anurag Katiar, executive director Mumbai-based Degustibus Hospitality, which runs Indigo Deli and other restaurants, says.
This fluidity, boosted by online foodservice aggregators, in addition to the already ubiquitous delivery boys, are making ready-to-eat food accessible to a large mass of Indians too short on time to cook every meal at home. "In India, Swiggy and Zomato [just two of the many food delivery services in India] service 2.2m orders in a day," Katiar tells the event.
Mumbai alone accounts for 220,000 ready-to-eat food deliveries a day, Katiar explains. "With that kind of reach, India's foodservice industry is unstoppable."
According to the FICCI/PwC report, the casual dining segment accounts for 55% of the industry's overall value, the quick service restaurant (QSR) 20%, pubs/bars and clubs 12%, cafés a further 7%, full-service restaurants 2%; and others 4%, according to the FICCI/PwC report.
It is working couples (with or without children) with disposable incomes who are driving the foodservice industry in India, especially sales on delivery, a range of speakers at India Food Forum noted. And, despite the fickle nature of millennial consumers, these working couples can be loyal to a smaller number of outlets. Sreyoshi Maitra, executive director at Gurgaon-based marketing research company Ipsos, tells the event eating out for many Indians is more functional than experiential, and these consumers limit their choice of restaurants to 2.5 on an average.
Another key issue for suppliers is to deliver transparency in sourcing. Snacking is growing in India, boosting chains such as Wow Momo, a QSR business that serves momos or dumplings to suit Indian palates. Based in Kolkata, the venture, started by friends Sagar Daryani and Binod Kumar Homagai from a small kiosk in 2008, now has 226 outlets across India.
"The consumer wants transparency. He wants to know what is going into his food. Our first foray into Chinese food, Wow China, is completely MSG-free," Daryani says at the event.
Chef Gresham Fernandes, the culinary director at Mumbai-based Impresario Entertainment and Hospitality Pvt Ltd, which runs cafes and restaurants such as Smoke House Deli and Social in major Indian cities, agrees transparency is key. "We source our meat, fish and vegetables locally from people who are following sustainable practices because the new customer is looking for traceability of the products he or she consumes."
One smart way to tap catering, hotel and restaurant sales is offering quality pre-made products such as sauces, marinades and dressings, that can shorten cooking times in industries facing acute skilled manpower shortages in India.
This has created opportunities for companies such as Hindustan Unilever, the FMCG giant's listed arm in India, which provides such intermediate food products. Chintan Dholakia, the general manager of Hindustan Unilever's local foodservice arm, says: "With our products, we cut down the prep time for the chefs leaving them free to do what they love to do: create delectable dishes."
Gits Food Products, a 60-year-old Mumbai-based company that serves Indian and international markets with ready-to-cook and ready-to-eat products, has also been listening. It launched its Gits Smart Chef line, aimed at the horeca market, 18 months ago.
"Companies interested in servicing this segment should focus on what the chefs want," Sahil Gilani, the company's director of sales and marketing, tells just-food. "For instance, our dosa mix worked well for the regular home line but for the chefs we had to tweak it because chefs cook at a much higher temperature."
Restaurants, Gilani says, are looking at adapting packaged food for their businesses. "Our products have no artificial colours or preservatives and chefs understand the value of these products. The chefs say that these are perfectly healthy products, so why not use them in their kitchens."
Also, healthy-eating trends are growing among middle-class consumers, according to some service providers at India Food Forum. For instance, Priyank Sukhija, a restaurateur from New Delhi who manages 29 outlets under banners including Lazeez Affaire and Flying Saucer, says: "During the last four years, the demand for sugar-free, vegan and green dishes has been growing."
In sum, opportunities abound for manufacturers supplying – or interested in supplying – India's foodservice channel. The market is growing and local and international customers are looking to capitalise on a growing appetite among an increasing number of Indian consumers that, while enjoying rising incomes, are demanding the convenience of eating out.
For all that, to succeed demands rigorous market research and planning.