Focus: What could be impact of Heinz's stevia ketchup?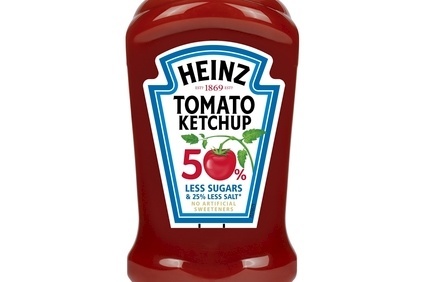 Will the Heinz stevia-based ketchup really take off?
In a move to win over the health-conscious, Heinz has launched a stevia-based variant of its flagship ketchup in the UK - which has half the sugar content of the conventional sauce. But is this yet another gimmick to cool pressures from health organisations wanting food firms to take responsibility for the impact of their products on the public's health? Or will it really gain traction with the UK public, and if so, will this be the start of a whole new range for Heinz? Hannah Abdulla explores
Heinz's UK launch of a tomato ketchup containing half the amount of sugar of the regular sauce is a move that has divided analysts. Some have applauded the company in its efforts to tackle the high-sugar diets of UK consumers. Others have questioned whether the move is really going to make a difference to the growing sugar-linked health problems among the population.
The launch is not Heinz's first reduced-sugar tomato ketchup in the UK. The US-based group rolled out a reduced sugar and salt version of the sauce in 2006, which contained 30% less sugar and 25% less salt than the original. The new Heinz Tomato Ketchup 50% Less Sugars line replaces this low-sugar line but what makes the new product notable is that it contains stevia, the natural, zero-calorie intense sweetener
Consumer awareness of stevia has grown in recent years and its application within food and beverage products has increased, with companies adding the sweetener to the possible ways of lowering sugar amid heightened public attention on the ingredient and voluntary agreements with regulators.
"Clearly sugar is top of mind for many consumers. There's been lots of negative press connotations about sugar consumption and its link to obesity and weight related issues like diabetes. More and more consumers are becoming aware that sugar consumption - even more than fat - is a prime health concern," David Turner, global food and drink analyst at Mintel says.
Jenny Arthur, strategic insights analyst at Leatherhead, says the Responsibility Deal between industry and the UK government has prompted reformulation.
"Companies are signing up to reducing fats, salts, sugar, calories and portion size. Companies are looking at alternative ingredients to better nutritional profiles," she says.
Turner and Arthur argue Heinz should be applauded for the move, given that, at present, few food firms are looking replacing at least some of the sugar in their products with alternatives. However, the most common use for stevia has been in soft drinks. Almost 90% of the amount used as an ingredient in the UK last year was in beverages.
What is holding food manufacturers back from using the sweetener? Well to start with, reformulating food to include stevia is a far more complicated process than reformulating a beverage. As well as a bitter after-taste, stevia does not have the same properties as sugar, which plays various roles in a food including acting as a bulking agent and contributing to shelf-life.
"If you take sugar out, you have to replace with about four or five different products in which case, it goes against the grain for consumers interested in clean label and less ingredients," Turner says.
Diana Cowland, senior analyst at Euromonitor, agrees. She says it is easier to use stevia in beverage products since liquids "don't have the same hurdles in reformulation". Therefore, of all foods containing sugar, the semi-liquid ketchup could be deemed as one of the more straight-forward moves for a manufacturer. Moreover, the strong flavours within ketchup could act as a good mask for any bitter after-taste picked up from stevia. Is this why, then, Heinz made its move in ketchup rather than, say, Baked Beans?
"Would you alter one of your biggest sellers? Probably not," asserts Arthur. Heinz ketchup sales in the UK last year stood at GBP125m; its baked beans range brought in about GBP280m. "If you sell more beans and that's your biggest line, you probably don't want to try something like stevia on it," Arthur says.
A second canny move from Heinz is that the stevia line replaces the existing reduced sugar and salt ketchup rather than the original. The reduced sugar and salt ketchup makes up 2% of Heinz's total sauces, dressings and condiments sales, according to Euromonitor. Some critics, including Professor Graham MacGregor, chair of campaign group Action on Sugar, think the launch of the stevia line is a move to appease health groups.
"It's all very well to have these special things and say 'aren't we clever we have a product with less sugar and salt' but, unless its the main-selling one, it doesn't affect public health at all. That's not going to tackle obesity - it's a joke," MacGregor says.
Heinz says its reason for not reformulating the original is to give people choice and allow those that enjoy standard ketchup the option to continue buying it. However, MacGregor says the launch is unlikely to drive people to cut sugar out of their diet.
"We want the sweetness of these products to come down so people get used to less sweet tastes and prefer them," MacGregor argues. He suggests a "stealth-like" approach is needed to lowering sugar content in the original ketchup - in the same way salt reductions in food products have been made in the UK.
However, Arthur contends that, while the "palate can be trained to like less salt", sugar's classic taste profile makes a reduction-by-stealth approach more complicated. She argues the move to offer consumers a choice is the right one as "people buy into a particular brand or product". Those that enjoy eating the original will continue to do so and Heinz now has an option for those conscious about sugar and salt levels.
Turner agrees, adding that eventually a "dual cohort of full sugar and light sugar" will appear on shelf - similar to those that appear in carbonated soft drinks. "It starts to become almost a taste thing because there is the perception that sugar replacement products leave a slightly different aftertaste as well as being a health and lifestyle choice," he says.
There is the argument that, by retaining the full sugar ketchup, Heinz is testing the market for the acceptance of stevia in food - and in such a household product.
Cowland suggests Heinz would "unformulate" if sales are poor, as others have done the same. In August, Coca-Cola Co. was forced to ditch stevia as a sweetener in its Glaceau Vitaminwater in the US after receiving a social-media bashing from its fans.
If the new products performs well, could we see Heinz look at other products in its portfolio?
Being a condiment, do consumers really care about the amount of sugar in ketchup, given they eat such a small amount of it with a meal? People buying and switching to the stevia-based variant are likely to be those parents already concerned with the sugar and salt intake of their children, Cowland says and she argues It will be a "long time" trialling this product before Heinz introduces it to other ranges, she says.
However, Turner disagrees, adding that when the low-sugar variant ketchup was first introduced, Heinz introduced the same variant for its HP brand.
"If it gets a significant increase, they will introduce it to further ranges," he says. Heinz has a "state-of the-art facility in Holland with a team dedicated to looking at new product launches and innovations". Yes, reformulation is expensive, he says "but they recognise that's one way of staying ahead of the market".
And Arthur too, has faith in the move, adding that it could almost turn into a new trend.
"People are very black and white with sweeteners - they will either like them or won't, either look for or avoid them," she says. "If you buy the stevia-based ketchup, you'll buy the stevia-based beans too. It will be an interesting launch to watch how people react."
Oops! This article is copy protected.
Why can't I copy the text on this page?
The ability to copy articles is specially reserved for people who are part of a group membership.
How do I become a group member?
To find out how you and your team can copy and share articles and save money as part of a group membership call Sean Clinton on
+44 (0)1527 573 736 or complete this form..