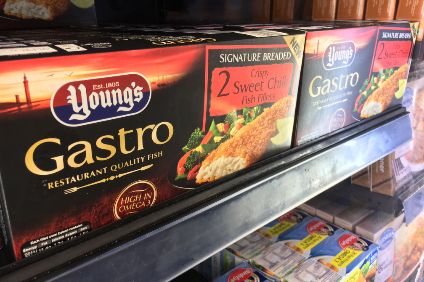 More than a year after the private-equity owners of Young's Seafood confirmed the UK fish processor was up for sale, the company is to combine with pork player Karro Food Group under the auspices of CapVest Partners. Dean Best weighs up industry reaction.
Speculation over the ownership of Young's Seafood dates back to before Christmas 2017 – and the takeover of the UK fish processor, announced this week, has prompted fresh conjecture.
Fifteen months after the private-equity owners of Young's admitted the company was on the block, yesterday (2 July) it emerged another private-equity firm CapVest Partners had struck a deal to acquire the business.
The italicised emphasis is there for a reason. CapVest, which 11 years ago sold Young's, had for months been reported to be looking at buying back the business.
CapVest announced yesterday it had netted Young's, acquiring the business through UK pork processor Karro Food Group, a business the private-equity firm bought two years ago.
Financial details were not disclosed. The combined business will have sales of around GBP1.2bn (US$1.51bn), CapVest announced.
Di Walker, Karro's executive chair, has been appointed CEO of the combined operation. She said yesterday: "We are very excited about the opportunity to create an ambitious multi-protein food business of considerable scale. Young's and Karro are highly complementary businesses and the combined platform will have strong market positions in two important protein categories that are experiencing consistent long-term growth."
Looked at in the context of bringing together UK businesses supplying different proteins, CapVest's move has precedent. Another deal struck in 2017 saw UK-based meat processor Hilton Food Group buy seafood business Icelandic Food Group, which trades as Seachill and is the owner of the brand The Saucy Fish Co.
Speaking to just-food today, a number of industry watchers were hesitant to draw parallels between the two transactions. "[Hilton-Seachill] was obviously very much a Tesco-driven deal, where as this looks more an opportunistic," Charles Hall, head of research at brokers Peel Hunt, said. "I suppose it gives you a broader spread and lowers the risk but it's difficult to really say there are many synergies."
Another long-standing City analyst covering the UK food sector agreed with the assertion the deal between Hilton and Seachill had a significant customer for both businesses – Tesco – as a central factor. "Hilton-Seachill was firstly about Tesco saying 'OK, we think you should run this business,'" the analyst, who requested to remain anonymous, said.
A third veteran City analyst monitoring the UK food industry, Shore Capital's Dr Clive Black, acknowledges the Tesco factor behind the Seachill takeover but argues, broadly, there is a trend for manufacturers in mature categories looking for growth in adjacent categories.
"When one looks at the pig sector, Cranswick has gone into poultry and gone into poultry in quite an integrated way. It's a similar form of connected diversification. The customer base is similar, the actual activity in terms of being a protein is similar but obviously very different day-to-day workings," Dr Black explained. "The Karro move for Young's is part of a wider process where relatively focused mature businesses are seeking growth in complementary areas – whether there are going to be more meat-fish combos time will tell."
The unnamed City analyst pointed to wider factors that they believe show the wider context in which the Karro-Young's deal has been done. "The UK supply chain is consolidating. All the retailers are trying to save costs to keep shelf prices low so that they can compete with the discounters and that's driving to consolidate their manufacturing bases because they're under pressure from the retailers to provide lower costs," the analyst explained.
Another experienced UK food-industry watcher, who also asked not to be identified, said the squeeze on the country's main grocers was affecting suppliers, which are facing demands to be more efficient – and, which, in the case of Karro and Young's, explains why a private-equity player the size of CapVest could be useful owner.
"The issues facing both Karro and Young's remain the same. They don't have much control over raw material prices and their major retail customers are under huge price pressure. Margins are continually being squeezed and manufacturers have to be super efficient. Both companies have ageing assets which are not state-of-the-art and which require on-going capital expenditure at a time when the producers are not generating huge amounts of cash. Large PE houses like CapVest have big funds to invest and substantial targets, with plenty to go for, are not that easy to find."
It is 20 years since the formation of CapVest and its experience in food is considerable. As well as the private-equity firm's previous ownership of Young's, it has made a series of investments and acquisitions in the UK, Ireland and in continental Europe.
In 2010, CapVest created Valeo Foods as a vehicle to acquire two Ireland-based food businesses – Batchelors and Origin Foods. A year later, CapVest added a third Irish food manufacturer to that platform, Jacob Fruitfield Food Group. Throughout the decade, more deals have been done, including the 2014 acquisition of UK honey supplier Rowse and the 2015 purchase of Italian cake and biscuit maker Balconi Industria Dolciaria, the UK and Czech confectionery assets of Finland's Raisio in 2017 and last year's deal for another UK candy supplier, Tangerine Confectionery.
Jason Rodrigues, a partner at CapVest, indicated the private-equity firm would continue to look for acquisitions. "CapVest believe strongly that the combination of Young's and Karro will create a differentiated and attractive multi-protein platform. We look forward to working closely with management to accelerate investment and strengthen the competitive position of each business, whilst also pursuing other acquisition-led growth opportunities," he said.
While Walker and her colleagues get to grips with the combined businesses of Karro and Young's, it would be a surprise if CapVest is not looking for more acquisitions, given its recent track-record in the food sector.
For the food-industry watcher, the Young's takeover could be another move CapVest is making to construct a business it could list. "I am sure that CapVest see this as another step in building a floatable food group. The quoted food sector is very thin compared to what it was 25-30 years ago when companies like UB, RHM, Northern Foods, Unigate/Uniq, Hilldown and others were on the market. Mind you, I'm not sure that the appetite for more quoted food companies is that great, unless they are very strong performers."
At some stage, private-equity houses do need to find some sort of exit – CapVest has, for instance, listed Nordic poultry player Scandi Standard in the past – but Dr Black does call attention to the fact the private-equity firm has owned Valeo for almost a decade.
"CapVest has had Valeo for a long time. It is to my mind one of the more patient and well-regarded private-equity companies but, in the end, private equity does need a realisation. The extent to which Valeo and Karro remain separate is going to be interesting and where they fulfil that realisation remains to be seen. I would have thought at this relatively early stage IPO would be among the three routes it would look at – a trade sale or finance house-to-finance house would be the other two possibilities."