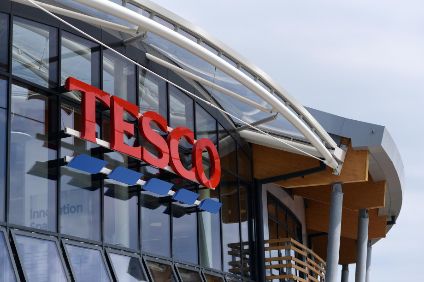 Dave Lewis, the man at the top of the UK's largest supermarket chain Tesco, picked an opportune moment to step down as CEO as the retailer revealed it had reached its margin target ahead of schedule. But what route might a new chief executive take amid the onslaught of discount rivals Aldi and Lidl. Simon Harvey takes a look.
Tesco chief executive Dave Lewis is to step down for personal reasons next summer just as his turnaround plan starts to bear fruit after five years heading up the UK's largest supermarket chain.
The revelation coincided with the release of the London-listed retailer's first-half earnings, which beat analysts' estimates and triggered an early surge in Tesco's stock price. Most notable was the 3.73% margin achievement, against the year-end target of 3.5-4% set in motion by Lewis when he came to the business from FMCG giant Unilever in 2014.
But it's not a great time for Ken Murphy – a former executive with US-based Walgreens, which owns UK high-street chemist chain Boots – to be taking the CEO baton at Tesco as he will be up against the same challenges faced by other retailers of reduced footfall and store closures. And he will have his work cut out too, coming from a non-food background, to continue with his predecessor's efforts to realise GBP1.5bn (US$1.8bn) in cost savings just as the competition posed by discount food retailers Aldi and Lidl becomes more intense.
Lewis has taken Tesco forward since the tumultuous times of 2014 – when the retailer had essentially lost direction – by selling peripheral and loss-making businesses, particularly internationally, and instigating the takeover of UK wholesaler Booker. He also recently launched the Jack's discount format but those have so far had limited success. Nevertheless, he has got Tesco's financials back on-track since he revealed soon after joining the retailer the company had been overstating profits, and the chain subsequently booked a loss of GBP6.4bn (US$7.88bn).
But what route will the new CEO take? Patrick O'Brien, a research director for the retail sector at London-based data and analytics firm GlobalData, says Murphy needs to continue to "ape" the private-label model of the discounters in order to retain or stop losing market share.
"Although it's a very difficult position, his [Murphy's] job is nowhere near as difficult as Dave Lewis' was when he joined five years ago, bearing in mind what a basket case Tesco was back in 2014, when it had so many disparate businesses, had totally lost its focus on its core business and, all the while, Aldi and Lidl were making serious inroads into its market share," O'Brien tells just-food.
"The business is now more focused but the threat of the discounters is of course greater than ever as the combined market share of Aldi and Lidl is higher than it's ever been, bearing in mind their plans to open more stores over the next few years. And they will undoubtedly be increasing their market share, some of which will come from Tesco."
Besides staying competitive on price, Murphy needs to continue to build Tesco's share of private label and cut the number of SKUs instead of, for instance, having multiple branded ketchups on its shelves, says O'Brien, a move that would give it "higher leverage with suppliers".
Lewis had already instigated a plan to lower the SKU count, dubbed Project Reset. Richard Lim, the CEO of London-based consultancy Retail Economics, says Tesco is probably about halfway through the portfolio reduction project, a process which will undoubtedly be continued under Murphy's leadership.
Inherent in that process will be fewer suppliers but at the same time Tesco needs to build bigger relationships with the remaining suppliers to drive down costs in a bid to try and make the retailer more competitive vis a vis the discounters.
O'Brien acknowledges the discounters have a limited ceiling in terms of physical growth in store numbers, a threshold that is approaching. "We are getting close to that point and we will do in the next few years." And he believes competing more effectively in private label with Aldi and Lidl is the way forward rather than trying to appeal to consumers through alternative stores like Jack's.
"Effectively aping an awful lot of what Aldi and Lidl do but within their own stores rather than growing an external fascia – I think that's what Murphy has got to do," O'Brien explains. "There's been a lot of work in terms of margin improvement at Tesco but it would seem it is going to be very difficult for them to maintain top-line growth and keep growth levels ahead of Aldi and Lidl.
"In the UK, it is difficult to see how Tesco can continue to hold off the threat of the discounters while maintaining or improving its margins from here."
Tesco's share price was up almost 2% in early morning trading in London on Wednesday but was flat going into the afternoon session, a reflection of the uncertainty surrounding the relative obscurity to UK retail watchers of the incoming CEO. Vincent Lee, an associate research analyst at global asset management firm Alliance Bernstein, says the stock reaction would have been nearer 5% had it been driven by the first-half results alone.
Murphy's appointment surprised both O'Brien and Lee, who said markets would have expected an internal candidate. Lee says Booker executive Charles Wilson was seen by the City as the natural successor to Lewis.
"It just goes to show how highly-valued Lewis was," Lee says. "The market took it as a negative that this relatively unknown successor has been named at quite a crucial point in time for Tesco. They've completed the turnaround plan successfully and now they are in a point in time where they are looking at the next phase."
Nevertheless, Lee says Tesco is now in a better position than before Lewis came in and having introduced its 'Exclusively at Tesco' discount range its pricing is catching up with the likes of Aldi and Lidl, while the quality and merchandising is better.
Lee says it's likely to be more of the same under Murphy amid the groundwork laid by Lewis, adding Tesco has already provided a sense of its objectives with plans to expand its e-commerce capabilities and "convenience estate".
"The new CEO is inheriting a business which is already able to fend off the discounters," Lee tells just-food. "A lot of the work has already been done and now it's about turning from an offensive mindset to an aggressive one where they start putting down new space. I think a lot of it is going to be a continuation of what we've seen before – steady margin improvement – but the focus is going to be more on growing the top line."
On the flip side, Tesco's increased margins would no doubt have come at the expense of food manufacturers, both large and small, which face an uncertain future, at least in the short term, as the Brexit machinations drag out to three years since the majority of the UK public voted in favour of leaving the EU. But that's not to say Tesco is not feeling the uncertainty too.
Lee says the manufacturers are "probably quite glad to see the back of Dave Lewis", who had gained a reputation for squeezing suppliers.
And O'Brien similarly echoed those comments. "There is definitely a big concern among manufacturers. There is quite a disparity between the margins of retailers and the brand owners."
However, Retail Economics' Lim says suppliers have already gone through the pain barrier with Tesco in terms of pricing, and the incoming CEO now has to build on the "restructured and newly-emerged Tesco that has come about over the last few years".
He adds Murphy should continue to focus on Tesco's food business as a priority, along with the further integration of Booker to try and drive efficiencies. The discounters, Lim argues, remain fierce competitors.
"Lewis managed to save the business. He's turned it around and that's no easy feat to do that with such an enormous company like Tesco," Lim says. "The new CEO will be coming in and continuing to deliver the strategies that Dave Lewis had put in place. I don't expect there will be any move away from the fact that the market is under increased pressure because of the discounters."
Murphy will have to batten down the hatches to keep the discounters at bay as Tesco is still losing market share year-on-year, he adds.
Lim continues: "They are still fighting the changes in shopping habits and also the threat from discounters, so some of those core strategies around profitability, fewer lines, fewer SKUs, a push toward private label, which will typically have higher margins, those are the key things."
While Lim believes the growth of the discounters will inevitably slow, they still remain a dominant challenge in the short term.
"I guess it's all in relative terms. They've [discounters] grown at a really fast rate and that rate has begun to slow as the business has matured. But I think the biggest threat still remains from the discounters and that will continue for the next few years," he says.