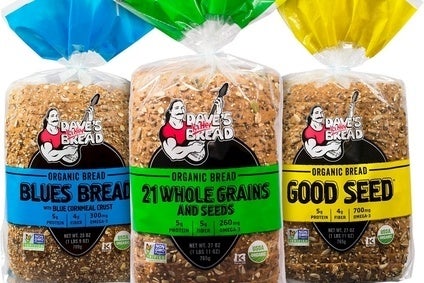 Flowers Foods last week announced the acquisition of organic bread maker Dave's Killer Bread, a move which accelerates its growth in the organic bread space and extends its geographic reach in the US, two things it has had on its wish list for some time. Hannah Abdulla explores.
There have been two areas of focus for Flowers Foods for some time now: getting access to new US markets and a move into specialty breads – both of which it made further progress against following its acquisition of Dave's Killer Bread last week.
Flowers moved to acquire the Oregon-based organic bread maker in a US$275m deal. Dave's is a non-GMO, organic bread maker, which started out as Nature Bake in Southeast Portland in 1955, launched by the Dahl Family. It has since grown to offer 17 varieties of whole-grain organic bakery products distributed across Canada and the US. Over the last three years Dave's has seen revenue increase at a compound annual growth rate of 32%.
"This is a well-positioned, fast growing company with excellent brand equity and an on-trend organic portfolio that appeals to today's consumers," Flowers CEO, Allan Shiver, noted in the wake of the deal.
The organic bread category continues to gain share in North America and the deal expands Flowers presence in the organic space. According to Euromonitor , in 2014 it was worth US$771.40m. By 2019 it is expected to reach US$982.20m.
It is not a space Flowers has been non-existent in.The company already offers products such as Barowsky's Organics, which it took control of through the 2012 Lepage acquisition. But it does have limited reach. As Shiver pointed out it is a category in which Flowers "does not currently play in a big way". Back in April at the company's investor day in New York, Shiver indicated Flowers had a growing interest in the area.
"With our Barowsky brand… we are gathering experience in this segment," Shiver said. "We are very attentive to the developments in the organic bread category and we look forward to growing our share."
And it makes sense for Flowers to look to grow in what it calls a "premium" category, which according to the latest IRI data, has grown at 27% over the last four years. Dave's, an established organic bread maker, which according to Flowers is the largest organic bread company in North America, provides an easy route in.
"When you look at their (Dave's) product profile and you look at the organic business, again it's a nice business. It does drive margins. It competes in that premium segment, which you can see typically carries a nice margin," Steve Kinsey, EVP and CFO at Flowers said. "If you look at organics in general in every food category, they continue to do exceptionally well. So we feel like that, Dave's is well positioned. It is excellent in product quality. It's a very unique brand name. And when we combine where Dave's is today from a positioning standpoint with our distribution systems, that's why we're excited about the growth."
Amit Sharma, analyst at BMO Capital markets agrees the "premium" aspect of the organic category should support Flowers' EBITDA margins in the mid- to high-teens range, "well above its current margin structure of high-single/low double digits."
Of course the market Dave's operates in – the northwest – and Flowers limited presence here, is also a key consideration when it comes to how it can benefit from this deal. In recent years, Flowers has worked to grow its regional reach throughout the US via M&A.
In 2004, Flowers Foods' direct store distribution network enabled it to reach around 35% of the US population, generating sales of US$1.5bn. The company had a presence in 15 south-eastern states. Fast-forward to 2014 and Flowers's network reached 80% of the US, leading to sales in the region of $3.7bn. Regional growth – both organic and through acquisitions – has been central to Flowers success. The Lepage acquisition in 2012 gave Flowers access to the northeast adding its two Maine based and one Vermont based factories as part of a US$370m transaction. It allowed production capacity for Flowers' expansion in mid-Atlantic and northeast markets with brands such as Tastykake and Nature's Own.
Following this, the company in April this year announced it would open up a former Hostess Brands plant it acquired in 2013 in Kansas, from which it would produce its Nature's Own, Wonder and Home Pride breads for customers in Kansas, Missouri and eastern Oklahoma.
The Dave's deal adds a manufacturing facility in Milwaukie, Oregon, and for Dave's, most of its sales have come from that region. Flowers is anticipated the transaction will be neutral to fiscal 2015 earnings and for 2016 Dave's sales are expected to reach $160-$170m. But the access it gives Flowers to a wider market is the most important point to make, argues Jacob Meredith , principal advisor at investment advisory firm, Appalachian Capital Group.
"This acquisition is very important for Flowers due to its geographic expansion into the northwest United States and Canada. By utilising Flowers' existing manufacturing and distribution network, Dave's could grow exponentially as a national brand in coming years as the healthy living trend continues. Also, Flowers can utilise Dave's relationship network in the Pacific northwest to add their current brands to stores in the region," he adds.
Flowers paid a transaction price to sales ratio of 2.5 times for Dave's and, though the deal is "quite steep compared to other small publicly-traded food manufactures," according to Meredith, the benefits far outweigh the cost.
"Considering the outstanding growth that this company is producing that has eluded the broader industry and the distribution and manufacturing synergies that can be found, it is still a compelling purchase for Flowers," he asserts.
According to Euromonitor, Bon Matin by Canada Bread and Naturo Bio by Boulangerie St-Methode are the leading organic bread brands on the the North American market. Dave's however, which Flowers boasts is the "best selling organic bread in the US", will have a good shot at extending its reach under Flowers' wing.
"Flowers will ultimately look to leverage its DSD network and idled facilities in gaining distribution for Dave's," explains Brett Hundley, analyst at BB&T Capital . "The brand is well distributed on the West Coast and in the Pacific North West, but it is light in most eastern cities. We view this transaction favourably, as it should lift forward revenue growth and earnings potential for Flowers."