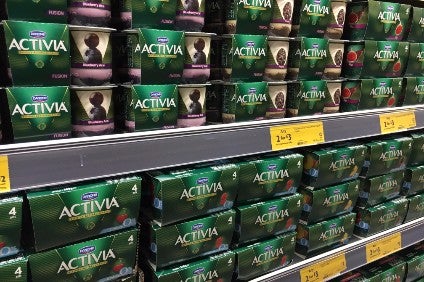 In the wake of Emmanuel Faber's departure from Danone, Andy Coyne weighs up what might be the priorities for those set to take the helm of the French food and beverage giant.
The news today (15 March) Emmanuel Faber is to leave Danone might be interpreted as a victory for those investors focused solely on shareholder returns rather than in the company being a good corporate citizen.
During Faber's near seven-year tenure as CEO of the French giant (which included three years when he was also the company's chairman), the Alpro and Activia brands owner has been at the vanguard of efforts among 'Big Food' to do business more sustainably, with corporate responsibility central to strategy and with a broader range of stakeholders taken into account.
But in recent months, disgruntled investors – including Artisan Partners from the US and Bluebell Capital Partners of the UK – have been agitating for change at a business they saw as underperforming its peers, calling for an end to one person being Danone's CEO and chairman roles and for the disposal of non-core assets.
Faber's announcement in November of a new, "local-first" strategy at Danone, designed to spur relevant innovation in individual countries and improve financial metrics, as well as efforts to overheads did not impress the shareholders and continued pressure led to Faber stepping down as CEO two weeks ago. However, his proposal to stay on in a new role of non-executive chairman role did not placate the Artisan and Bluebell, who subsequently called on Faber to leave Danone entirely. This morning, Danone announced Faber would be heading for the exit after more than two decades at the business.
Some might say Faber's departure marks a victory for those shareholders who view profitability and returns as the be-all and end-all when it comes to viewing a company's success. By that argument, a focus on sustainability is acceptable, presumably, as long as it doesn't take the focus away from the main task of creating value for shareholders.
But perhaps this sustainability versus profitability argument is an overly simplistic way of looking at what has happened at Danone and of assessing what the company's future strategy is likely to be under new chairman Gilles Schnepp and whoever fills the vacant CEO role.
While a search for a new chief executive has been started, with internal and external candidates being considered, lead director Schnepp – who has received the backing of the activist investors – has taken on the role of chairman role. Véronique Penchienati-Bosetta, the CEO of Danone's international business, will lead Danone on an interim basis with Shane Grant, the chief executive of its operations in North America, acting as her temporary deputy.
Whoever becomes Danone's permanent CEO will be expected to oversee a strategy that brings better performance. The company's full-year 2020 results, released on 22 February, revealed sales were down 6.6% year-on-year at EUR23.62bn (US$28.62bn) and growth predictions made on the same day for 2021 failed to placate its critics.
Bruno Monteyne, a senior analyst covering Danone at US investment bank AllianceBernstein, said the first priority for Danone's CEO should be investing in brands and innovation.
"The new CEO can now independently assess the issues at hand," he said.
However, Monteyne warned change will be expensive and take time and is by no means guaranteed to succeed.
"It will take time to have a new CEO in place – Q3 at the earliest – and have a new strategy, [which will be] Q1, 2022 at the earliest," he argued. "Turnarounds working takes at least another three years beyond that. Anybody wanting to invest in a value recovery story at Danone can patiently wait on the sidelines a bit longer."
Danone's ESG strategy
But Monteyne, who asserts there has been "years of under-investment in brands, innovation and capability" at Danone told just-food he does not see the company's efforts on sustainability being dropped in favour of a laser-focus on profits.
"Being a responsible citizen is part of the Danone DNA. It is valuable and important. Being a good citizen does not mean having a bad strategy. I don't expect any changes here," he said.
"Dissatisfaction with Faber was building up over time. The activists were pushing an open door"
Monteyne sees investor disgruntlement being more specifically about the growth strategy put in place under Faber's leadership. "Dissatisfaction with Mr. Faber was very widespread and building up over time. I think the activists were pushing an open door."
Jon Cox, an analyst at finance house Kepler Cheuvreux, agrees. "I think it is possible to be a good corporate citizen and deliver strong economic performance. I don't think the goals are opposed to each other, particularly today when consumers want to buy brands seen as part of the solution rather than the problem.
"Overall, for me, the issue has been a lack of execution on the economic side rather than problems caused because of the social goals. Execution is going to be key for the new CEO."
However, Martin Deboo, a consumer goods analyst at Jefferies, doesn't entirely agree a new strategy will leave the company's sustainability agenda unaffected.
He said: "I think it will modify. Danone is the hard case of 'doing well by doing good'. Too much time in terms of communications was spent on ESG [environmental, social and governance]. There are not enough pure ESG investors around to make that work. And even ESG investors look at financial performance."
Deboo is clear about what an incoming CEO should concentrate on. "In terms of ordering priorities, the new person needs to work out the turnaround strategy in dairy and plant-based. That's the core business and that has to be job one with everything else subservient to that," he said.
After that, Deboo suggests Danone will need to look at what the company calls its "local-first" strategy.
Announced in November, alongside plans to cut 2,000 jobs, Danone said it wanted to build a "local-first" organisation with Faber insisting the group needed to "reinvent" itself in the wake of the coronavirus pandemic.
"The indications are that that will remain in place. That could constrain the person coming in," Deboo said. "Danone is targeting EUR1bn in savings. It's quite serious stuff. I'm not sure how far they've got. Could it be stopped? Should it be? I support it. I think things should be run locally. You only have to look at Nestlé for that."
Could more disposals be in offing?
Deboo also suggested Danone will "get into disposals and tidying up the portfolio". On 1 March, Danone revealed it had made a move towards selling its shareholding in Chinese dairy business China Mengniu Dairy Co. It reached an agreement with COFCO Dairy Investments to convert its 9.8% indirect stake in Mengniu into a direct holding as a first step towards disposal.
Artisan has previously suggested the Evian owner's Asian Mizone waters unit could also be offloaded.
What is clear is there will be a period of uncertainty. A capital markets event planned for 25 March has been postponed, although Danone's AGM, due to take place in April, is still scheduled to go ahead.
Deboo wonders whether Danone may also make adjustments to its financial targets, notably achieving margin of over 15% by 2022.
"A new person could also re-set the margins. It is a question of whether they are sustainable," he said.
But what about the disgruntled investors? While ultimately it was Danone's board that took the decision over Faber, Artisan and Bluebell played no small part in what has happened.
They suggest it was the way the company was run, rather than too much of a focus on green issues that was their main complaint.
In a statement carried by news agency Reuters, Bluebell said: "Of course the 'job' starts now with the board due to appoint a top-class CEO. We are confident that under the leadership of Mr. Schnepp, a profitable growth trajectory will be restored at Danone whist also keeping focus on sustainability."
This final point echoed a recent comment made to the French media by Jan Bennink, the former Danone director who advises Artisan, when he said the US fund does not question Danone's environmental and social objectives – which includes the Cow & Gate baby-food owner last becoming an "entreprise à mission" – but just feels the group is mismanaged.
In its statement today after Faber's departure was announced, Artisan – Danone's third largest investor with a 3% stake in the business – simply said: "We welcome the actions taken by Danone's board of directors. The appointment of new leadership and better corporate governance will strengthen the company for the benefit of all stakeholders."
just-food has asked Artisan and Bluebell for further comment on Danone's future strategy.
A final thought. What might be on the mind of some food company executives is whether the success of Artisan and Bluebell in pushing for change at Danone makes it more likely we will see an increase in activity of this kind elsewhere?
Cox at Kepler Cheuvreux said: "Certainly, the news is likely to bolster support for shareholder activism in France and elsewhere even if ultimately it was still a board decision. If the board did not want the change it would not have happened."
And Deboo at Jefferies added: "There will always be activism when companies underperform. The reason we got to the crisis point is that Danone has been underperforming pretty much since the financial crisis."