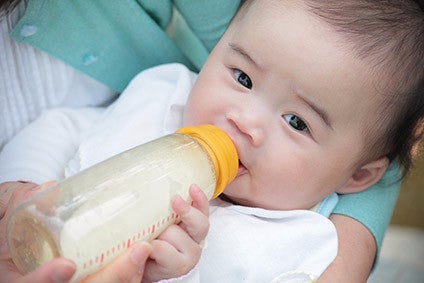 A new year, re-heated M&A speculation. Takeover talk is again centred on US-based infant formula group Mead Johnson, often seen as a target since it was spun off by pharma group Bristol-Myers Squibb in 2009. In the past, the chatter has focused on whether Danone would buy the Enfamil maker. Now, Nestle is in the spotlight. However, as Dean Best reports, such a deal looks unlikely – and, at present, the prospect of other suitors coming in appears just as slim.
Mead Johnson, the US-based infant formula manufacturer, is again at the centre of takeover speculation.
The owner of the Enfa brand of formula has often hit the headlines amid reports it could be set to be the subject of a multi-billion dollar bid. In recent years, it has been Danone that has been said to be the business set to come to the table; in recent days, the speculation has moved to Nestle.
Last Wednesday (18 January), US financial news portal Street Insider said Credit Suisse was advising Nestle on a possible bid. The story carried no comment from Nestle nor Mead Johnson and, when approached by just-food, the companies were reluctant to talk, offering variations on a statement that described the report as "market rumour".
Nevertheless, shares in Mead Johnson, which fell by more than 10% in value in 2016 as the company cut its sales forecasts twice and its earnings forecast once, jumped more than 5% on Wednesday in the wake of the report, with some in the market believing there was some weight to the report.
Analysts, however, were unsure. A deal, on the one hand, could be deemed possible, if one considers the financial power at Nestle's disposal and the benefit a move could – on paper – bring to the Swiss giant's formula business in China, a major market in the Mead Johnson mix. "Such a deal would be easily affordable and we get the attractions in China," Jefferies analyst Martin Deboo says. "Mead Johnson's focus on direct sales rather than 'C2C' [consumer-to-consumer sales] over the past three years has put it ahead of the curve in managing channel shift. Leveraging Mead Johnson's distribution network would give Nestle an advantage over local and international competitors in terms of absolute points of sale and the speed at which it can track that shift."
However, Deboo and others in the investment community flag potential anti-trust issues. "Nestle and Mead Johnson's combined share of China infant formula would be circa 22%. While this wouldn't appear to breach anti-trust limits prima facie, we think the realpolitik around the deal would be around whether a combined Nestle/Mead Johnson would be a threat to China's apparent intent to promote consolidated national champions in infant formula," Deboo says.
After a series of food safety scandals, Beijing has been playing a more interventionist role in China's food industry in recent years and one of the sectors on which it has focused the most is infant formula. Back in 2013, the Chinese government announced plans to back a process of consolidation in the country's highly fragmented infant formula sector in order to improve food safety and form larger domestic businesses to compete with international competitors.
In June last year, Beijing introduced regulations that meant the China Food and Drug Administration (CFDA) must approve the registration of any infant formula, including imports, before it can be sold. Moreover, only manufacturers that have a certain level of research and development capacity and comply with set "good manufacturing practices" for infant formula can apply for registration. The new regulations also require that each manufacturer can only develop no more than nine recipes for three categories of formula – zero to six months, six to 12 months and 12 to 36 months. The goal is to control competition and help Chinese local infant formula brands get a foothold in the market.
Deboo suggested a Nestle takeover of Mead Johnson could also attract the attention from anti-trust in other countries. "Mead Johnson has a dominant 44% share of infant formula in the US and Nestle has a 53% share in Mexico. Nestle has a 12% share of the US and Mead Johnson has a 15% share in Mexico. Resultant concentration ratios are well outside the US Federal Trade Commission's merger guidelines and would result inevitably in disposals amounting to a third of Mead Johnson's sales."
Jon Cox, an analyst at French finance house Kepler Cheuvreux, puts it even more starkly. "We do not believe a takeover by Nestle of Mead Johnson Nutrition would be possible given anti-trust issues," he says. "Nestle is number one globally followed by Mead Johnson, and both have strong positions in Asia and North America."
Pablo Zuanic, an analyst at US investment and trading firm Susquehanna International Group covering Mead Johnson, argues there are other reasons why a move by Nestle for Mead Johnson is unlikely. Some industry watchers have suggested Nestle would be keen to buy Mead Johnson for the US group's presence in Asia but Zuanic, as well as noting the possible anti-trust issues, pours cold water on that argument.
"If the focus is China – and greater Asia – we'd say Nestle needs Mead Johnson much less than in the past," Zuanic asserts, pointing to the world's largest food maker's 2012 acquisition of Wyeth, the infant formula arm of US pharma giant Pfizer. " Wyeth has a well-developed premium and super-premium range of infant formula products in China and is well distributed across the mum-baby stores channel, the fastest growing channel for infant formula in China. Mead Johnson does not necessarily fill a gap in the Nestle broader infant formula portfolio in China."
Mead Johnson has been working to adapt to the evolving infant formula sector in China but its business there, Zuanic argues, is not yet targeted at the more buoyant parts of the market. "Companies like Mead Johnson, despite a number of correct initiatives to adapt, still suffer from being under indexed in the growth areas," he says. "Excluding the recently launched Enfinitas, the bulk of the company's products sell below CNY300; it has 8% share in the mum-baby store channel which is growing at about 8%, but it has 17% share in modern trade, which is falling at 13%."
Zuanic also wonders whether Mead Johnson's presence in the US would douse any interest Nestle could have in the business. "Why would Nestle want to expand in infant formula in the US market? With a new CEO coming, the ultimate strategic direction of Nestle remains a question mark. Arguments could be made for and against whether Mead Johnson would fit the new strategy. But why would Nestle want to double down in the US infant formula market, a – for the most part – matured market? The US is about circa 30% of Mead Johnson's sales.
Nestle's new CEO, Ulf Mark Schneider, joined the KitKat-to-Nescafe maker on 1 January. After 13 years as chief executive at Germany-based healthcare company Fresenius, there has been a lot of speculation about his plans for Nestle. Could expanding in infant formula be high on his priority list? And, even if so, would an acquisition of Mead Johnson be the way of achieving such a goal? The anti-trust hurdles look high, while Mead Johnson, while, more broadly speaking, there is a lot of uncertainty about the near-term growth prospects for the market for infant formula in perhaps its potentially most attractive market – China.
It is possible other companies could look at Mead Johnson. Zuanic acknowledges there could be interest from elsewhere "especially under the rationale that those companies would be improving their own long-term growth profile by entering infant formula in emerging markets via Mead Johnson. He points to the "franchise value of the Enfa range in China, plus the slew of changes that Mead Johnson is implementing in China" and suggests US pharma and baby products group Johnson & Johnson as a possible suitor, as well as suggesting possible interest from Danone, Unilever, General Mills and Kraft Heinz. However, such scenarios appear unlikely, not least as Danone is set to absorb WhiteWave Foods, while it is difficult to see Unilever, General Mills and Kraft Heinz moving into infant formula.
When there was speculation linking Danone to Mead Johnson in 2014, a number of analysts argued there was a strong rationale for the French group to make a move, not least due to the gains the company could accrue in China. However, at present, analysts believe a deal would be beyond the Aptamil maker. "Danone can no longer play due to its WhiteWave transaction," Deboo says.
That is not to say Danone will not decide to come to the table at some point down the line. However, as well as the WhiteWave deal being enough for Danone to absorb at the moment, China's infant formula market is, at present, a challenging place to do business (as the French group would testify). Regulatory changes have been putting pressure on prices, while competition in the fast-growing "super-premium" segment is intensifying. There is also some debate about whether China's decision to relax its policy on births is having the expected impact. Yesterday, Beijing announced the number of births in China in 2016 were the highest since 2000. Government figures say around 18m babies were born in China last year – but that number was below their forecasts.
"We are told only the affluent can afford to have two children, and that with more women entering the workforce there is less time to take care of two babies (so more women in the workforce may help breast-feeding stats, but not so much birth rates. Also, the pace of urbanisation is easing," Zuanic says. "We think the uncertain future about the infant formula market in China despite the shift to a two-child policy reduces the probability of a strategic buyer bidding for Mead Johnson."