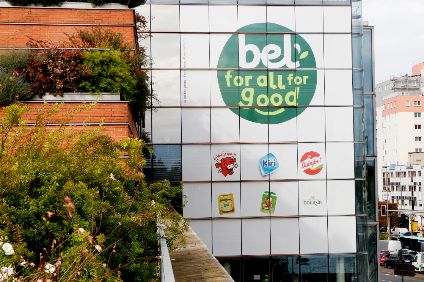 Best known for its Laughing Cow and Babybel processed cheese brands, the new, plant-forward business strategy of France's Bel Group has garnered mixed reactions. Sophie Kevany reports.
Bel, one of the world's largest cheese makers – and with origins dating back to 1865 – last month raised eyebrows with a new business strategy.
On 25 September, the company behind the Babybel and The Laughing Cow processed-cheese brands announced it was "transforming its business model and brands" in a bid to "accelerate" its "sustainable growth strategy" and would look to create a "broadened portfolio of dairy, fruit and hybrid products" including plant-based items.
Bel, which also owns 65% of fruit-snacks business MOM Group, plans to extend its offering beyond cheese and fruit products, and will now develop its activities in "complementary areas".
A LinkedIn post by Bel's executive vice president, Cécile Beliot-Zind, who joined the company from Danone last year, was published the same day.
Apparently aware the announcement might generate some surprise, Beliot-Zind sought to reassure. "It's not science fiction," she wrote. Starting next year, Bel will offer "hybrid recipes combining dairy and vegetable raw materials". Other sustainability promises included carbon neutrality and 100% recyclable and/or biodegradable packaging by 2025.
Driving the message home in mid-October, the company revealed a new corporate identity: green and white, child-like lettering, a smiley face and the words "for all for good".
Bel's chairman and CEO, Antoine Fiévet, robustly declared the food business model "that we all know is obsolete". Instead, he said, it's time for companies to provide "real answers" and "open the road to healthier and responsible food for all."
However, clear as the messages were, reactions were mixed – although much depends on whether Bel is seen as a dairy company or a snacking one.
"For a dairy purist it might seem a little different but the company has good instincts and has already deviated off dairy with its fruit and snacking platform, Tom Bailey, dairy research director at Rabobank, says, referring to Bel's 2016 investment in MOM Group, the owner of child-oriented fruit-based snacking brands Pom'Potes and GoGosqueeZ.
Caroline Roux, global food and drink analyst with Mintel, is unequivocally upbeat about the new strategy. "It's exciting, mostly because cheese brands have been very slow at embracing consumers' appetite for more plant-based food."
Roux says "on-trend oils" like coconut, avocado or chia could "improve processed cheese's natural and health credentials, at a time when consumers are reappraising fat as a devil nutrient".
Discussing the new strategy, an anonymous source close to Bel goes deeper, suggesting it was an extension of Bel's MOM Group investment. That deal, they say, can be seen as the first signal Bel understood the trend was away from animals toward plants. Future acquisitions in the plant-based space should not be ruled out, they suggest.
The second indication a change of direction was due, the source adds, was probably the way shares in Bel and its holding company (and majority shareholder) Unibel have performed.
Unibel – in which the Bel/Fiévet family group owns a majority stake – has seen its share price came off a high of EUR1,073 (US$1,193) in October 2016, to hit EUR550 in mid-October 2019. Bel's share price, over much the same period, has fallen from around EUR500 to about EUR270.
Sales revenues have been lacklustre. In 2018, Bel's turnover was EUR3.3bn. That 2018 figure is unchanged from its 2017 turnover, although up on 2016's EUR2.9bn.
And there have been other internal drivers, another Bel watcher, based in France, says. "Bel is very interested in the US market," the source says, arguing the company has been encouraged by the success of the MOM brands there "especially after Michelle Obama suggested fruit in lunch-boxes instead of crisps". The source adds: "Le Vache Qui Rit [Laughing Cow] has become very fashionable in the US as well, and Bel wants to develop that."
At the same time, the source continues, Bel has at times faced pressure on profits. "Bel first decided to diversify its portfolio and activity after its operating profit fell 15% in 2014," the source says, with the company hit by raw-material prices and volatile exchange rates.
That was after the effects of the so-called Arab Spring in the Middle East began to be felt, with the company seeing a factory close in Syria in 2012 and lines disrupted in Morocco and Turkey. Then there have been political difficulties in Ukraine, where Bel has a factory, and struggles with distributors over profit margins.
Competition is another factor. Other dairy majors have either entered – or are monitoring closely – the plant-based area.
Preben Mikkelsen, a Denmark-based dairy industry analyst with his own firm, PM Food & Dairy Consulting, expresses surprise at Bel's new strategy. "For me it was a bit astonishing to see Bel focusing on health, sustainability and animal welfare. That's all quite new for Bel," Mikkelsen contends. "They have certainly increased the quality of their processed cheese, but they never had a reputation for high quality products. They focus on children and family and the fun part of diet, not the health part. This is a significant change of direction."
Nevertheless, as Rabobank's Bailey points out, Bel is already in snacking. Snacks are in demand, healthy ones all the more so. On top of that, processed cheese is already a sort of plant-dairy hybrid, although they have never been marketed that way. That means upping the plant content should not be a huge challenge, as long as taste and texture are maintained. Brands like Babybel and Kiri are not overly cheesy either, likely making the switch even easier.
That said, the owner of the brand Le Vache Qui Rit has recently found itself in the spotlight over animal welfare, a growing consumer concern in some markets.
Earlier this year, the company's Babybel brand was linked to an undercover video titled Babyhell. The video, released by Los Angeles based non-profit Animal Equality showed calves freezing to death on a US dairy farm in Nebraska. In an email the farm, Tuls Dairies, denied it supplies Bel Brands USA, while another source said Bel used it only briefly in a supplier emergency.
Bel provided a statement on the video. It said it was shocked "by these images of suffering animals" and that it ensured "Bel Brands USA, our subsidiary in the United States, does not purchase at the ranch where the video was shot, which does not sell milk".
Bel has been working with the World Wildlife Fund since 2012 to improve its environmental and animal welfare policies. In 2018, the French arm of the NGO Compassion in World Farming (CIWF) agreed to act Bel's welfare advisor. That led to the development of a detailed animal well-being charter released by Bel in April this year.
Overall, broader sectorial analysis supports Bel's business ambitions in the plant-based market.
Demand for plant-based options is growing – and that demand is coming from consumers who still want to eat conventional meat and dairy but who are, at other times, looking for alternatives. Danone's CEO, Emmanuel Faber, talks often about what he calls "the age of flexitarianism".
At Rabobank, Bailey says even within the growing market for plant-based options, tastes are evolving. "The demand for new products and innovation seems to be greater than ever. And consumers more capricious. There are a lot of fads that have come and gone. Soy and almond milk seem to be making way for oat milk, for example."
With that capriciousness in mind, Bailey's May 2018 Dare Not to Dairy report suggests Bel's plans for plant-dairy hybrid innovation has a lot to offer partly because it can "strike a balance [between] achieving nutrient goals while being perceived as more innovative and sustainable for consumers" and partly because hybrids can "diversify risk, deliver greater sustainability and draw a stronger connection to consumers."
As if that weren't enough, the report's conclusion suggests companies use "differentiation as a major strategy instead of [low]-cost leadership. It's OK to be alternative." It seems like Bel has taken that to heart.