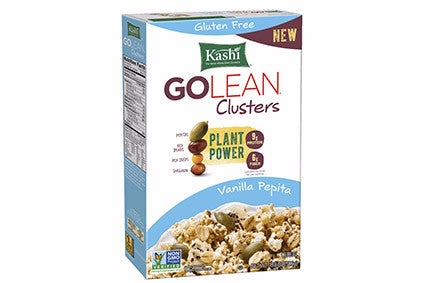 In 2000, Kellogg moved to buy US group Kashi in a bid to expand into growing parts of the country's cereal category and help efforts in what the Special K maker called at the time "the rapidly growing natural foods marketplace". However, 15 years on, the acquisition can be held up as an example of how a food major buying an up-and-coming, fast-growing rival can go wrong. Kashi has struggled for growth in recent years but, speaking at this week's Consumer Analyst Group of New York conference this week, Kellogg set out its plans to revitalise the business.
Kellogg has expressed confidence in can turn around its Kashi business in 2016 thanks to innovation in plant protein and the unit's ongoing shift to non-GMO products.
Last year, Kellogg cited Kashi as one of two factors (its MorningStar Farms business was the other) that led to its sales in North America falling. The company did not indicate how Kashi had performed over the whole of 2015 but revealed sales fell at a "low-single-digit" rate in the fourth quarter. Kellogg has invested in Kashi's sales teams, as well as in innovation and renovation – and claimed to have seen improvements in the Kashi cereal business thanks to a stabilisation in distribution and new product development.
During Kellogg's presentation to the Consumer Analyst Group of New York (CAGNY) conference on Tuesday (16 February), Paul Norman, the president for Kellogg's North American operations, assured 2016 would be the year Kashi returns to growth.
Over the last 15 months the Kashi management team has been focused on renovating its food to make them non-GMO. On the Kashi website, a statement reads: "All of our products will be Non-GMO Project Verified by summer 2016." Kellogg's Kashi Golean brand had seen non-GMO advocates calling for its boycott after it emerged genetically-modified ingredients were being used in some products.
#Thanks #Kellogg's More #poison No wonder you call it #GoLean Bowl of #Crunchie #Cancer #Glyphosate is #Everywhere https://t.co/wHrRYn3Vof

— John Vass (@zeusatolympus) December 29, 2015
Independent lab found #cancer-causing glyphosate in Kellogg's Kashi GoLean #cereal #Millennials #genX #ForeverYoung http://t.co/oVFh0UyCOJ

— Lori Campbell (@AgePotential) September 10, 2015
Speaking to just-food, Tom Vierhile, innovation insights director at Canadean, says Kashi "rose to prominence largely on the backs of a consumer group I would refer to as the true believers", shoppers, he says, are "very tuned in to emerging trends in natural and organic foods".
However, in recent years, Vierhile says Kashi has lost credibility with this group of consumers. "Kellogg made some strategic blunders with Kashi a few years ago that hurt the brand. The biggest of those was when Kashi was outed for using genetically modified ingredients in its products back in late 2011. The brand had a public relations disaster on its hands since the use of GMOs betrayed the brand's biggest supporters who had perceived Kashi to be among the leaders in offering a new generation of natural and organic foods. The use of GMO ingredients violated the trust that some of Kashi's most fervent fans had in the brand, and that was the start of the brand's problems".
Elsewhere, Kellogg relocated Kashi production from La Jolia to the group's Battle Creek plant, which coincided with the introduction of products sold under the Kashi brand including frozen pizza and cookies.
"This also dinged Kashi's reputation as it became more closely aligned with highly processed foods at just about the time that consumers began warming up to core messages of the clean label movement," Vierhile says.
At CAGNY this week, Norman insisted Kashi's food is now "right". He said: "We can now lean in and communicate to those food-forward consumers to really kick start the growth in Kashi, something we've not been able to do over the past year until we got the food exactly where it needed to be."
New Kashi products are to be rolled out. Kellogg unveiled two on Tuesday – Golean Clusters cereal and Golean Plant Powered Bars. The products are the first Golean lines to be made without soy. The avoidance of soy is key because of its perceived association with genetic modification. "Companies are beginning to call out the avoidance of soy as a credential to aligning more closely with the clean label concept," says Vierhile.
Golean Clusters contain popped sorghum, rolled red beans, pea crisps, nutty pepitas and real vanilla and boasts to offer nine-grams of protein and six-grams of fibre per serving.
Plant Powered Bars are a blend of grains, nuts, seeds and pea crisps topped with a nut butter, or sunflower seed butter. Each bar contains eight grams of protein and four grams of fibre and is available in four variants including honey pecan baklava and salted dark chocolate and nuts.
Norman hailed the move as an important step in Kellogg's attempts to grow Kashi's growth. He said Golean was Kashi's biggest brand but Kellogg had been unable to innovate with it for "several years" while the company focused on renovating Kashi's existing portfolio.
Innovation will span beyond Golean too. Kellogg is introducing into the Kashi portfolio ancient grains such as teff, a 6,000-year old Ethiopian grain to its crackers and bars, as well as making its wholesome bar range "more savoury".
Vierhile says the move to introduce teff could be geared towards reestablishing Kashi's former image of being at "the cutting edge" of natural and organic product innovation". Moreover, with a number of companies already on the quinoa and chia bandwagon when it comes to ancient grains, there is lower awareness of teff, which could work to Kashi's advantage.
"There are two ways to look at this – one is that nobody cares about teff and the other is that teff has tremendous upside potential. Kashi apparently believes the latter," Vierhile says.
The third piece of innovation is a move into functional powders, an apparent response to the home-made beverage blend boom the US has seen recently. Kashi Organic Breakfast Superblends feature 15g of protein, organic supergreens and superfruits and are non-GMO project verified, soy and gluten free. The powders will be available in three variants. "It's a big step forward for Kashi to really stake its claim as a leader in the plant-based industry," Norman said.
Vierhile says US consumers are looking to make drinks at home and there has been product development around dairy-free powders. "Consumers are definitely creating more of their own beverages at home, one consequence of the bullet blender boom. This is one reason why we're seeing a lot of innovation in peanut powders, a dairy-free way to boost the protein content of a smoothie or other type of blender beverage. There is probably a larger opportunity here, which is what Kashi is attracted to," he says. "Animal-based protein powders like whey protein may be vulnerable to future innovation in plant-based protein powders like the line Kashi is looking to launch."
Canadean ran an ingredient survey in 2015 that asked consumers to evaluate whether or not a specific ingredient had a positive, negative, or neutral impact on health. Fifty two per cent of US consumers surveyed said whey protein had a positive impact on health compared with 38% who said the same about pea protein – an ingredient Vierhile says is "relatively new" to most consumers. "Other plant-based proteins including oat protein and soy protein fared even better, suggesting that there may be some white space here that Kashi can fill," he adds. There is of course, the caveat, that the bulk of soy cultivated in the US is genetically modified.
At CAGNY, Kellogg faced questions over its plans for Kashi. "I wonder what is the risk profile here that Kashi performs the way you expect? What is plan B if this doesn't work? What are you hearing from the natural and organic customers? I feel like we are going into this with expectations that are iron clad Kashi is going to grow and I'd just like to hear something concrete when I'm asked if I really believe teff is going to be the winner you're purporting it to be?" one analyst said.
Norman said teff would not "make or break" Kashi's year but insisted there were positive signs at the business that made Kellogg confident the unit would grow in 2016.
He said was Kashi – along with Special K – had been a "laggard" in the cereal business but was seeing improving trends, with a flattening out in cereal consumption. He added distribution losses had been a "big drag" but had now stopped.
"We are now about to reinvest in the brand, something else we couldn't do for the last two years because of the reformulation of all of the foods. It wouldn't have been smart to invest when some of our core consumers were wondering why we are still in GMO foods," Norman said.
"I think there's fundamentals; the core business the cereal business is stabilising and doing better, velocities are picking up. Wholesome [snacks] we need to turn around and i think we've got visibility to do that.
"It's not a Hail Mary pass; there are a set of structured thoughts behind how we get this business back to growth. Pace is always going to be a challenge for us. I think we are doing the right thing. How quick it all comes may be a challenge but we are not talking one year or another year here, we are talking quarter to quarter how it [growth] comes back."