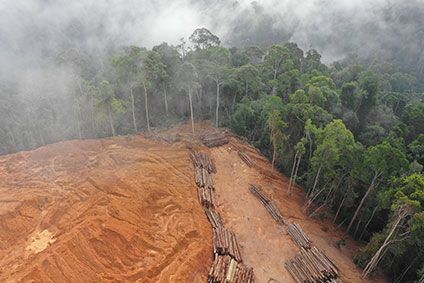 A new initiative on deforestation has given The Consumer Goods Forum a useful new narrative after the FMCG industry organisation failed to achieve the "net deforestation" aim set in 2010. But, Ben Cooper writes, with an emphasis on stakeholder engagement and information sharing, the new Forest Positive Coalition of Action could be an effective driver of change.
The Forest Positive Coalition for Action, launched by The Consumer Goods Forum (CGF), could be seen as an expedient resetting of the FMCG organisation's agenda on deforestation after failing to achieve its much vaunted 2020 "net deforestation" goal, or a step forward in its collective effort to tackle deforestation.
A third possibility is it could be both. Frances Seymour, Distinguished Senior Fellow at US environmental think tank World Resources Institute, believes the CGF is resetting its deforestation agenda in the wake of the missed 2020 goal but "the content of the reset" nevertheless represents a step forward as it reflects "serious grappling" with the lessons learned from weaknesses in past initiatives.
The emphasis is on collaboration, knowledge sharing and influencing other stakeholders, but above all the focus is on immediate action. The 17 participating member companies have committed to four key actions: to encourage suppliers and traders to implement Forest Positive actions across their entire commodity operations; join forces to address forest conservation challenges in key production landscapes; encourage governments and stakeholders to create an enabling environment for forest conservation; and ensure transparency and accountability by regularly reporting on progress.
"We recognise there has been a difficulty in meeting the 2020 commitment but this is not the time to give up," Didier Bergeret, who, as CGF social sustainability director is coordinating the initiative, tells just-food. "The idea is just to make sure we learn from what we did wrong and try to re-engineer everything so we can effectively deliver."
Balancing collective and company goals
For Seymour, the increased emphasis on collective action at the jurisdictional level is a defining difference from the 2020 goal. "The shifts from implementation of commitments on an individual supply-chain basis to a corporate-wide basis, from individual corporate action to collective action in producer jurisdictions, and from difficult-to-assess pledges to clear measurable outcomes, are all indications of a higher level of sophistication and seriousness of purpose," Seymour tells just-food.
The greater emphasis on collective, supply chain solutions means the Forest Positive Coalition is in step with a general trend towards jurisdictional or landscape approaches to addressing deforestation, which aim to combat issues or implement higher standards across an entire geographical area. "We may have over-relied on certification," Bergeret says. "We should have realised certification is one tool in the toolbox but it is not the only answer."
However, Gemma Tillack, forest policy director at environmental campaign group Rainforest Action Network (RAN), is concerned the greater emphasis on collective engagement could lead to companies scaling back their individual targets. "It's almost like the reset is devaluing or deprioritising individual action and this is not a move that is supported by NGOs," Tillack says, adding collective engagement should be undertaken "in tandem" with challenging company-specific sustainable sourcing targets, supported by third-party verification.
Dan Strechay, global outreach and engagement director at the Roundtable for Sustainable Palm Oil (RSPO), goes further, suggesting certification could offer the Forest Positive Coalition an early opportunity to demonstrate its focus on action.
"Certification is one tool in this but it's an important tool," Strechay says. "I think what will be really important is how quickly they start to implement parts of the roadmap. And there are easier aspects, like sourcing mass balance and segregated [palm oil], that can be done today, and it needs to be done not just in Europe and the US and other western markets, it needs to be done globally, for your operations in China, for your operations in India, Indonesia and Malaysia. To me, these are quick wins that can be had in the roadmap from the outset."
Strechay also sees the "healthy" level of engagement with local and national governments envisaged by the coalition as a strength of the new platform, reflecting the importance of building relationships with local and national governments in creating sustainable commodity supply chains.
Given the reputational benefits and risks involved, many food manufacturers are likely to continue the pursuit of 100% certified sustainable and fully traceable supply chains in commodities like palm oil and soy. At the same time, Bergeret believes one of his most important priorities is "getting competitors to effectively agree that protecting forests is pre-competitive".
Strechay concurs. "We should not be racing to create PR wins," he says. "We should be racing to create a healthier planet, so that the consumer doesn't have to choose between sustainable or unsustainable."
Knowledge sharing and facilitating continuous improvement, meanwhile, are dependent on regular reporting and transparency. In addition to engaging with suppliers, governments and other stakeholders in land conservation initiatives, joining the Forest Positive Coalition also involves "ensuring accountability with regular progress reporting based on clear KPIs and collective transparency," says Christine Montenegro McGrath, vice president of impact, sustainability and well-being at US-based snacks giant Mondelez International. "It is also about learning along the way and optimising our approach as we go with input and partnership from stakeholders and governments."
Campaigner scepticism
Despite failing to reach the net deforestation goal, Bergeret is keen to call out the progress that has been achieved. "Not everything has been failing," he says. "There has been some progress, in Indonesia or in other parts of the world. There has been some progress but it's not enough."
There will always be a divergence of views between environmental campaigners and companies on what constitutes acceptable progress but NGOs have been consistently critical of how the CGF's net deforestation goal was framed. So, even if what appears to have been a highly ambitious target had been achieved, the next iteration may still have been greeted sceptically by environmental campaigners.
In addition to voicing longstanding criticisms of how CGF policy evaluates deforestation impacts, Tillack calls into question the the organisation's capacity to foster broader stakeholder engagement on deforestation, particularly among agribusiness traders and processors, when only 17 of its 400-plus member companies have joined the coalition.
In fact, six companies that signed the 2010 net deforestation commitment have declined to join the coalition, including two food companies, Kellogg and Kraft Heinz, though the latter is no longer a CGF member.
Tillack says it is critical CGF increases engagement among its members. "There's a small collection of the most influential, the most well-known brands that are leading it. They need to get their peers on board." She also believes companies can put more pressure on agribusiness traders and processors to apply the mandatory requirements they require of them as suppliers across their entire operations.
In response, Bergeret points out one-third of the CGF members are service providers, which do not have the vast commodity sourcing requirements of the other members, while the participating retailers and manufacturers are among the CGF's largest members, their combined market capitalisation accounting for 43% of the total for the entire CGF membership. "While 17 sounds like a small number, the market cap of these 17 is around US$1.8trn (EUR1.52trn). It's about leading companies driving change quickly and at scale," Bergeret says.
It could be argued it's not only the giant companies that matter when it comes to sustainability issues and that solutions can sometimes depend on engaging the smallest links in supply chains. Bergeret points to how these large corporations' networks can become conduits for influencing smaller companies.
"The forest positive actions of these companies will ensure positive changes throughout the supply chain and across many businesses, especially as we are also asking suppliers and traders to become forest positive businesses," he asserts. "This strategy will help ensure the leading, committed companies can drive forward and make progress, allowing for other companies who are operating at either a different pace, or simply don't have the internal resources, to join at a later stage."
There is a widely-espoused idea in sustainability that it's far better to fall short of a stretching target than attain an unambitious target with ease. However, with so much of the reaction to the CGF's new initiative focusing on the failure of a previous programme, the organisation may well be wishing it had been rather less ambitious ten years ago.
The day after the CGF launched Forest Positive, a group of influential campaigning organisations, including Rainforest Action Network, Friends of the Earth US and Amazon Watch, called out the the organisation for "failing to cut deforestation from their supply chains in 2020 and continuing to ignore the need to protect and respect the rights of indigenous peoples and local communities in order to end deforestation". The CGF's past record far from irrelevant but Bergeret says the coalition aims to learn from the mistakes of the last ten years and is looking ahead. "It's just been launched and time will tell."
Convincing critical stakeholders
Multi-stakeholder collaboration is a critical element in the coalition's action agenda. "If we want to create a forest positive future, we need to work in a different way," Mondelez's Montenegro McGrath says. "Greater multi-stakeholder collaboration is what will set us apart from what we've done in the past and is the key to us driving systemic change at scale."
Strengthening cooperation with NGOs is a vital element in the mix but to do so effectively the coalition will have to overcome prevailing scepticism among some. Bergeret believes the coalition's emphasis on action can and will, in time, overcome that scepticism. "The more we work, the more credible we will be," he says, though he adds building lasting trust does not happen overnight.
A conspicuous difference between the Forest Positive Coalition and the 2010 commitment is the lack of a "moonshot" ambition. With failure on the net deforestation goal fresh in the memory, a similarly bold and ambitious target would have lacked credibility but might not be what is required anyway.
The CGF was founded in 2000 with the aim of bringing manufacturers, retailers and service providers together to develop common positions on key issues affecting the global FMCG market. The organisation's mission is centred on pre-competitive collaboration, networking and sharing best practice. Operating at CEO and senior executive level, it claims to seek to drive change quickly and at scale.
Applying the CGF ethos to deforestation has now resulted in an agenda focused on immediate action, on what they can and will do now rather than where they hope to be in ten years' time, which could be what's needed to address one of the most urgent and globally significant issues of the day.
Is digitally printed packaging now the best option for CPG companies? Has the Covid-19 pandemic accelerated the adoption of digital printing by consumer brand owners? Our short survey aims to find out. View the survey here and complete to be among the first to see the results.