just-food authors and correspondents
David Green
Articles by David Green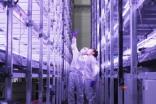 What are the prospects for vertical farming in Europe? 16 December 2020
The first phase of construction on Europe's largest vertical farm was completed and the companies behind the site are confident about the sector's outlook, David Green writes.
---

China briefing: Beijing puts wheels in motion on new safety laws 29 November 2013
The Chinese government has published a draft of proposed changes to the country's laws governing food safety. Companies operating in China may need to make significant changes to how their supply chains and distribution networks. David Green in Beijing reports.
---

CHINA: "National champion" formula firms set for state support named 9 October 2013
China has firmed up details of how it plans to subsidise mergers and acquisitions in the domestic infant milk powder market.
---

Interview: Development of "bottom-up" approach to China food safety - Global Food Safety Forum 15 July 2013
As the Chinese government moves to step up regulation of the country's food industry, China's domestic brands are developing a for-profit food safety model that aims to restore battered consumer confidence in the quality and reliability of the country's foodstuffs, according to Rick Gilmore, chairman of the Global Food Safety Forum (GFSF). David Green caught up with Gilmore in Beijing to find out more.
---

CHINA: Beijing claims firms knowingly broke law on dairy pricing 9 July 2013
Foreign suppliers of milk products to the China market suspected of colluding to maintain high prices could face hefty fines if found guilty, according to the China State Food & Drug Administration (SFDA).
---

CHINA: Tetra Pak to "co-operate" on China monopoly probe 9 July 2013
Tetra Pak has said it will "co-operate" with Chinese authorities on their investigation into the packaging giant for alleged abuses of its market position.
---
CHINA: Poultry plant "sees production suspended" 5 June 2013
Chinese public authorities are said to have suspended production at a poultry plant close to the factory that caught fire this week, a blaze that led to the deaths of 120 people.
---
UPDATE: CHINA: Poultry plant death toll grows 3 June 2013
The number of people killed by a fire at a poultry plant in northern China has risen, state media has reported.
---

BRICs and beyond: China looks to tighten food safety regulation 22 April 2013
The elevation of China's State Food & Drug Administration (SFDA) to a ministry level entity will consolidate the oversight of food safety issues under one umbrella. The Chinese authorities are hoping that the move will convince consumers that the government is serious about tackling the country's food safety problems. Nevertheless, a number of challenges remain. David Green reports from Beijing.
---