Cheese giant Bel's bold plant-based bid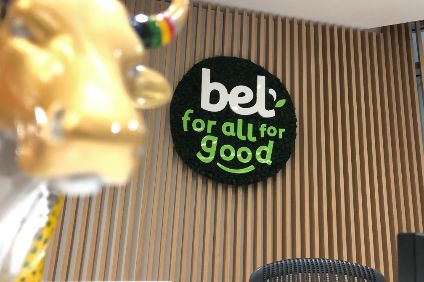 Bel to roll out in plant-based cheese products in coming months
Bel, one of the world's largest cheese makers, has issued more detail on its plant-based plans – and, as Dean Best reports, could give the fledgling market for cheese alternatives a shot in the arm.
A year ago, Groupe Bel, the French cheese giant that's home to brands including The Laughing Cow and Boursin, caught the eye with an announcement of a new business strategy that put plant alternatives at the centre of the company's future.
Since then, Bel has backed a dairy-free start-up in Israel and snapped up a majority stake in a fledgling plant-based business in France.
This week, Bel announced an "acceleration" of what the company calls its "transformation strategy", with plans over the next year to launch a series of plant-based products.
The company said it has an "ambition" to "provide a plant-based offer" for each one of its core brands, with a new product – The Laughing Cow Blends – being prepared for launch in January in the US, Canada, the UK and Germany. "Three references with cheese, vegetables and spices will be offered," Bel said.
A plant-based version of Boursin will be sold through Amazon Fresh in the US from this month and a plant-based Mini Babybel "should be launched next year" in the same market, Bel said.
The group also revealed it is planning to introduce a new brand "fully dedicated to plant-based products", so far unnamed but which is set to appear "in the coming months".
Plant-based, or hybrid, products aren't the only type of new food Bel is preparing for launch or has already launched. A series of new products developed with health squarely in mind have either already been rolled out (The Simply Laughing Cow, including vitamins A and D) or will hit the market (Babybel Plus).
There is little doubt about the importance Bel is placing on innovation. However, in many ways, in the context of dairy – and specifically cheese – it is the plant-based push that grabs the most attention.
Of all the dairy segments, cheese has, so far, been the segment that has seen the least inroads by plant-based products, a few interesting brands and the odd major corporate move notwithstanding.
Plant-based cheese is a fairly nascent market at the moment, but some industry experts believe it could soon become as big as other plant-based dairy alternatives, such as those for milk, or as other alternative proteins, such as meat-free burgers.
Unlike burgers, cheese can be used in a vast array of different food items. From toppings on pizzas and burgers all the way through to sauces and sandwich fillings. It can also simply be eaten on its own with a pickle and some crackers.
Industry watchers will be watching Bel's plant-based efforts closely. A company in Bel's position could take a number of paths. M&A is one (Danone and WhiteWave Foods), of course, but focusing on organic strategies, one move could be to use existing brands and launch line extensions (Danone and Activia) and another is to develop and roll out a new brand (Arla Foods and Jörd).
Bel is set to do both. "Doing an analogue cheese version of Babybel is an absolute no-brainer," Hamish Renton, managing director at UK-based international food and drink consultancy HRA Global, says – though he is a little caution about the prospect of a plant-based Boursin. "Flavour-wise, it gives you loads more wiggle room because that garlic and herb flavour is so closely associated with Boursin. Taste-wise, I don't worry for them at all. It's more the texture. The only way really to stop it stratifying is to tip in a chemistry set."
The promise of a new brand is a riskier play. A stand-alone brand offers more authenticity but Bel will be targeting the growing number of flexitarians looking to add some plant-based options into their diet and who therefore won't necessarily mind buying a plant-based product from a dairy giant.
"It's a big play and to execute a new brand is really bold," Renton says. "Bel have got the reach and they can do it – and they obviously feel they can. It's a riskier play though because Babybel, no-one's gonna bat an eyelid, really. The new brand? What's it for? It's gonna be in the snacking space, I would suggest, because that's their world. That's what they're famous for."
The prospects for the brand new product will depend very much on the core ingredient and on the product format. "The big question for me is: 'What's the platform?'," Renton asks, rhetorically. "Cashew or soy or rice or oat or nut? I have seen some amazing nut-based cheeses but the only ones I've tried have been really small-batch that take ages to make and are hugely expensive. They're kind of crumbly and they're made from nuts. You can't scale them because of the process. They're rather like sourdough, just by being what they are, they refuse to be industrialised. That's the problem but I'm really interested to see what Bel come up with. I wouldn't want Bel to take a step back nutritionally to take a step forward on a plant-based appeal."
Bel's recent investments in Israel dairy-free start up Yofix Probitotics and in French plant-based cheese maker All In Foods is sure to have given the group some pointers and, with products ready to go, the company must be optimistic about the prospects of their new lines.
Moreover, the entrance of Bel into what remains a small market for plant-based cheese will give the segment a boost, with the French group's marketing euros set to give the niche a boost, building consumer awareness about the category and drawing in shoppers to at least try the products.
As ever, it will always come down to taste. The quality of products offered by some producers (not all, it is important to add) to date has been sub-standard. Can Bel, both with the trust its big brands have built over the years, and its new product, improve consumers' perceptions of the last frontier for plant-based dairy?
Oops! This article is copy protected.
Why can't I copy the text on this page?
The ability to copy articles is specially reserved for people who are part of a group membership.
How do I become a group member?
To find out how you and your team can copy and share articles and save money as part of a group membership call Sean Clinton on
+44 (0)1527 573 736 or complete this form..