EU vote on plant-based names highlights dairy industry insecurity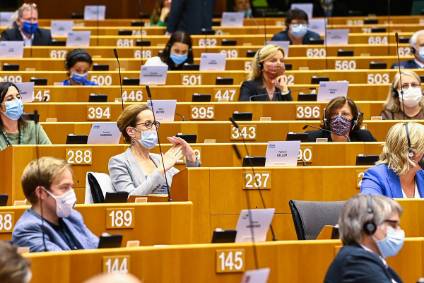 European Parliament in session, 2020 [European Union 2020 - Source: EP / Laurie DIEFFEMBACQ]
The European Parliament's new curbs on plant-based naming conventions says a lot about the dairy industry's political influence but the tide cannot be turned back, GlobalData argues.
Friday's (23 October) vote by The European Parliament approving further curbs on dairy-related terminology for plant-based alternative products is another blow to plant-based brands operating within the EU.
The Parliament's decision now moves to talks between EU member states, the European Commission and the European Parliament, discussions known as the "trilogue" phase of the EU's legislative process.
However, dairy industry interests and bodies within the region rejoiced at Friday's news. Terms such as 'almond milk' and 'vegan cheese' were already banned on products sold in the EU, but the vote backed moves to restrict dairy alternatives from using descriptive terms such as 'yoghurt style' and 'cheese alternative'.
The European Dairy Association (EDA) said: "Non-dairy products cannot hijack our dairy terms and the well-deserved reputation of excellence in milk and dairy." It could be justifiably argued the wording of that comment conveys an inference that plant-based alternatives are inferior in quality.
Rather hyperbolically, the EDA added: "This is a good day for the EU lactosphere, for our European consumers and citizens, and for Europe."
Such statements and the ruling itself can be framed as pushing the idea that it will help avoid consumer confusion. However, possibly one of the primary problems this raises is it doesn't give consumers credit for individual intelligence, research and decision-making. In general, the modern consumer does not like to be treated in a condescending manner.
The decision could be described as strikingly bad PR for both the dairy industry and the EU. Arguably, the dairy industry looks reactionary and in opposition to trends that are increasingly ascendant for consumers, with more shoppers embracing dairy alternatives for health and environmental reasons. The dairy sector may – and, indeed, does – have their counter arguments but there is no denying the sales trends.
Equally unflatteringly, the EU can be painted as the caricature Eurosceptics across the region have often painted it as: a body showing deference to corporate interests and eager to engage in rule-making about what's not allowed rather than what is. Moreover, the EU, in its flagship sustainable food policy, has called for a push to the increasing incorporation of plants in people's diets.
Indeed, the European Consumer Organization's response was the decision was a "pity", with, it argued, MEPs approving more of what it described as "unnecessary" restrictions to plant-based product naming.
The decision looks set to place additional burdens and expense on plant-based dairy-alternative brands operating in the region, as they face the challenges of possibly rebranding, renaming, or remarketing their products.
Somewhat confusingly, a parallel attempt to ban meat terminology from plant-based meat alternatives was rejected by The European Parliament, allowing the continuation of terms such as "burgers", "steak", etc., to continue within the plant-based meat-alternatives category. This was lauded by opponents, but highlighted the contradiction between the two decisions.
The dairy industry is, in some senses, attempting to do as King Canute and stand on the shore commanding the tide to not come in – although in Canute's case, he knew full well he couldn't command the tide and was making a point to his hangers-on the power of kings was finite and empty compared to that of God.
The dairy industry is facing an inevitable lapping of plant-based milk around their feet driven by a consumer base changing their attitudes and behaviours, and using the industry's political and economic influence is unlikely to prevail long-term. This is especially the case as pressure from consumers is building in ways that will favour plant-based food over animal products for ethical and sustainably responsible reasons.
An industry that's left with trying to defend its market share with arguments based on "not confusing consumers" is one that needs to stop looking backward and evaluate how it can contribute positively in a marketplace where, although still dominant (with consumers still favouring dairy products to a considerable degree), it's inevitably going to see erosion, influenced by climate change and changing attitudes towards, and the basic practicality of, industrial-scale dairy farming.
Oops! This article is copy protected.
Why can't I copy the text on this page?
The ability to copy articles is specially reserved for people who are part of a group membership.
How do I become a group member?
To find out how you and your team can copy and share articles and save money as part of a group membership call Sean Clinton on
+44 (0)1527 573 736 or complete this form..