On the rise – China's booming home-baking market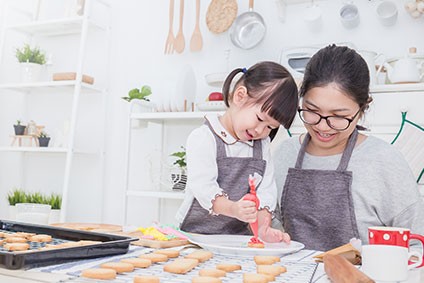 "Will the recent boom in Chinese home-baking last? Yes, it will"
China's locked-down consumers, like their peers around the world, turned to home-baking as a way of keeping occupied and feeding families during the pandemic. But, as just-food's Peter Peverelli reports, home baking is still a relatively new trend in China, presenting food manufacturers a fast-growing area to exploit.
Traditionally, baking is not an important process in Chinese cuisine. Some local cuisines include cakes, but these are steamed and consumed as a staple food.
When western-style cake shops were opened in China in the 1990s, they were an instant success among younger consumers. Chinese bakery retailer Holiland, founded by a photographer in 1992, because he was unable to find a proper cake for his mother's birthday, now operates more than a 1,000 shops in 50 cities.
This trend has benefited suppliers of ingredients, both business-to-business and, as this column will explain, business-to-consumer. Several companies have recently listed on China's stock markets, including Yiming Foods (dairy), Hairong Technology (dairy and non-dairy cream, chocolate, fruit) and Ligao Foods (butter, fruit products and sauces).
Market researcher IRN estimates the value of the Chinese market for baking ingredients at CNY550bn (US$84.4bn) and is forecasting growth of 45% year-on-year up to 2025.
When Chinese were home-bound during COVID-19, they rediscovered home cooking and started experimenting with baking cakes, and even bread, at home.
A good look into what they are doing and what they are using is Weibo, the Chinese microblog network. Bloggers not only share their recipes but often also add videos. Plain flour, eggs or sugar can be regarded as generic ingredients that all home bakers have in their cupboards. This column therefore concentrates on ingredients like cake mixes (pre-mixed flour for cake baking), yeast, baking powder, aromas and so on. The first interesting finding is hardly any blogger mentions brands of their ingredients. Still in the learning stage, getting the recipe right is apparently more important than whose stuff you are using.
Common ingredients are used in many recipes. One is cake flour. I am using this term rather than the more familiar term 'cake mix', as this Chinese term refers to low-gluten plain flour, which is better suited for baking cakes or biscuits. You do not see this type of flour much in Western countries, as home bakers either use standard flour or use cake mixes.
A second ingredient that features often are pre-mixes. These products have more recently appeared on the Chinese market but are hardly mentioned in the recipes home bakers exchange. Specialised products to make baked-foods like waffles and muffins are offered but sellers do not make clear the distinction between products for consumers and for professional users.
Yeast is always indicated as 'yeast powder', referring to instant yeast. It is, of course, used in bread recipes and sometimes in cakes. Most recipes, meanwhile, also include a small amount of baking powder.
It's important to highlight the use of dairy ingredients such as milk, cream, butter, milk powder, yogurt and cheese by China's home bakers. Dairy is still perceived as 'foreign' in China. Urban Chinese now consume considerable quantities of milk or yogurt but cheese or butter are still rare products in a Chinese household kitchen, and cream in various formulations even more so. To read a Chinese home baker stating online she is using 'unsweetened cream' to make a cake is still noteworthy.
For decoration or finishes, products such as fresh or dried fruits, crunched peanuts and even flower petals are used.
Most leading Chinese flour companies produce low-gluten flour for sale to consumers; some are even marketed as 'cake flour'. One of the largest suppliers even adds DIY on the pack to indicate it sees home bakers as its main buyers. The top three suppliers according to Maigoo, an online store that compiles and updates top ten lists for a large number of products on the basis of users' feedback, mentions Xinliang Group, Jinshahe Group and Hong Kong Flour Mills as the top three producers of 'cake flour'. No international player is mentioned in this list.
Angel is one of the biggest success stories in the Chinese food ingredients business. It started relatively later in the 1980s, but quickly grew into a major international player. The other two are old established yeast brands.
The top three brands for baking powder are linked to only two suppliers, Angel and Zhanyi, which market products under their namesake brands, with Angel also owning the BakerDream brand. The only international supplier in this category is Belgium-based Puratos in seventh.
On one hand, it may seem as if China's market for home-baking is hard for international players to crack. However, it could also be that the market is so new they have not yet noticed the opportunities.
Still, on Maigoo, it is possible to search for a list of the top ten products under the umbrella term 'baking ingredients'. This results in an entirely different list. Eight of the ten are international players, with Angel (yeast, baking powder) and Guchuan (flour) as the only domestic brands on in third and ninth respectively. The top two positions are taken by Fonterra's Anchor and Hong Kong Flour Mill's Golden Statue.
The difference in the lists is caused by the fact the information for the 'baking ingredients' list comes from large industrial users, rather than cake shops and consumers on whose opinion the other lists were compiled. Fonterra does sell consumer Anchor products in China, marketing butter, but the bulk goes to industrial bakers. This also applies to suppliers of flour improvers, of release agents and of dairy products for the baking industry and most other categories. Only the producers of instant yeast and baking powder have special products for consumers.
Will the recent boom in Chinese home-baking last? Yes, it will. The zeal with which the new home bakers are sharing their experiments and successes leaves no doubt they will continue to bake and be likely to follow more complex recipes.
If your products can help them in that endeavour, there will be a market. Note home bakers need smaller-format packaging. Make your product attractive by adding recipes to your advertisements, including videos on your Chinese web sites.
Chinese, meanwhile, like to experiment with flavours and colours. Essences like vanillin or of various fruits will be welcomed, as will food colours, icings and anything you can sprinkle on a cake. Make sure to clearly indicate that your ingredients are natural.
It could also be lucrative to negotiate a co-branding deal with one of the popular chains of cake shops. You can then advertise that customers can surprise their friends and family with home-made cakes and muffins they have learned to like so much. Some cake shops could be interested in selling co-branded ingredients for home baking in their outlets.
Oops! This article is copy protected.
Why can't I copy the text on this page?
The ability to copy articles is specially reserved for people who are part of a group membership.
How do I become a group member?
To find out how you and your team can copy and share articles and save money as part of a group membership call Sean Clinton on
+44 (0)1527 573 736 or complete this form..