Comment: Rose's rollercoaster in M&S hotseat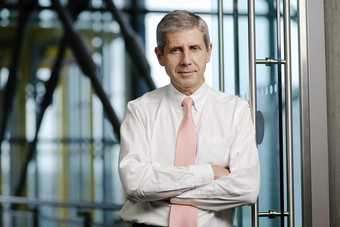 Rose insists M&S is in "better position" than when he took charge
Sir Stuart Rose made one of his final appearances before the City yesterday (25 May) as he unveiled Marks and Spencer's annual results. Rose has had to navigate some choppy waters while at the M&S helm and, although he hands over the business in better shape, challenges remain. Dean Best reports.
It has been a rollercoaster six years at the top of UK retailer Marks and Spencer for outgoing chairman Sir Stuart Rose.
Back in 2004, the company, one of the most famous names on the UK High Street, was in trouble. Its stores were looking jaded. Its clothing ranges seen as out-of-touch with the latest fashions. Potential buyers were circling the business.
For Rose, who had worked at M&S on and off for 40 years, it was a tough time to take charge of the retailer.
"This business was in danger of being sold when I walked in," Rose remarked yesterday (25 May) as he unveiled M&S's latest set of annual results.
Rose set about revamping M&S's clothing and food businesses and, by spring 2008, his restructuring appeared to have paid off - in May that year, the retailer posted annual pre-tax profits of GBP1bn (US$1.44bn).
However, within those results, M&S reported a fall in food sales, forcing Rose and his management team to look inwards, giving more attention to its cost base in a bid to shore up margins.
M&S suppliers felt the pinch with the retailer launching "Project Genesis", a review of its supplier network that was soon dubbed "Project Genocide" in some quarters. With food manufacturers then facing steep commodity and fuel costs, the review won M&S few friends; one supplier reportedly denounced the retailer as "brutal".
Rose also then warned he was "cautious about consumer sentiment" and insisted, with some prescience, that trading would be tough in 2008.
"I told you it was getting tough in January - but I got beaten up for it," Rose said, referring to criticism from the business press.
That summer, Rose also faced some flak from investors over M&S's plans to change his role from chief executive to executive chairman. M&S, however, held firm and Rose kept the new position, with the retailer insisted it was "in the best interests of the business".
Of course, come September and the collapse of Lehman Brothers, M&S, like its retail peers, had bigger problems than a dispute over corporate governance. The start of the deepest economic downturn for generations sparked a collapse in spending and led to upmarket food retailers like M&S facing a battle for shoppers trying out discounters like Aldi to save money.
Rose and M&S moved quickly and looked to meet demand for more value, through initiatives including its 'Dine in for GBP10' offer and its 'Wise Buys' range of lower-priced staples, including milk, and bread.
However, the pricing initiatives put pressure on margins and, in a bid to keep a lid on costs, M&S earmarked less spending for capital projects, a move that slowed the expansion of the company's Simply Food convenience store network.
At the start of 2009, Rose announced plans to close 27 stores and cut over 1,200 jobs as M&S looked to slash costs from the business after seeing sales slump. That spring, Rose faced renewed calls to appoint an independent chairman. By May, M&S was reporting annual profits of GBP706m - down from that 2008 mark of over GBP1bn.
Nonetheless, by the summer of 2009, M&S was seeing signs of improved food sales on the back of what Rose called "improved value, availability and product innovation".
"We are pleased with the improving trend in our performance," Rose said in July of that year. "This demonstrates that the actions we are taking are working."
That said, July also saw something of a shareholder revolt against Rose at the retailer's AGM when around 37% backed a motion calling for the chain to appoint a new independent chairman earlier than planned.
However, M&S and Rose argued that it was not the time to rock the boat. The company was already moving towards a separation of the roles of chief executive and chairman but insisted it should not take precedence over steering the business through extraordinary times.
Rose won support from a predecessor. "I feel that this continued attacking is irrelevant to the point of being vindictive. Stuart Rose has done an excellent job after six years of decline under three failed chief executives," Sir Richard Greenbury, a former M&S chief told the Daily Telegraph.
Throughout the rest of 2009, M&S continued to see improvements in its food sales, with Rose feeling the company's policy of investing in price had paid off.
And yesterday, as Rose walked the City and the media through M&S's latest annual results, he insisted he would leave the business in a better shape than he had found it.
"I'm unrepentant, frankly, about where we've invested in the business," Rose said, commenting on M&S's spending on food promotions, store modernisation and a revamp of its IT and supply chain networks.
Rose admitted he wished he could have gone "faster" with some of the plans to modernise M&S's structures and systems - but said the recession had put paid to that.
However, he added: "I don't tend to look back. I'm a glass-half-full, look-forward kind of guy. I feel the business is in a better position than when I inherited it."
It is hard to disagree with Rose, despite the ups and downs of his tenure in charge.
Nevertheless, new chief executive Marc Bolland faces some stiff challenges, not least in food, where some industry watchers believe the ex-Morrisons man has some tough decisions to make.
Oops! This article is copy protected.
Why can't I copy the text on this page?
The ability to copy articles is specially reserved for people who are part of a group membership.
How do I become a group member?
To find out how you and your team can copy and share articles and save money as part of a group membership call Sean Clinton on
+44 (0)1527 573 736 or complete this form..