Aspall
Food industry company news
Latest Articles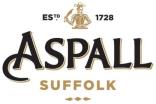 UK vinegar maker Aspall acquired by drinks giant Molson Coors
8 Jan 2018
UK cider and vinegar business Aspall has been acquired by US beer giant Molson Coors following year-long talks.

UK/US: Aspall takes vinegars into US
11 Mar 2013
UK firm Aspall is to sell its vinegars in the US for the first time with a listing with Whole Foods Market.

UK: Aspall adds to balsamic vinegar range
29 Nov 2011
Upmarket vinegar supplier Aspall has today (29 November) extended its balsamic vinegar range to include an additional variant.

UK: Aspall unveils revamped vinegar range
24 Jan 2011
Speciality vinegar maker Aspall has revamped its range of upmarket vinegars amid what the company sees as growing demand for the products in dressings, sauces and marinades.