Muller Dairy
Food industry company news
Latest Articles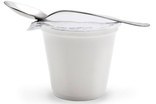 Muller expanding UK private-label production
8 Jul 2015
Muller Dairy is stepping up production of private-label yoghurts and desserts in the UK in a move that will create 50 new jobs.

UK: Müller to roll out Cadbury Pots of Joy
11 Apr 2013
Muller Dairy is to launch a range of Cadbury desserts in the UK designed to appeal to consumers looking for an after-dinner dessert or snack.

UK: Muller revamps Corner yoghurt line
26 Nov 2012
Muller has revamped its Corner yoghurt range in the UK to include a new recipe, a change in its six-pack combinations and a packaging redesign.

UK: Heinz appoints Rolston head of Explore R&D team
19 Oct 2012
Food giant Heinz has appointed Lee Rolston to the role of director for its Explore UK & Ireland division.