Sprouts Farmers Market
Food industry company news
Latest Articles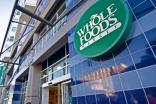 The future of Whole Foods, 7-Eleven's latest US deal could help foodservice offer, M&S eyeing online - retail round-up, April 2017
9 May 2017
The performance of (and potential future for) Whole Foods Market hit the retail headlines in April but how should the US natural and organic grocer look to improve? Staying in the US, a notable acquisition by convenience-store giant 7-Eleven caught the eye. Meanwhile, in Europe, upmarket UK grocer Marks and Spencer looks, after years of shying away, set to take the plunge into the online channel.
just-food's review of 2013: the year's most-read analysis
19 Dec 2013
Our discussion of Whole Foods' battle to see off newly-listed rivals Sprouts Farmers Market and Fairway, Unilever's ongoing moves to rationalise its portfolio, the impact Chinese demand was having on global infant formula supplies and the continued M&A in the sector were among the most popular analysis articles on just-food this year.

On the money: Hain looks to new financial year with confidence
22 Aug 2013
An upbeat Hain Celestial has said continued sales growth in the US and in the UK, as well as productivity savings - including from the integration of recent acquisition Ella's Kitchen - will help it grow profits in the next 12 months.

Talking shop: Whole Foods can see off natural, organic rivals
7 Aug 2013
For all the recent headlines around the IPOs of US natural and organic retailers Sprouts Farmers Market and Fairway Group Holdings, Whole Foods Market remains the one to watch, writes Dean Best.

Interview: Walkers Shortbread US arm targets year-round sales
12 Jul 2013
UK baker Walkers Shortbread generates over 40% of its sales outside its domestic market. The family-owned biscuit firm's largest export market is the US. Dean Best spoke to Steve Dawson, CEO of Walkers Shortbread's US arm, about the company's business across the Atlantic and plans for growth.