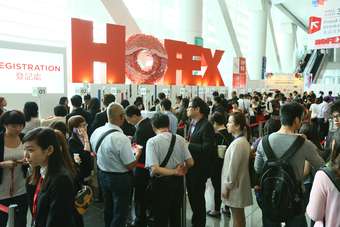 Budding exporters target Asia at Hong Kong show
just-food is this week bringing the latest news and views from the Hofex trade show in Hong Kong, where SMEs are exhibiting in a bid to boost their presence in Asia.
---
---
HOFEX: UK cereal firm Good Carb Food Co trailblazing in Asia 10 May 2013
UK firm The Good Carb Food Company has set its sights on further expansion in Asia, where it is acting as a trailblazer for the granola category.
---

HOFEX: Taywell looks to China, Gulf for premium ice cream opportunity 9 May 2013
Taywell Ice Creams is hoping to cater to affluent consumers in China and the Gulf as it seeks out premium markets for its ice creams.
---
HOFEX: FFT International develops PL products for Asia 8 May 2013
FFT International hopes to continue to grow its business in Asia with an increased focus on high-end private label products that are specifically designed to meet the needs of Asian consumers.
---
HOFEX: Exporter Somerdale focuses on China, SE Asia 8 May 2013
Specialist UK cheese exporter Somerdale International has turned its attention to expanding its reach in new markets and is placing a particular emphasis on developing its business in China and Southeast Asia.
---
HOFEX: Confectioner Churchill's looks to Asia to offset sluggish Europe 7 May 2013
UK confectioner Churchill's is hoping to offset a sluggish European confectionery sector by expanding its presence in Asia.
---
HOFEX: Bridgehead sees Hofex as gateway to Asia 7 May 2013
UK firm Bridgehead Food Partners hopes to capitalise on growing demand for dairy products in Asia through the introduction of its line of adult snacking cheeses to customers in the region.
---
BRICs and beyond: International SMEs testing the water at Hofex 7 May 2013
The rapidly expanding Chinese food sector has long been a focus for multinationals looking beyond developed western markets for expansion. However, it isn't just the international food Goliaths - with big bucks to spend on M&A or organic expansion - that are looking to China for growth. just-food caught up with some smaller enterprises hoping to tame the dragon at Hong Kong trade show Hofex - an event that prides itself of being the largest of its kind in Asia.
---