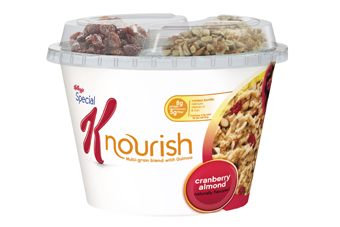 Cereal innovators
With cereal sales under pressure from mounting competition and changing consumer habits, companies are responding with a renewed focus on innovation and brand building efforts. Will they work?
---
---

US: Kellogg launches hot cereal, bars, shakes 6 Jun 2013
Kellogg is hoping to tap into consumers' changing preferences for breakfast in the US with the launch of three products focusing on convenience, health, and expanding into the complementary formats of breakfast bars and drinks.
---

Breakfast cereal: Are cereal sales in developed markets going soggy? 4 Jun 2013
Breakfast cereal sales in mature markets are under growing pressure. While, broadly speaking, volume and value sales have been fairly steady, the sector has failed to generate substantial growth. Significantly, traditional cereal concepts are facing increasing challenges, pulled on the one hand by new formats and pushed on the other by concerns ranging from macro-economic issues to concerns over health and wellness. In part one of this month's management briefing, Katy Askew assesses some of the pressures boxed cereal manufacturers are grappling with.
---
Breakfast cereal: Manufacturers look to grow UK category 4 Jun 2013
Cereal manufacturers in the UK are facing a competitive market and flat sales volumes. While overall conditions have been somewhat sluggish, the breakfast category when taken as a whole has seen some pockets of excitement. Manufacturers have looked to capitalise on these and the industry's response has been a sharp focus on product development, promotional activity and marketing. But, Katy Askew asks, is this enough to breath fresh life into the boxed cereal category?
---

Breakfast cereal: Hard work ahead to revitalise sales in US 4 Jun 2013
Breakfast cereal is still big business in the US but sales are flat and volumes down. However, there are some growing segments amid increased interest in healthier or natural options. Industry watchers argue that, until now, some of the larger players have not responded quickly enough to these trends and time is ticking, meaning the likes of Kellogg and General Mills should look at M&A for growth.
---

Breakfast cereal: Emerging markets offer scope for growth 4 Jun 2013
An increasing number of breakfast cereal manufacturers are now taking advantage of the potential growth opportunities for this category in emerging markets such as Asia and Eastern Europe.
---