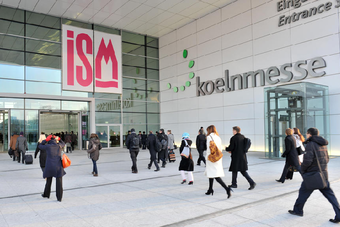 just-food live from ISM
just-food brings you a selection of news and views from the ISM confectionery trade show in Cologne this week. One of the high spots in the sector's calendar, ISM represents a unique opportunity for confectioners from around the world to set our their stalls to a global audience.
---
---

Interview: ISM: Hershey eyes global growth 1 Feb 2013
US confectionery giant Hershey has a vision for growth. The company, which has long faced questions about its US-centric focus, is now looking to overseas markets to fuel sales expansion. Michelle Russell caught up with Thomas Joyce, vice president of customer and industry affairs for Hershey, to find out more about the challenges and opportunities presented by international markets.
---

ISM: Butlers Chocolates looks to new markets for growth 30 Jan 2013
Irish confectioner Butlers Chocolates has said it is looking at expansion opportunities in new markets and will boost innovation in a bid to drive this growth.
---

Interview: ISM: Guylian adapting strategy to compete in declining UK market 30 Jan 2013
Belgian confectioner Guylian has admitted to seeing a decline in overall confectionery sales in the UK, a key market for the company. Michelle Russell caught up with Mieke Callebaut, marketing and sales director for Guylian Europe and the US at the ISM confectionery exhibition in Cologne to find out what the company is doing to overcome this challenge and where its focus is for the future.
---

INTERVIEW: ISM: United Confectioners looks beyond Russia for growth 29 Jan 2013
United Confectioners has plans to grow its business beyond its stronghold in Russia, where it holds the number one position in the confectionery market. Michelle Russell caught up with export director Timothy Odenwald at the ISM confectionery exhibition in Cologne to find out more about the firm's plans for Europe and beyond.
---

ISM: Eat Natural looks to grow export business 29 Jan 2013
UK snack bar and cereal maker Eat Natural has said it is looking to grow its key export markets by expanding distribution channels and driving greater brand awareness.
---

ISM: Beneo eyes growth through ingredient innovation 29 Jan 2013
Food ingredients maker Beneo has said it is looking to grow its global gum business further through the development of a new sugar replacement, Isomalt.
---
Confectioners strike upbeat note at ISM 29 Jan 2013
For an industry that has confronted significant challenges in the last year, namely rising raw material costs and weak consumer sentiment, I travelled to Cologne's ISM confectionery exhibition this week with trepidation.
---
ISM: Pez reveals product launches for 2013 28 Jan 2013
Austrian confectioner Pez International has revealed a raft of products that will launch throughout 2013.
---
ISM: Barry Callebaut adds to Terra Cacao line 28 Jan 2013
Confectionery giant Barry Callebaut has extended its Terra Cacao chocolate line with the launch of two additional products.
---

ISM: Guylian extends to Sea Shell line 28 Jan 2013
Belgian confectioner Guylian has added to its iconic Sea Shell chocolate range with the launch of an additional variant.
---

ISM: Walker's Nonsuch unveils raft of NPD 28 Jan 2013
UK confectioner Walker's Nonsuch has relaunched its toffee bars and rolled out a raft of new gifting packs.
---

ISM: German confectioners call for reform of EU sugar regulations 28 Jan 2013
The German confectionery industry is calling for politicians to "urgently" reform the "strongly" regulated European sugar market, in a bid to avoid further damage to companies trading in the sector.
---
just-food indulges sweet tooth at ISM Cologne 28 Jan 2013
It is a key event in the food industry calendar: ISM Cologne. An international trade show that attracts the great and the good of the global confectionery industry for four days of meeting and greeting.
---

ISM: UPDATE: BRAZIL: Confectioners focus on key export markets for growth 28 Jan 2013
The export markets of North America, Latin America and South Africa remain key to growth for Brazilian confectioners, according to the Brazilian Association of Cacao, Chocolates, Candies and Byproducts (ABICAB).
---

ISM: BRAZIL: Flavours key to increasing confectionery exports 28 Jan 2013
Brazilian flavours in confectionery are key to increasing exports, according to the country's trade and investment promotions agency.
---