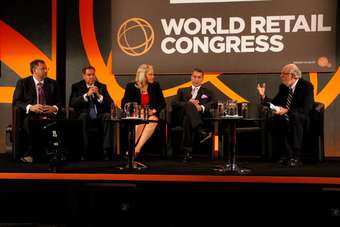 World Retail Congress 2012
Retailers this year gather at the Excel centre in the east of London for the 2012 World Retail Congress where for the next three days, retail executives will debate how to eke out growth in what remains a very challenging sector.
---
---
The just-food interview - Rakesh Biyani, MD of Indian retailer Future Group 20 Sep 2012
With India - and the prospect of wide-ranging economic reforms in the country - in the international business headlines, there are few other more opportune times to meet Rakesh Biyani, joint managing director of Future Group, one of the country's largest retailers.
---
Wal-Mart puts down marker in India 21 Sep 2012
Late last night UK time, the Indian government formally issued a notice to confirm reform of regulations on foreign investment in the country's retail sector would be implemented. A few hours later, an interview with Wal-Mart emerged in which it outlined its plans for expansion in the emerging market.
---
The rise of the "thrifty green" 21 Sep 2012
Attending events like the World Retail Congress allows access to senior executives beyond the food industry, which, on issues like sustainability, can reveal interesting insight. A session this morning (21 September) featured Ian Cheshire, chief executive of UK home improvement retailer Kingfisher.
---
INDIA: FDI retail reform comes into effect 20 Sep 2012
India's plans to ease rules on foreign investment in retail have today (20 September) come into effect, even as protests against the policy took place throughout the country.
---
Retailers can no longer expect growth in China 20 Sep 2012
It could be argued many of the reports on China's recent economic performance have been too gloomy. The economy has slowed but the country is still enjoying GDP growth Europe and North America would dream of. That said, retailers operating in China or thinking of investing in the country beware: it is no longer the case of build it and they will come.
---

Seven answers to day one's seven questions at the World Retail Congress 20 Sep 2012
As hazy sunshine appears over the Excel Centre in London's Docklands, it is time to reflect and suggest some possible answers to the questions just-food suggested would be central to discussions on the first day of the World Retail Congress.
---
WRC 2012: Tesco's Clarke praises Leahy for online push 19 Sep 2012
Tesco CEO Philip Clarke today (19 September) praised predecessor Sir Terry Leahy for pushing the UK's largest retailer into the online channel.
---
WRC 2012: Bharti chief expects India retail reform to "stick" 19 Sep 2012
The MD of Indian conglomerate Bharti Enterprises, Wal-Mart Stores' retail partner in the country, expects the government to succeed with plans to allow more overseas investment in the sector.
---

WRC 2012: Think personal to thrive, says Tesco CEO Clarke 19 Sep 2012
Tesco CEO Philip Clarke has said retailers must embrace a strategy of "mass personalisation" as consumers increasingly use new channels to shop.
---
Seven key questions for day one at the World Retail Congress 19 Sep 2012
As this year's World Retail Congress kicks off at London's Excel centre, here are seven questions on which we expect to hear answers on the first day of the event.
---
Looking for rays of optimism at World Retail Congress 19 Sep 2012
Looking back at my previous missives from the annual World Retail Congress, three years ago I wrote about the "economic storm-clouds swirling around the sector". Unfortunately, in many ways little has changed but, for the next three days in London, retail executives will be looking for optimism and opportunities in the industry.
---