Asian-cuisine brand Ocean's Halo eyes growth on both sides of Atlantic - the bitesize interview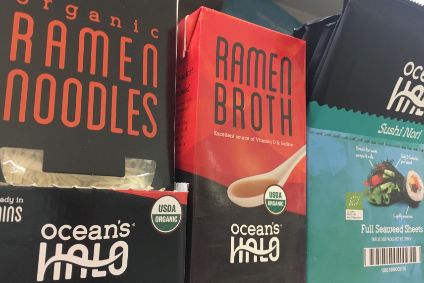 Ocean's Halo products on sale in Tesco in UK, November 2019
With Asian-cuisine brand Ocean's Halo, US firm New Frontier Foods has built a domestic business with listings at major grocers. This summer, the company secured business from UK retailer Tesco. Co-founder Robert Mock speaks to Dean Best about the plans for growth on both sides of the Atlantic.
just-food: When did you launch into Tesco in the UK?
Robert Mock: In July. It was a big move to go from a natural/organic focus to mainstream, which is what we do in the United States. We basically had a strategy for the Europe much like the strategy for the US. When we started out in the US, we were focused on organic and natural retailers because of our products are all organic and vegan. We quickly decided to see how mainstream Ocean's Halo could be because we wanted to create great Asian recipes that were approachable for everyone. That strategy – where we went from natural to conventional or traditional grocery supermarket to the biggest mass retailers – has ended up working out great in the US.
That was always what we wanted to do in Europe. We were really focused on organic, natural stores in the UK. And that worked. Some of the bigger retailers in the UK started to notice it – and we finally started getting some replies to our phone calls and emails. I think that we were very fortunate to find Tesco was really receptive to Ocean's Halo as a brand and our products. We have six items in Tesco. We are in almost 600 stores. Different products are in different store counts.
just-food: What do you know about the UK consumer and its appetite for Asian cuisine?
Robert Mock: Well, we've made contacts some of the shows. We listen to the retailers quite a lot as we do in the US. We have several brands over there in the UK that we've watched. I have a phone call this week with a brand that has been part of the Sainsbury's Future Brands programme. They tell me that this is what the market's like. We do a lot of listening. We do a lot of phone calls. And we have a lot of UK brands that want to launch in the US, so it's a nice trade off. We've found that we have a lot of overlap in terms of our core consumer, what drives that core consumer, whether it's organic, whether it's vegan, whether it's Asian recipes, whether it's sustainability.
just-food: Have you seen a typical UK consumer profile develop?
Robert Mock: We've done some trialling, actually, especially now that we have deeper distribution in the UK to understand who our customers in the UK and how they differ from the US. In the US, we have found that our core consumer is female – a lot of times they're young mums with very young children – millennials and young professionals.
In the UK, we actually index a little higher with millennials. It could be because we're so new to the UK versus the US. We've been in large distribution for probably three years now in the US. We index bout the same with mothers with children and young professionals.
just-food: Tesco is stocking products including ramen noodles, ramen broths and seaweed sheets. Are they your three flagship products that you wanted to try to push in the UK?
Robert Mock: Sushi Nori as we call them, the seaweed sheets – it's what you would roll sushi with at home – is probably the least innovative product in our entire portfolio as a brand but it's one of the most widely consumed and purchased products. At first we thought 'Well, I mean it's very niche. Who rolls sushi at home? It can't be that many people.' In the US, on a stand-alone basis, it drives an incredible amount of revenue for our company, because we're able to price an organic version of it so low. That particular product does exceptionally well in terms of rate of sale. That product is in every grocery store in the US and we find it even in delis in different villages in the UK. It sells well and it's a surprise to everyone.
At this point, it's not a surprise to us, so we're really glad that Tesco ranged that particular product because it's been an instant success. The ramen noodles and ramen broth pair very well together. We often do a buy-one-get-one programme in the US. We were really happy that Tesco took both of those because they do well together. They do about triple the amount of sales when they when they're on-shelf together.
just-food: The UK is starting to see an expansion of the Asian foods category away from the now quite mature segments of Indian and Chinese. The sauces category is a lot broader than it used to be. And, from a retailer perspective, some of the major UK retailers are more prepared to list up-and-coming brands. There could be some opportunities for you.
Robert Mock: We're allocating resources to it. We're definitely going to invest in the UK market from a brand perspective. I'd like to see us have similar success as we have in the US. I've definitely been to every retailer more or less across the UK. Sometimes it's difficult to get the attention when you're a US brand originally. They definitely want innovative young brands. They're slightly less interested when you're not based in the UK. That's been a little bit of a hurdle that I hope we can continue to get over.
just-food: Is the listing with Tesco on an exclusive basis?
Robert Mock: It's not exclusive. We're listed on Ocado and we're working on a couple of others, so stay tuned. I think we're going to have a really big 2020. It's interesting – exclusivity does come up and we're happy to talk about exclusivity because we have quite a large portfolio of products. We do exclusives in the US for different retailers, most of them are flavours, but sometimes they're product lines.
just-food: Can you outline what's on the horizon for Ocean's Halo in the UK in 2020?
Robert Mock: Instead of talking about the retailers – because I think that's a no-no until you're on-shelf – from a product perspective we've got Big Bowl of Noodles and, instead of a snack, it's more like a meal. Most commonly, noodle bowls come in small cups and are used for snacking throughout the day, not for a meal. In the US, we were asked to put in double the amount of ramen and make a big bowl for a meal. A retailer said the data showed that people are consuming, maybe 50% of the time, consuming two of them. That one has been a huge hit. We're going to try to launch that in the UK. We presented to some UK retailers and I'll just say this: we expect to see those on shelves in the UK next year.
just-food: You don't want to name retailers but next year would you expect to see Ocean's Halo products appear in another major supermarket chain in the UK alongside Tesco?
Robert Mock: Yes, for sure.
just-food: When we met in April 2018, you said then there had been interest in France and Germany. How has that progressed?
Robert Mock: That's been a tougher one for us. We do have French and German on our packaging so we're prepared. It's tough to say where the blame is but we have seven people and we just don't have a lot of resources to focus on it. When we decided to go invest in Europe, France, Germany and the UK sounded like a great plan. Within the first couple of weeks, we had several UK retailers interested. It grew without us trying a whole lot and it ended up taking up all of our time. The UK market has been a full-time job.
just-food: Have you managed to secure production in Europe?
Robert Mock: We haven't. We produce in Asia and we produce in the US. At one point, we were we actually looked at a facility on site and maybe we were close to purchasing or leasing the facility to produce seaweed snacks. It's still a possibility.
However, the snacks business is maybe one of the more mature business in the UK. If you go to any grocery store, you see some great brands that have seaweed snacks in the UK. Breaking into it was more difficult than showing the retailers our more innovative products. Our snacks are in some really great retailers, but they're small and often not chains. That's why we put it on hold. It was riskier without multiple retailers on board initially, to invest in a facility, have a lot of capacity and try to backfill it.
just-food: What is your growth strategy for the US in 2020?
Robert Mock: Every day we wake up and talk about the same three growth drivers. The first is to drive velocity or rate of sale wherever we're currently distributed. That's more of a marketing discussion. Then we drive new distribution, so new retailers. Target is a retailer that we're not in in the US. Then the last piece that drives our growth is really our R&D and what new products are we planning to bring to the market. We will bring new products to the market in 2020. We always see growth coming from three parts of our business. People weigh them differently. In fact, people on our team weigh them differently, but they're all important.
We're a profitable company and a lot of brands our size are still unprofitable. It gives us a lot of flexibility. It took us several years to become profitable, much longer than we had hoped. I feel like we're finally in a better spot. We don't have the budget and the resources like a big food company does but what we've done in I guess about five short years it's been pretty awesome.
just-food: Do you and your co-founders each own an equal stake?
Robert Mock: We don't have any investments from any big company or giant private-equity fund or anything like that. It's owned by friends and family. We've got a lot of shareholders but they're all close and big fans. Frankly, it's nice we don't have anyone on our investor base driving our strategy or trying to over influence what we do. I will say this though, we have a great board of directors and on which we have some heavy hitters from big food companies that give us great advice. They're not big shareholders. They don't own and try to over-influence based on some kind of return that they're looking for. They're just serving on the board.
just-food: Does New Frontier Foods have other, smaller brands or do any private label?
Robert Mock: We do private label. A lot of big retailers have asked for private-label business to be run out of our plant, but we only do it for a handful, who are the largest and the best in the US in terms of big retailers.
It's been a good business. The genesis, though, is that, when we were in that first 18 months, we were struggling. We didn't know how to spend the money, how to invest, where to invest. We over-produced, then we under-produced. It was tough to manage the finances. The private-label business helped us keep the lights on while we found our way. I wouldn't say we haven't grown it because we have but we've largely kept the lid on it and, because we have such a small team, have focused on Ocean's Halo as our brand.
just-food: What percentage of your annual revenue is private label versus Ocean's Halo?
Robert Mock: Less than 10%, maybe even half that.
just-food: And that's a balance you will continue to pursue?
Robert Mock: That's the plan, so long as Ocean's Halo continues to grow at the rate it's growing. We've grown two to three times for the last three years in a row. The brand itself has grown triple-digit percentage three years in a row. We're small, so it's not hard to grow from a small base. Private label has grown, but Ocean's Halo is growing at a much, much different rate.
just-food: What will be New Frontier Foods' annual revenue this year?
Robert Mock: Right around US$20m.
just-food: What forecast do you have for 2020?
Robert Mock: Well, if we did what we've done the last few years, then it would be $40m. It's tough to say. We have a board budget. It's definitely more conservative than $40m. We have big goals so long as we keep finding opportunities, we're going to keep pursuing them.
You can trial full access to just-food.com for 30 days for just GBP1 / US$1 / EUR1 by clicking here.
Oops! This article is copy protected.
Why can't I copy the text on this page?
The ability to copy articles is specially reserved for people who are part of a group membership.
How do I become a group member?
To find out how you and your team can copy and share articles and save money as part of a group membership call Sean Clinton on
+44 (0)1527 573 736 or complete this form..