The just-food interview part one: Dairy Crest CEO Mark Allen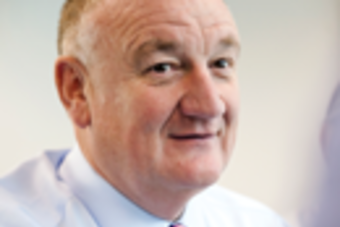 Mark Allen details Dairy Crest's expansion plans
Dairy Crest has said it has had a "transformational" year, characterised by an increased focus on its domestic business and a drive to boost efficiency. The company is now plotting a number of investments designed to grow both the top and bottom line. In a two-part just-food interview, Katy Askew spoke to CEO Mark Allen about how Dairy Crest is improving its cost base and shifting to higher margin products.
Last year's disposal of Dairy Crest's French spreads brand marked a significant milestone for the UK dairy company. The proceeds from the sale of St Hubert, which was offloaded to Montagu Private Equity for EUR430m (US$540.1m), have allowed Dairy Crest to boost profitability this year and, the company claimed yesterday (23 May), position it for long-term growth.
In the announcement of its full-year results, Dairy Crest said adjusted profit before tax was up 7% to GBP50.6m (US$76.27m) in the 12 months to the end of March.
Speaking to just-food after the numbers were published, CEO Mark Allen insists the St Hubert sale has allowed Dairy Crest to emerge a leaner, more focused and agile company.
"We sold St Hubert to refocus our business on the UK, where we have got really strong brands and an improving dairies business," he claims.
The cash generated by the disposal has afforded management the ability to do "a number of things", Allen says. Dairy Crest has invested GBP40m into its pension fund and paid down a majority of its outstanding bank facilities. The company has cut net debt by 82% to GBP60m - a figure Allen says is the "lowest it has been since 2000". The move, he argues, places Dairy Crest in a "great position going forward".
The company has set in motion a far-reaching programme of internal investments across all of its business segments - from its low-margin dairies operations to its more profitable spreads and cheese interests. The company hopes to boost profitability by driving efficiency and reducing the group's exposure to notoriously volatile commodities markets, Allen says.
He is quick to highlight the plans Dairy Crest has for its whey business. The group produces whey as a by-product of its cheese production and Allen says the company will be investing in its whey facilities.
"What that will give us over the next few years is opportunities to grow the profits through our whey business by manufacturing higher-value products. We currently make whey powder. We will move up the value chain to - it is not definitive yet - but products such as de-mineralised whey powder, which goes into baby food, or whey protein concentrate, which go into things like body-building drinks," Allen explains. "It adds value in terms of it is a growing sector but it also adds value in terms of improved margin."
According to Dairy Crest's latest estimates, the group expects to invest around GBP40m in upgrading its whey production. However, Allen suggests, the group anticipates the investment generating a speedy return. "In payback terms, if you buy a business you would expect to get an eight- to ten-year payback. We would hope to do better than that with the internal investment - and in reality we won't do it if we can't do better than that."
Dairy Crest is also working to cut costs out of its business. The group is rationalising its manufacturing footprint and, while the process means it has to bear the brunt of one-time costs in the short term, in the mid-term it expects to "significantly" improve its cost base.
"Last year we have taken out GBP23m worth of costs, excluding the closures of Fenstanton and Aintree [dairies], so cost savings are really important for us. That is going to continue. We expect to take around GBP20m out of the cost base again this year."
Allen says Dairy Crest will use a "range" of investments to cut costs again in its new financial year. "From being more efficient in how we run our factories to benefits of buying better through people savings - we announced earlier this year that we moved from two divisions to one division. That alone saves about GBP5m in a full year," he explains.
In spreads, Allen says the group's plans to close one of its two production sites by mid-2014 - a process that got under way when it moved production of its Clover brand to its factory in Kirby earlier this year. Allen claims the move reaped immediate dividends for its spreads unit, where full-year profits rose 11% in spite of an 8% slide in revenue.
"The benefit in spreads is mainly on the back of efficiency. We moved Clover production from Crudgington to Kirkby last year and that is the same argument as moving the two factories into one. A lot of the benefit in spreads came from a lower cost base," Allen says. "We will be moving all the [spreads] production into Kirkby. That significantly improves our cost base from a spreads point of view."
Arguably, an area of the business in most pressing need of a lower cost base is the group's liquid milk division. During fiscal 2012/13, its dairies arm saw an 11% drop in revenue, while profit edged up to GBP10.3m from GBP10.2m last year.
"Profits in the second half were 1.7% of sales. That is much better than they have been recently," Allen insists. "We have put targets out there, we have talked about a 3% return on sales. We think that is realistic. That would take our profits up to close to GBP30m, which would be a really great achievement. Time scale for that - we use the words 'medium term', so over the next two or three years is probably a good benchmark for that."
Dairy Crest is boosting profits in its dairies by "making sure we get the cost base right", Allen explains. "We have been very active in our factories - we are having a good look at logistics at the moment and I think there will be some reasonable savings coming through there."
The group is also ending contracts that are "effectively loss-making accounts" and withdrawing from the notoriously tough "middle ground" of the dairy market that sells into institutions such as hospitals and councils, as well as smaller independent retailers.
As it looks to adjust its customer mix, Dairy Crest is unconcerned by the possibility that it could witness falling turnover from its dairies division. "In dairies we will be happy to take lower sales provided we get improved margin. But if we can improve the margin with sales where they are, that is also okay as well," Allen says.
While, on the one hand, Dairy Crest is cutting costs from its business and adjusting its product mix to focus on higher value items, on the other the company is looking to grow its sales by building and strengthening its brands. In the face of a highly competitive and cost sensitive UK dairy sector, the group is tackling this challenge with a focus on marketing, innovation and promotion.
To find out more about what Dairy Crest has in store for its leading UK dairy brands - including Cathedral City cheese and Clover spreads - click here to access part two of the just-food interview.
Oops! This article is copy protected.
Why can't I copy the text on this page?
The ability to copy articles is specially reserved for people who are part of a group membership.
How do I become a group member?
To find out how you and your team can copy and share articles and save money as part of a group membership call Sean Clinton on
+44 (0)1527 573 736 or complete this form..