The just-food interview: Ian Donald, Nestle CEO of equatorial Africa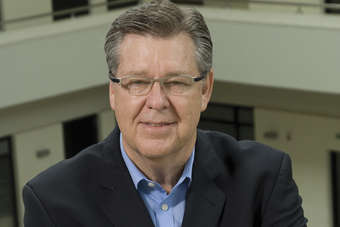 Donald conceded growth has been slower than expected but insisted Nestle was "very bullish about future"
The importance of expanding in emerging markets is a constant message from Nestle, a company that has one of the industry's largest footprints in the developing world. While Nestle is expanding in high-growth markets like China, the world's largest food group is looking beyond the BRICs as it establishes a presence in every quarter of the globe. In this month's just-food interview, Katy Askew spoke to the chief executive of Nestle's operations in equatorial Africa, Ian Donald, to discover how the company is working to drive long-term growth in the region.
Nestle is no stranger to Africa. In fact, the Geneva-based food multinational has been selling products on the continent for more than 130 years. However, in recent years the company has stepped up its investment. In 2010, for example, the company launched a three-year CHF150m investment programme in equatorial Africa to "unlock the long-term potential of the area".
Nestle recognised it needed to develop a detailed and in-depth understanding of the different markets in Africa. It was this goal that prompted Nestle to form its equatorial Africa division, area chief Ian Donald tells just-food.
"We opened the region six years ago. We have been in Kenya for 50 years but as a region it is fairly recently structured. We realised that to develop it and to understand the consumer we were going to have to put structures on the ground and work in the countries, which is about what we are doing," Donald says.
Nestle's equatorial Africa business is made up of 21 countries, including Angola, Democratic Republic of Congo (DRC), Kenya, Mozambique and Zimbabwe. According to Donald, Nestle sees the region as a "significant potential future growth area".
"It has a very large young population, an emerging middle class, some significant economic developments that are going on around the region - there have been some very strong gas and oil finds and there is agricultural development. It is definitely an emerging area where we expect to see big growth coming in the future," Donald predicts.
According to Donald, who oversaw Nestle's business in Pakistan before moving to head up the group's efforts in equatorial Africa, Nestle expects to sees the greatest potential in east African countries such as Kenya and Ethiopia.
Donald says: "We see east Africa, led by Kenya, as a very strong potential area for a number of reasons. It has a very strong agricultural base that is being developed, it also will benefit from these gas finds along the east coast, it is a natural hub for east Africa, it is the lead economy for east Africa. Maybe it will take a little bit longer but we see good potential in Ethiopia coming. The other countries are: Mozambique, Angola and the Congos, where we are very bullish about the future."
Nestle is not the only company to have identified the potential offered by these markets, Donald observes, with strong competition coming from multinationals and local manufacturers. "All the major players are here. They might be at different levels but all the multinationals as well as some strong local players," he says. "I don't think we are a leader on our own in this but clearly I don't think many have been that successful yet. I think it is still very early days."
As Nestle battles to take the early lead, Donald the company benefits from the competitive advantage afforded by its corporate culture.
"As a company we have a desire to continually improve. So we are looking at ways of taking out cost all the time, of being more efficient and effective, of making our organisation leaner on the one side. On the other we are looking at ways of enhancing the quality of life of people through better nutrition. We work at this all the time. I would say it is a very strong competitive advantage."
A key plank of Nestle's strategy in Africa is the development of products that meet the nutritional needs of poorer communities and are adapted for local taste preferences, shopping habits and cooking practices.
In the equatorial region, for example, important dietary supplements are iron or iodine, which are added to Nestle's Maggi brand of bullion cubes.
Nestle is also highly-focused on delivering these products at an affordable price point, in line with its global popularly positioned products (PPP) strategy. Donald says that, in this region, PPP means offering small pack sizes with a low-entry price point as consumers will often shop "twice a day" for a product, not buying more than is needed for a single meal at a time.
"PPP is more to do with getting a price point on a product that a consumer can afford. We need to make sure that we are offering products that taste good, that offer nutrition at an affordable level to the consumers that we supply," Donald says.
However, for all of the region's potential, Donald concedes growth has been slower than Nestle originally expected.
"There are a number of factors [limiting growth]. One is disposable income: it is not a very wealthy region, it does not have a very big middle class. GDP per capita across most of the countries that are in this region is fairly low. There are other issues as well, there are logistical problems in getting to some of the markets. They are not easy countries to operate in. There are all kinds of legislations and barriers to doing business that are slowly being withdrawn, but it is still in the very early stages of development. If you think, some of these countries have come out of 30 year wars not all that long ago.... The political climate is a big issue," Donald says.
However he is quick to emphasise the "positive work" being done by governments across the region as a more stable political climate emerges. "Governments are pulling down barriers to trade, opening up dialogue, looking for resolutions to conflict through dialogue rather than through physical conflict. So we see a lot of positive progress being made."
The retail scene in the region is also "mixed" and can present a variety of challenges, Donald reveals.
"Some parts are already consolidated into a few large modern retailers, like Zambia, where the modern trade has grown quite significantly. There are other areas, like the Congo, where it is all done through traditional trade."
However, Donald insists the under-developed nature of the retail sector does not present a barrier for Nestle.
"We just gear ourselves for the conditions of a particular market. It is obviously harder to reach thousands of individual stores than it is to get to a few large stores. But we have the skills and the capability to do that... Its a matter of picking up a route to market - people that understand the market so that you get these products through into these stores. It is not as complex as it sounds. The real challenge is to do it and be consistent at it. To really do the same thing is a basic discipline that you have to work on, it is not a rocket science."
Nestle has taken learnings from its expansion in other developing markets in Asia and west Africa and transferred them as it looks to develop a comprehensive distribution network.
Nevertheless, this process can be laborious. "It can take quite a while to establish a distribution network. Not even city by city, it would go geographical pocket by pocket. And then you move to the next market and the next market," Donald says.
Currently, the majority of Nestle's products are imported into equatorial Africa from other parts of the continent. However, the next stage of Nestle's expansion in the region is the development of local production.
The company's first production facility in the DRC became fully operational last month and the group opened a facility in Angola in August. At these two sites, Nestle produces Maggi boullion cubes and, Donald says, the group will look to re-pack coffee into smaller packages.
Currently in the region Nestle's biggest categories are milk powders and Maggi stock cubes, followed by coffee and confectionery. In the long term, as the economic development of the region gathers steam and demand for Nestle's various other products - from supplements for pregnant women to foods that carry health benefits for ageing consumers - grows, the company will look to expand its offering.
"Our category offering is fairly limited at the moment. But we are already broadening in certain markets. If you went into South Africa or some of the north African countries this is already happening. In our region, as disposable income increases, quality of life improves, a middle class emerges, the need or desire for those products increases and we would respond to that," Donald says.
Nestle has been in Africa for over a century but it knows it must adapt to ever-evolving demands of consumers to thrive in a developing and competitive market.
Oops! This article is copy protected.
Why can't I copy the text on this page?
The ability to copy articles is specially reserved for people who are part of a group membership.
How do I become a group member?
To find out how you and your team can copy and share articles and save money as part of a group membership call Sean Clinton on
+44 (0)1527 573 736 or complete this form..